This week's Food Network Friday revolved around French Toast. It's Holy Shitake's pick, and she encouraged participants to veganize any of the sides from that show as well.
Coconut French Toast with Bananas
Here's Anna Karenina's impressive version of the dish: Coconut French Toast with Bananas and Mango Sauce. Talk about elegant! She also made some delicious looking potatoes on the side. For her full recipe, check out her blog. (Another chance to see her lovely photo!).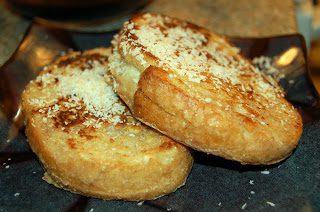 Coconut PB-n-B French Toast
First time Food Network Friday participant, Julia, made this amazing sounding Coconut PB-n-B French Toast! She even managed to get a great inside shot, something I didn't even try. The recipe is on her blog, as well as more tempting photos.
For my take on it, I actually debated on using the bananas or subbing another fruit. They're just not my favorite thing. In the end, I kept them. My altered recipe is below. Would I make it again? Maybe, but not likely. It's pretty sweet, but for a decadent french toast, that's not a bad thing. I think for me it comes down to me not being a banana enthusiast. But if you are, it's sure to be a winner. If I happened to own a Bed and Breakfast, this would certainly be on the menu.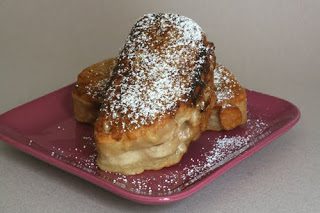 Banana Stuffed French Toast (originally from the Neely's)
This would probably feed 3 to 4
2 tablespoons vegan margarine
2 tablespoons light brown sugar
1 1/2 bananas, peeled, cut into 1/2-inch thick round
Pinch cinnamon
2 ounces vegan cream cheese
4 to 5 (1-inch) slices of ciabatta bread, cut nearly all the way through again for pockets
1 cup all-purpose flour
1/4 cup garbanzo flour
1 teaspoon vanilla extract
Pinch salt
1 teaspoon cinnamon
1 cup soy milk
3/4 cup soy creamer
1/4 cup fresh orange juice
Make the banana filling first. In a small skillet, melt the margarine. Add the brown sugar and pinch of cinnamon. Stir it a little until it gets more saucy. Add the bananas and cook until the bananas just start to soften. Remove from the heat and stir in the cream cheese until melted. Set aside to cool.
Combine the rest of the dry ingredients in a 9 X 11-inch pan. Add the liquid ingredients and mix with a fork. It's okay to have lumps.
Divide the filling among the french toast slices, stuffing them the best you can.
(Here is a big deviation- they bake the french toast, but I cooked it more traditionally in a skillet.)
Heat a large skillet over medium heat. Add enough oil to cover the bottom. Dip the stuffed slices into the batter, coating both sides. Place in the hot oil and cook until golden, about 5 minutes. Turn over to cook the second side, adjusting the heat if needed. Serve garnished with confectioner's sugar and maple syrup, if desired.
For our next Food Network Friday, we're going International! EFCLiz from Cooking the Vegan Books has chosen our recipe from England's version of the Food Network, Good Food. It's sure to be a challenge. I'll post the full recipe next week, but in case you want to give it some thought, it's Kedgeree! We'll wrap that one up on October 2nd, so you'll have plenty to have time to get cooking.
As always, we'd love to have people join in! If you happen to have veganized this one, please email me or post a link to this post so we'll be able to see your creation! Thanks to Julia and Anna Karenina for getting all creative with the French Toast challenge.
Coming soon: Another book contest!