My friend in college used to offer me her lunch box; she showed me yellow rice that smelled so incredibly fresh and aromatic. The lemony fried rice with dried fruits and deep fried lentil looks really light and healthy. Fresh coriander really gave the freshness to this golden fried rice. I asked for recipe immediately and it was a hit at home ever since.
Ingredients: (2 servings)
3 cups Rice- cooked rice
1 Lemons- juiced
1 tsp Turmeric powder
5 dried red chili
1/4 cup Cashew nuts
2 tbsp Chana dal (split chickpea)
2 tsp Mustard seeds
1/2 tsp Cumin seeds
4-5 small bunch of Curry leaves- optional
Few coriander leaves- chopped
2 tbsp Oil
Salt to taste
Heat the oil over the medium heat in the large pan.
Add cashew nut and fry until golden brown. Remove from the oil and keep aside.
In the same oil, add dried chili (whole dried chili without broken, so it won't be spicy) and fry until lightly burn. Remove from the oil and keep aside.
Add mustard seed and fry until spluttered then, add curry leaves (if you have), split chickpea, and cumin seeds. Stir for few second or until fragrance and not burn.
Add turmeric powder and mix well.
Add cooked rice, squeeze lemon juice in, and add salt to taste.
Fry for few minutes and add fried cashew nuts.
Add some chopped coriander leaves and garnish with deep fried red chilies.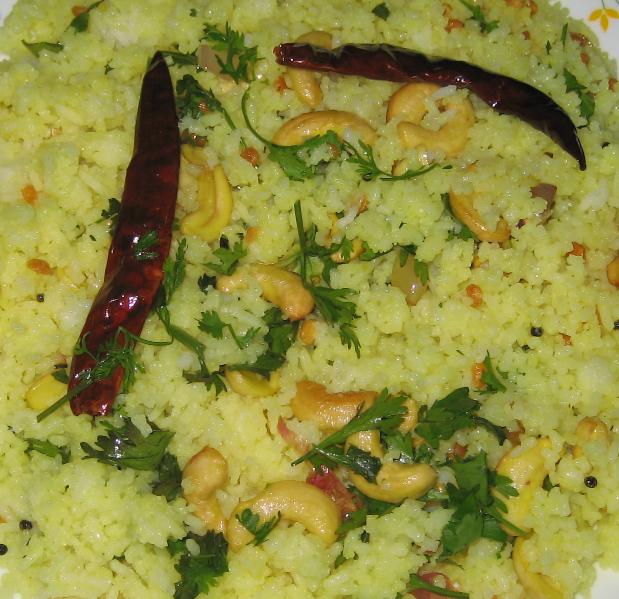 Serve hot!
It is very quick and easy. It's great for a lazy day brunch or an afternoon hungry meal. Kids adore this rice… it's a wonderful sight, seeing the bright yellow rice disappear bit by bit into a small hungry stomach
Love,