Yeah, another seitan recipe. And another cashew recipe. Same old, same old, but not. Because this time, we've got cookies!
More testers for Isa and Terry's cookie book. These are Peanut Butter Oatmeal Cookies and I could eat them forever. A total go-to kind of recipe, everybody loved these. And what's not to love? Peanut butter + oatmeal = happy cookies.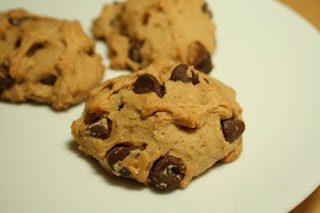 Next up: Whole Wheat Chocolate Chip Cookies. I liked them, but didn't love them. Something may be out of whack with my cookie-ometer, because everyone else loved them. By everyone, I mean people who tell me exactly what they think about my baking, so they can be believed. They're a soft, cakey kind of chocolate chip cookie with really nice flavor.
Then I tried my hand at Seitan Wings. When we traveled through Pittsburgh earlier this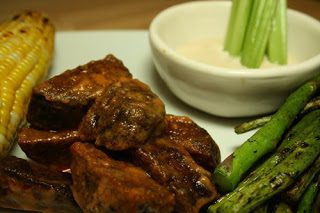 summer, we stopped at Spak Brothers. From what I read online, it sounded like a little pizza restaurant that offered seitan (!) and vegan pizza (!) besides the usual omni stuff. Well, we found the place and it didn't really offer seating or a bathroom. Not good things when you're traveling and there's not a park nearby where you can take your food. So we just grabbed an order of seitan wings and ate them on the way back to our car, licking our fingers all the way. They were wonderful! If I'm ever staying in Pittsburgh, I'd definitely go back. But it made me want to try to make some and this is what happened.
Seitan Wings
12 oz seitan, cut in chunks or strips, however you want
Marinade-
1/2 cup apple cider vinegar
1 Tbsp canola
1 Tbsp worcestershire (vegan, of course)
1 Tbsp chili powder
1/2 tsp red pepper flakes
1/2 tsp salt
1/2 Tbsp hot sauce
1/2 Tbsp maple syrup
Slurry-
1 Tbsp cornstarch
2 Tbsp water
Breading-
1/2 cup flour
1/2 tsp smoked paprika
1/2 tsp garlic powder
1/2 tsp cayenne
1/2 tsp black pepper
salt
Oil for the baking sheet and to spray
Make the marinade and let the seitan marinate for as long as you can.
When you're ready to cook, preheat the oven to 400 and oil a baking sheet liberally.
Mix the breading. Take the seitan out of the marinade and roll it around in the slurry, then in the breading. Place on baking sheet. When all the wings are covered, spray them with oil (those misto bottles are perfect here) and pop in the oven. Let bake about 1/2 an hour, turning them over once and respraying half way through.
In the meantime, make the hot sauce however you want. I just melted 1/4 cup butter and added about 3 Tbsp hot sauce and little sugar. You just have to do it to taste, depending your preferences and the kind of hot sauce you buy. I served them with this all around herb dressing, that we also had today on a bbq tofu salad.
All Around Herb Cashew Dressing
1/2 cup cashews
1/2 cup water
1/2 cup vegennaise
2 tsp apple cider vinegar
1/2 tsp garlic powder
1/2 tsp onion powder
1/4 tsp smoked paprika
1/2 tsp parsley
1/4 tsp celery salt
black pepper and salt to taste
Whiz the water and cashews in a blender until smooth. Dump in a bowl and add the rest of the ingredients. Let sit for at least an hour for the flavors to come together. This is really adaptable. Change up the herbs, add green onions, chives, fresh garlic, whatever.
When it was all said and done, I'm not sure marinading them first made a huge difference. But it probably added some flavor. I loved the baking thing and am definitely going to try seitan that way for some other dishes. Sweet and Sour Seitan, anyone?