Did I tell you about my sprinkles? I have moon-shaped sprinkles, and star sprinkles, and dino sprinkles. And dolphins! And bears! And COWS.
Any cookie would be immensely improved with these ridiculous creations. Even if it didn't taste like anything special, people would go crazy just over the decorations. But when the cookie is a moist mouthful of chocolate, you'll be getting compliments for weeks afterward.
I know I did.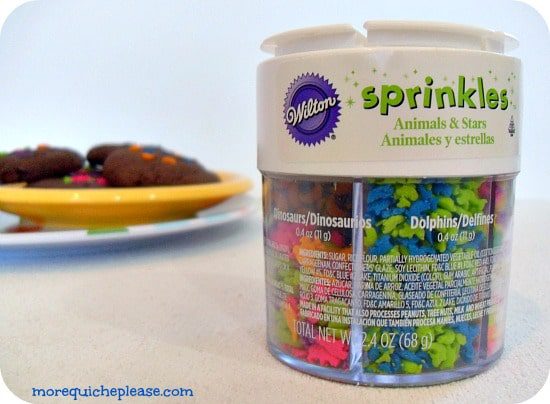 I chose this basic chocolate cookie recipe for our baby's bris, intending to top them with whatever beautiful sprinkle things my mother brought along in her suitcase. As my (adapted) test batch quickly disappeared, I knew I had a winner. Plus, I got away with reducing the butter, sugar, and chocolate chips. So these are practically healthy.
And since they're also really easy to throw together, it was the perfect project for someone in her 38th week. Because what else do you think I was doing in the days before my due date?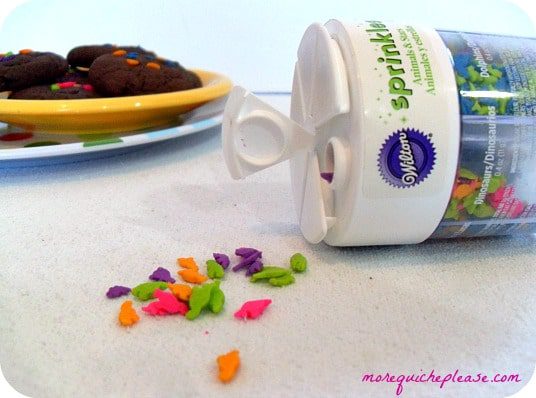 The bris batch and a half were topped with bright blue sugar and baby blue sugar pearls, so I saved the dinos and friends for something else.
That something else came three weeks after the bris, when a friend of mine on the yishuv made a bris of her own. I'm not gonna lie, it was hard to bake with a tiny baby underfoot. But my friend is 40, it's her second baby, and the bris was a big deal. And since I had an easy cookie recipe and some killer sprinkles…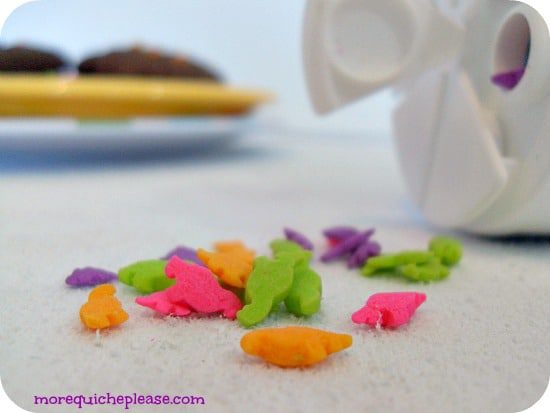 They were a hit, of course, just like they will be when you make them. You probably have your butter out of the fridge already.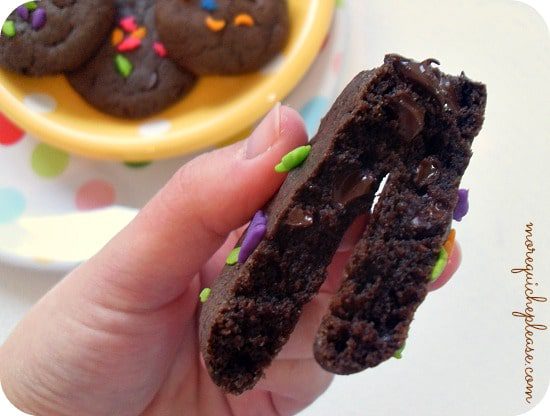 If you need some dinos, though, you'll have to find another source. I'm not sharing.
Easy chocolate fudge cookies
Adapted from Can't Stop Baking
Yield: 4 dozen cookies
Ingredients
1 cup unsalted butter (or margarine), room temperature
1½ cups granulated sugar
2 eggs
2 tsp vanilla extract
2¼ cups all-purpose flour
¾ cup unsweetened cocoa powder
1 tsp baking soda
¼ tsp salt
1 cup chocolate chips
Directions
1. Preheat oven to 350 F/180 C. Line a baking sheet with parchment paper.
2. Cream butter and sugar in a stand mixer on speed 3 for about a minute. (Don't have a stand mixer? I've done this by hand many times. More elbow grease, but it works.) Add eggs and vanilla extract and beat on speed 1 until combined.
3. Add flour, cocoa powder, baking soda, and salt. Beat again (on speed 1) until a dough forms (it comes together quickly in the stand mixer). Mix in chocolate chips.
4. Roll dough into tablespoon-size balls and place them 2 inches apart on the baking sheet. Using the palm of your hand, press each ball down to flatten slightly and smooth out the edges as needed. Top with awesome sprinkles of your choice.
5. Bake for exactly 10 minutes (any longer and they won't be moist). Let cookies cool on the baking sheet for 2 minutes before carefully transferring to a cooling rack. Store in an airtight container at room temperature for up to four days for best results.
Do ahead: Roll dough into balls and freeze. When you're ready to bake, let them sit on the counter for about 30 minutes, then flatten, decorate, and bake as directed.