We are now truly in the height of summer (although as I type, rain in pounding on my window) but with the height of summer comes the wonderful warm foods from the Mediterranean.
This year I have finally been successful in growing my first ever aubergine. I've had a small dilemma on the best way to cook this precious specimen and make the best out of it. I have to admit it is rather small and dainty…so I decided to cook one of my favourite childhood aubergine dishes. Wonderfully fresh, highly filling and a little naughty on the waistline, this way dish is utterly delicious.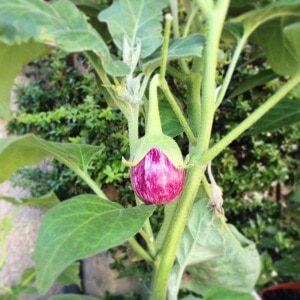 Baked Aubergine with Cherry Tomatoes & Buffalo Mozzarella:
An aubergine
A punnet of cherry tomatoes
A shallot, finely chopped
A large clove of garlic, finely sliced
A handful of basil leaves
Good quality buffalo mozzarella
This is a perfect meal for two…
Firstly you need to make your cherry tomato sauce. I have used cherry tomatoes as I wanted to bit of sweetness to the sauce. Place a small, heavy-based saucepan on a medium heat and add a good glug of extra virgin olive oil. Add the onions and gently soften. Now add the sliced garlic and the halved cherry tomatoes. Season well with salt and pepper. Gently cook down the tomatoes and onions until you have a glossy, rich sauce. This will take about 20 mins. When it's ready, add the basil leaves to the tomatoes so they can wilt down in the heat.
While the tomatoes are cooking, slice the aubergine lengthways into about 4 – 5 slices – as thick or as thin as you like.
Place a frying pan over a medium to hot heat and add at least four tablespoons of extra virgin olive oil. When good and hot, fry the aubergine slices until they are golden and crispy. Make sure to season the aubergine as it cooks.
Now assemble the aubergine layers. In an ovenproof dish, drizzle in a little olive oil and then place a slice of cooked aubergine. Top this with a quarter of the tomato sauce (depending on the amount of aubergine slices, use that amount of the tomato sauce). Now top this with some of the buffalo mozzarella – I pull chunks off with my fingers. Top this with another slice of aubergine. Repeat this process until you have used all the ingredients up and you should finish with an aubergine slice.
Pop in the oven, set at 180c, and cook for about 25 minutes or until the cheese has melted and all the flavours have baked and amalgamated together.
Eat immediately with a crisp salad.