These muffins didn't come from the corner bakery. They didn't come from a fancy schmancy brunch cafe. They didn't come from a catering company. They're not made out of plastic. They didn't even come from outer space. I whipped them up in my own kitchen in less than 40 minutes.
Cakey and slightly sweet and spiked with gingery goodness, this has quickly become the favorite muffin recipe in my house. How do I know? Because they're all gone. That's how. But who can resist? I mean, come on. Look at them!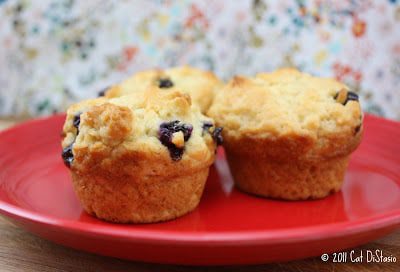 Blueberry Hill Muffins
Yield: 12 muffins
2 cups all-purpose flour
1/2 cup sugar
1 Tbsp baking powder
1/2 tsp salt
1 Tbsp ground ginger
1/2 cup plain soy yogurt
1/2 cup vanilla almond milk
1/4 cup canola oil
1/4 cup unsweetened applesauce
1 1/4 cups frozen wild blueberries
Preheat oven to 375°F and lightly grease a muffin tin.
Stir together flour, sugar, baking powder, salt and ginger with a fork in a large bowl.
Make a well in the center and add yogurt, milk, oil and applesauce.
Stir until half combined. Add berries. Stir until no dry spots remain but don't over do it.
Spoon into muffin tins to 3/4 full.
Bake 29 – 31 minutes or until lightly browned.
Let cool in the tin for 5 minutes then transfer to a cooling rack.