Today is a special day.  You might
not know about it – but it really is.  Actually, as I write this, I
realize that probably every day is a special day to SOMEONE, we just
don't often hear about it.  Because this is my blog though, I'm
going to let you in on my special day.Three years ago, today, I met John for the
very first time.  It was a chance meeting – in a stadium of tens of
thousands of people, we happened to find ourselves next to each other.
It wasn't too long thereafter that I really felt he was
going to be one of those few meaningful people in my life.

Of course by then (although still young) I had kissed
my share of frogs and dated my share of "bad" boys.  But they
were boys…quick to judge, love, leave, repeat.  John was, from the
first day, a true gentleman.  He has a heart as big as this city itself
and demonstrates his love not just for me, but others
that he cares for in innumerable ways, large and small.

We're definitely not perfect, and over the last 3
years have faced unemployment, deaths, and births.  I've had 4 different
jobs, and moved 4 different times (wow, I really need to get this under
control – for the next 3 years I hope for
more stability).  And we've done it all together.

Nothing says Happy Anniversary like this
chicken tikka masala.  It's a lot
like our relationship – comforting yet exotic, tantalizing but familiar,
healthy yet indulgent; but most of all, warm, cozy, and made with love.
Chicken Tikka Masala 
Serves:  4
2 teaspoons canola oil
1 onion, diced
3 cloves garlic, minced
1 teaspoon ground ginger
1 1/2 cups crushed tomatoes
4 ounces fat free Greek yogurt
1/2 cup 1% milk
1 1/2 tablespoons cumin
2 tablespoons garam masala
1/2 tablespoon chili powder
1 teaspoon salt
16 ounces chicken breasts, diced into bite-sized pieces
2 tablespoons fresh cilantro
Heat oil in a large heavy skillet over medium heat.  Add the onions, cooking until golden.  Add the garlic and cook for another minute.  Add ginger, cumin, garam masala, chili powder, and salt.  Mix well until fragrant, about 90 seconds.  Stir in tomatoes, yogurt, and milk.  Simmer on low heat until sauce thickens, about 10 minutes.  Add chicken and simmer for 15-20 minutes or until cooked through. Serve over basmati rice or homemade naan.  Top each bowl with fresh cilantro.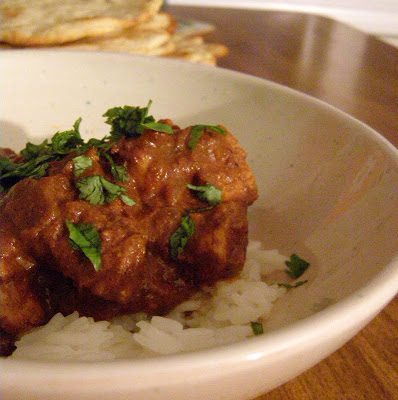 Until the next time my oven is on…