I'm not sure winter or rainy season is my most favorite time of the year. It's very hard to pick. I don't know if I will ever know myself enough to make that kind of decision. Both seasons make me feel so cozy. It's inspiring and humble experience to live through these beautiful weathers.
Winter morning in Thailand means a lazy walk on the street to find comforting breakfast. Noodle in hot broth, rice soup with loads of deep fried garlic, fried Chinese dough with hot soy milk and grilled meat on skewers are ready since 5 am. It's a luxury of life. I miss the rich and spontaneous food culture in Thailand.
If you've been to Thailand, you would probably see smoky Grilled Chicken Liver on skewers sold in every street. It's available throughout the day and it can be breakfast, lunch, dinner and snack. I love the sweet, soft, juicy and smoky flavor of the liver. It's very simple to make, and it's perfect to eat with sticky rice and some chili dipping sauce.
Thai Grilled Chicken Liver
Ingredients: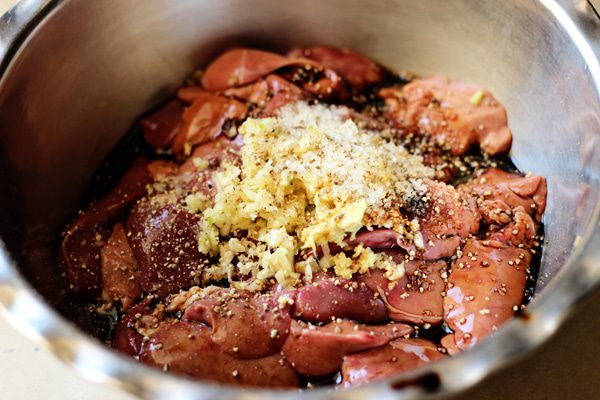 500 gm Chicken Liver
2 tbsp sugar
1 tbsp light soy sauce
1 tbsp dark soy sauce
2 tbsp rice wine
1 tbsp chopped garlic
1 tbsp chopped ginger
2 tsp ground white pepper
Direction: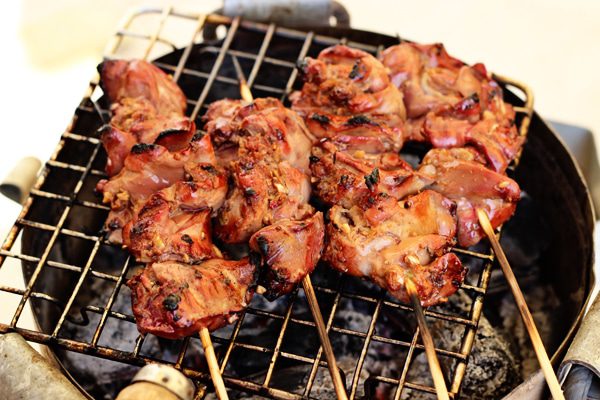 Combine all ingredients in a big bowl and mix well with your hand.
Let it marinate for 1 hour and then thread the chicken liver onto bamboo skewers.
Grill on medium heat live charcoal for 2-3 minutes each side. The liver should be brown and cooked perfectly.
Serve hot with some sticky rice and spicy chili dipping sauce on the side.