My youngest turns TWO today! Of course I'm happy to see him growing and thriving, but I'm also grasping onto whatever "babyness" that's still left. I promised myself I would hang up my (pregnancy) boots with this one. While I love being a mother, I am terrified of pregnancy and childbirth. God knows how many times I muttered to myself, "What on earth were you thinking?!" whenever a tidal wave of nausea hit.
*Shudder*
My last pregnancy was the hardest … backaches, constant fatigue, creaky bones … all the same discomforts of my first two pregnancies, magnified by a hundred. It was the surest sign of ageing. Gulp.
Now, back to the birthday boy. Since he is still too young to say "I want a chocolate cake, with lots of cream and decorated with Oreos", I baked the cake that I wanted to try for a long time – Carrot Cake!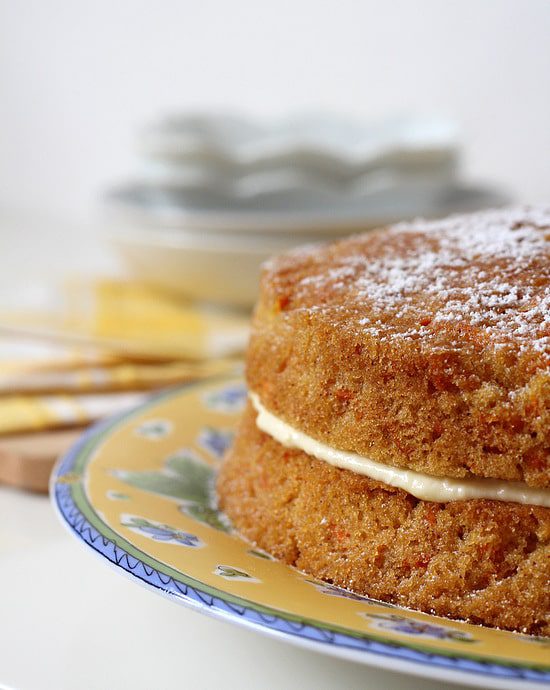 Thank you, Leon and R for this beautiful Narumi serving set. I adore it!!!
The recipe comes fromSmitten Kitchen (which was recommended by Zurin). The only difference was, I omitted the maple syrup for my cream cheese frosting. Instead, I used cream cheese, icing sugar and whipping cream. And it was lovely cake – moist enough but still fluffy. We all enjoyed it.
Recipe
For the Cake
(from Smitten Kitchen )
– 2 cups all purpose flour
– 2 teaspoons baking soda
– 1 teaspoon salt
– 2 teaspoons ground cinnamon
– 1/2 teaspoon ground nutmeg
– 1 teaspoon ground ginger (I omitted)
– 2 cups sugar (I reduced to 1 1/2 cups)
– 1 1/4 cups canola oil
– 4 large eggs
– 3 cups grated peeled carrots
– 1 cups coarsely chopped walnuts (optional)
– 1/2 cup raisins (optional)
1. Preheat oven to 175 degree celsius.
2. Whisk flour, baking soda, salt, cinnamon, nutmeg and ginger in medium bowl to blend. Whisk sugar and oil in large bowl until well blended. Whisk in eggs 1 at a time. Add flour mixture and stir until blended. Stir in carrots, walnuts and raisins, if using them.
3. Butter two 9-inch-diameter cake pans. Line bottom of pans with waxed paper. Butter and flour paper; tap out excess flour. Divide the batter between the prepared pans, and bake the layers for about 40 minutes each, or until a tester inserted into center comes out clean. Cool cakes in pans 15 minutes. Turn out onto racks. Peel off waxed paper; cool cakes completely.
For Cream Cheese Frosting
(my own estimate, sufficient for the single layer of frosting as seen in photos)
– 50g cream cheese, softened
– 2 tbsp icing sugar
– Whipping cream, pour as you whisk together with the cream cheese and icing sugar, until you get a spreadable consistency
4. To assemble a carrot layer cake, frost the top of one cake, place the other cake on top and press slightly. Dust the top with icing sugar.
Birthday pressie from me – a toy microphone with karaoke function (that was quickly hijacked by his older sister and brother).
"I get first dibs!"
To my son: Happy birthday, my darling! My wish for you is, and will always be, the same – 平安健健.