The first post in "For My Love of Veggies" program, I want to post the recipe that we actually use everyday. Simple stir fired vegetable is a simple dish that we love to have on the table with all other delicious dishes. I love the way the dish looks healthy and fresh. It ensures to us that we have enough vitamins, minerals and fiber on regular basis.
There is no rule in stir frying. You can change the ingredients and season the way you like it. But the best way is to keep it simple, raw and rustic.
We love crunchy and colorful stir fried veggies. It is so amazing with steamed rice or pasta.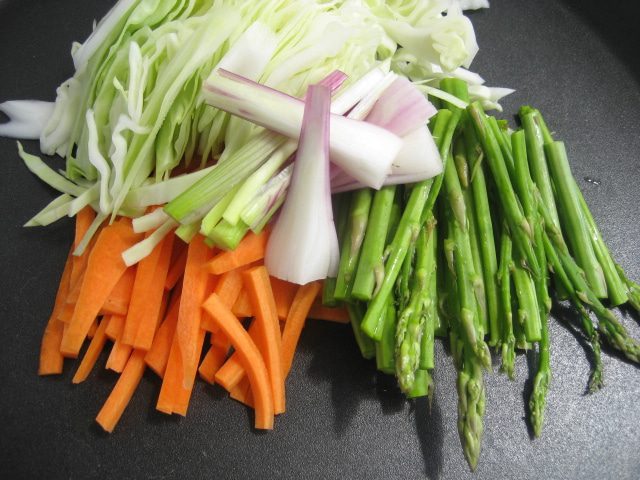 Stir Fried Vegetable
Ingredients: (2 servings)
10 asparagus- sliced into 2 inches long
1 cup sliced cabbage
1 carrot- cut into 2 inches long
1 spring onion (white part)- sliced
3 cloves garlic- roughly bruised
1 tbsp soy sauce
A pinch of salt
1/2 tsp ground white pepper
1 tbsp oil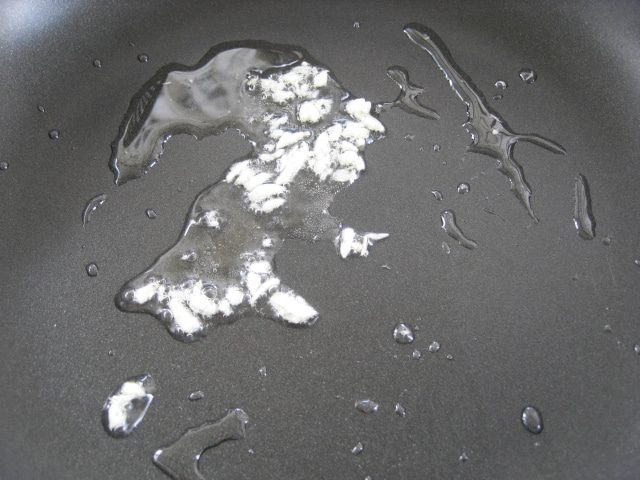 Heat oil in the large pan over the medium heat.
Add garlic and sauté until golden brown.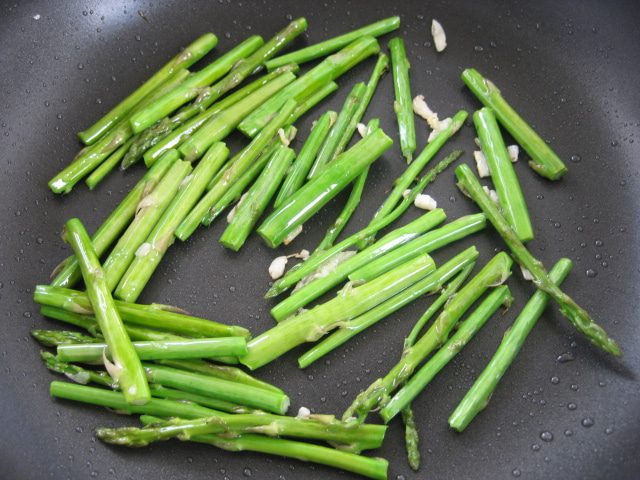 Add asparagus and stir for few second.
Add cabbage, carrot and onion.
Add salt, soy sauce and pepper. Stir for few minutes.
The vegetable should be partially cooked and a little bit crunchy and fresh.
Serve hot with some steamed rice or hot pasta.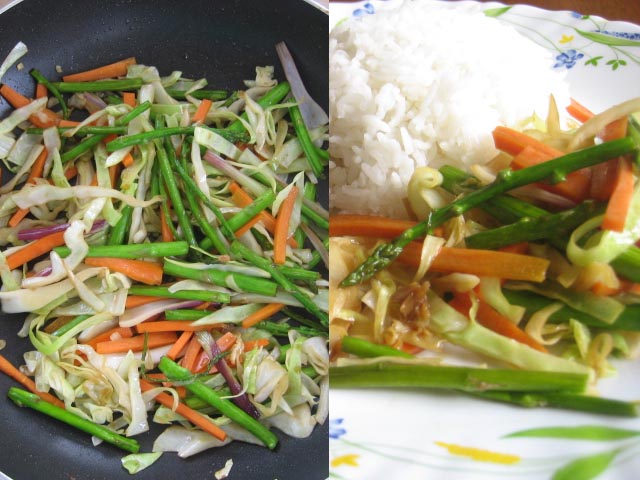 Try changing your veggies, mixing up color and texture. Explore yourself in different vegetables from the fresh gardens. Try spicing up your stir fry with chili, capsicum, or yummy hot seasoning sauce. I know you will fall in love with stir fried veggies
What are your favourite veggies for stir frying?
Happy cooking,