Christmas and holidays are a lot about cookies.  I know they are really about other things–much more important things–but when it comes to entertaining, spreading holiday cheer, and getting into the spirit, cookies go a long way.  This is really the season for them to shine, as cookies take center stage for cookie exchanges, gift giving and holiday potlucks.  And now with just two more days till one of my favorite holidays of the year (the other one being Easter), I thought I'd try to get this one (very easy) recipe in, since I was finally able to do a little baking this past weekend.  And there's still time to fire up the oven if you haven't had a chance till now either.   Someone I just met also mentioned looking for recipes she could make with her kids, and I think this chocolate crinkle cookie recipe would be perfect for something like that (or baking with friends and family in general)–imagine the bonding of rolling the cookie dough balls in powdered sugar.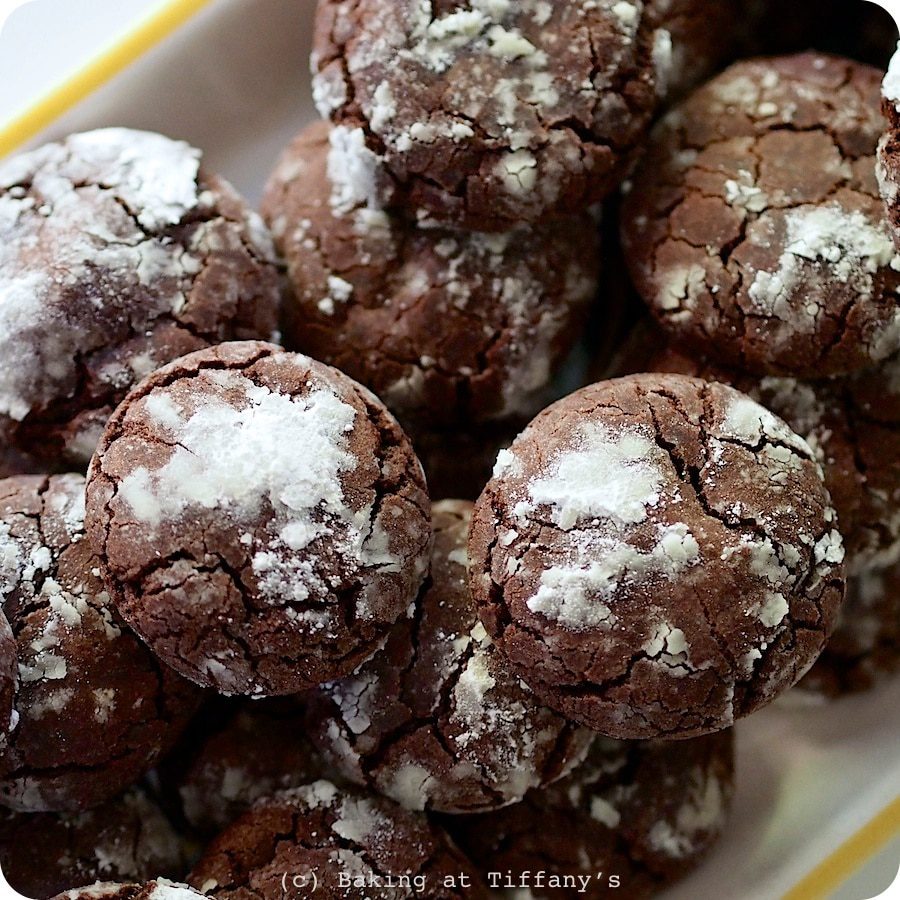 I adapted this recipe from Williams-Sonoma.  I thought the powdered sugar coating gave it the dreamy, snowy, wintery, Christmas feel (since it will never snow where I live, at least my Christmas desserts should remind me of snow).  I think this recipe can be adapted several ways.  I added peppermint oil because I think chocolate and peppermint are one of the best flavor combinations, especially for this time of year.  Adding cinnamon instead would add a kick, like Mexican chocolate–also a winning medley.
Whether you choose to indulge in cookies or not–and I want to say this even more so because I feel like people don't really say it anymore (maybe for fear of being offensive?)–may you and yours have a very Merry Christmas.  (If you don't celebrate Christmas, I also wish you very happy holidays.)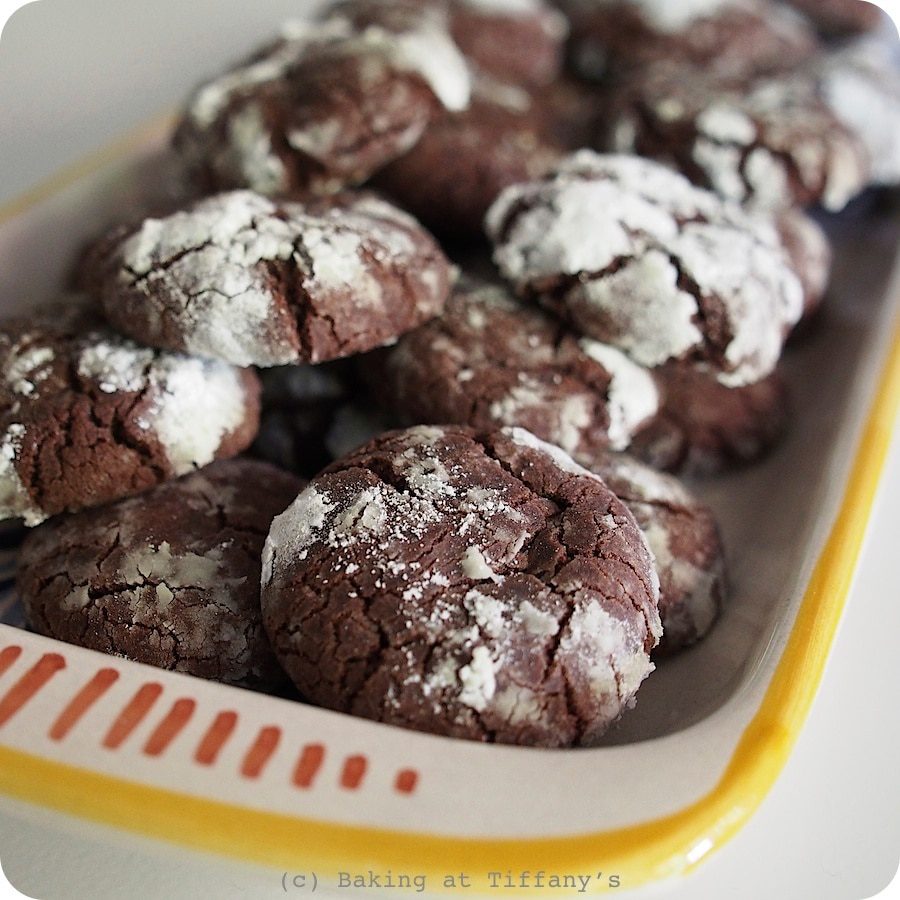 Print
Mint Chocolate Crinkle Cookies
Recipe adapted from Williams-Sonoma Chocolate Crinkle Cookies recipe.
Ingredients
1-2/3 cups unbleached all-purpose flour
1/2 cup unsweetened, Dutch-processed cocoa powder
1-1/2 t. baking powder
1/4 t. salt
1/2 cup (1 stick) unsalted butter, at room temperature
1-1/4 cups sugar
2 large eggs
1/2 t. vanilla extract
1/2 t. peppermint oil (I use the one from Trader Joe's)
1/2 cup powdered sugar
Preparation
Preheat oven to 350F degrees, and line two baking sheets with parchment paper.
Sift together flour, cocoa powder, baking powder and salt in a bowl.
In another mixing bowl, cream together butter and sugar, either using a stand mixer or a hand mixer on medium speed.
Mix in one egg at a time, adding vanilla and peppermint with the addition of the 2nd egg.
Combine flour and mix on low until just combined.
Place powdered sugar in a separate shallow bowl.
Using a tablespoon, scoop out cookie dough and roll into balls using the palms of your hands. (Mine were less than 1-1/2″ in diameter)
Roll cookie dough balls in powdered sugar, covering them completely.
Space cookie dough balls on the baking sheets approximately 2 inches apart.
Bake on the center rack of the oven for about 10-12 minutes, until puffy and crinkly.
Remove from oven and allow to cool for about 10 minutes, then transfer the cookies to a wire rack to cool completely.