So, up here in Canada the weather is getting a little colder, the days are getting shorter and the desire to do anything at all when I get home from work is getting smaller and smaller. You know what that means? It means that it's time to bust out the slow cooker, the best small kitchen appliance of all time! Nothing is quite as satisfying as coming home after a long day (especially when it's dark and cold outside) to the smell of deliciousness and your food being hot and ready for eating. Just writing this makes me happy and what I made in my slow cooker this week made me even happier. Pot roast. Two of the most delicious words of all time.
So, I have to tell you guys, this recipe is crazy easy. It takes about ten minutes to prep and then 8-10 hours later it's done. This would be perfect for a family holiday meal. You know the ones where you want it to look like you put a lot of effort into it but you really didn't have time to do anything because you left everything to the last minute and now you're running all over the place and all along there is something so simple cooking away at home.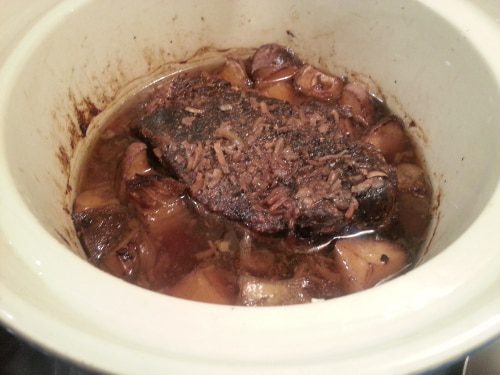 Now, I want to clarify, just because this is simple that doesn't mean that it isn't delicious. This roast is in-freaking-credible. Make it now.
Ingredients
1 3lb roast
6 medium sized potatoes, cubed
2 large onions, cubed
1 packet onion soup mix
1 tablespoon olive oil
1½tablespoons Montreal steak spice
1 tablespoon Worcestershire sauce.
Directions
Add onions and potatoes to the slow cooker. You can use carrots and celery too if you have them on hand. Stir in half the packet of the onion soup.
Rub the oil into the roast and then sprinkle with the Montreal steak spice. Add to the slow cooker. You may need to dig a bit of a trench in the onions and potatoes so that everything fits in there together.
Add the rest of the onion soup mix to the slow cooker and then the Worcestershire sauce on top.
Cook on low for 8-10 hours.
Eat.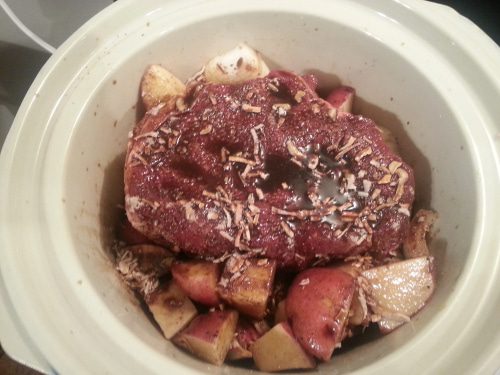 If you're feeling like mashed potatoes…
These potatoes are great as is but they are also lovely mashed. Dear me, I love potatoes. All I did for the mashed version is add some butter and some natural yogurt (you can use sour cream if you prefer) and then mash (or blend) until it's nice and creamy. No additional seasoning required.
If you're feeling like gravy…
This yields quite a bit of delicious drippings. If you want to make a scrumptious gravy from all that tastiness, all you need to do is mix together 3 tablespoons of corn starch with just enough cold water to make a slightly runny paste.  Bring the dripping to a steady simmer in a small pot and slowly add the corn starch mixture little by little stirring constantly until you've reached your desired thickness.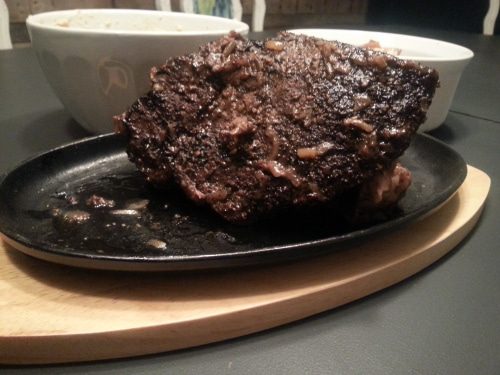 Voila! Serve with a nice veggie side dish and you have a beautiful dinner that was practically effortless. Who can ask for anything more?