My slow cooker saves my life about once a week.  Pop in the food, turn the crank to low, head to work, and come home to a delicious, warm meal.  And, this stew is perfect for cool nights, sweatpants, and unwinding on your back porch.
The great thing about this stew is that is is gluten-free and paleo.  Butternut squash replaces potatoes and gives the soup a warm, bread-and-butter flavor.  Chunks of beef make it hardy. Carrots and celery give the soup depth and color while apple juice adds a faint sweetness.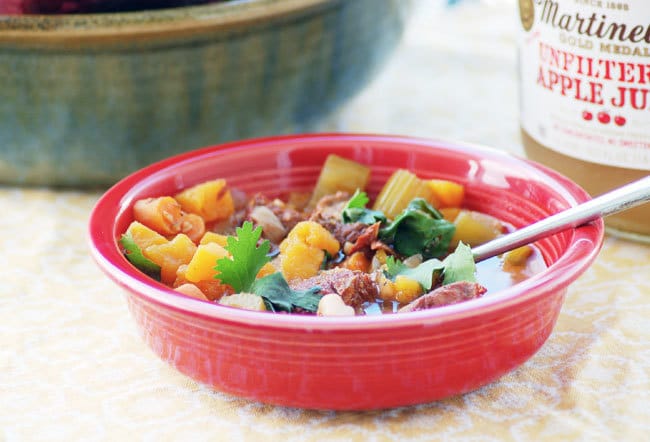 Slow Cooker Beef Stew
Ingredients:
2 pounds stew meat or chuck, cut into cubes
1 whole medium red onion, diced
3 cloves garlic, minced
1 teaspoon dried rosemary
1 teaspoon dried thyme
1 teaspoon dried oregano
1/2 teaspoon sea salt
1 butternut squash, peeled and diced (About 2 cups)
10-12 baby carrots, sliced
4 celery stalks, minced
4 cups beef broth
1 cup apple juice, unfiltered and unsweetened (such as Martinelli's)
Fresh parsley (for garnish)
Prep Time: 15 minutes
Cook Time: 8 hours on Low, 4 on high
Yields: 6 servings
Method:
1. Place beef and vegetables in crockpot. Add garlic and spices.  Stir until veggies and beef are well coated.
2.  Pour beef broth and apple juice in crockpot.
3. Cook on low for 8 hours or until beef and veggies are tender. Top with fresh parsley. Curl up and enjoy a big bowl with your cutie.