We love eating fresh, and try avoiding buying frozen food as much as we can. Frozen pea and corn are those I highly restrict in my household. Not only the fresh one tastes so much better, but I get to spend a little time opening fresh pea with Yaseen. He loves helping with the pea but frankly pea isn't his favourite vegetable at all. It's sad that after all hard work he has helped, he always pushes my mushy pea away. But recently when I found a little idea of adding a tiny bit of wasabi in my regular recipe, it changed everything.
Now my little boy enjoyed my brand new bold mushy pea. It's slightly pungent, hot and full of flavour. It's strange that Yaseen is in love with wasabi when I rarely cook Japanese food at home. He like wasabi Lays and any kind of wasabi flavoured snack.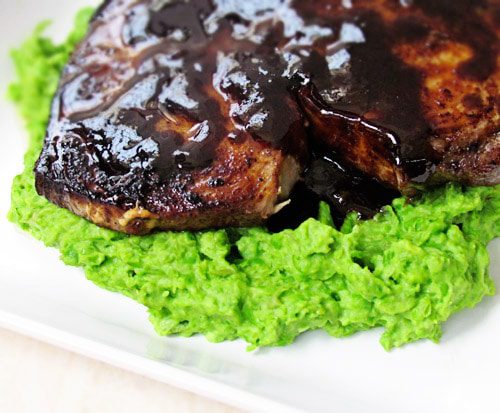 I used instant wasabi paste, only a teaspoon for 2 cups of pea. It gave a really strong scent and flavour, a little bit of honey and rice vinegar really balanced it off. I served pan grilled marinated fish with Shoyu along with it. I used king fish steaks marinated in shoyu, brown sugar and black pepper. The sticky sweetness of the fish really cut right in the hot mushy pea.
Shoyu Fish with Wasabi Mushy Pea

Ingredients: (2 servings)

2 servings King fish steak (or fish fillets)

1/2 cup shoyu (Japanese Soy sauce)

1 tbsp brown sugar

1 tsp ground black pepper

2 tsp oil

1 tbsp plain flour

2-3 tbsp vegetable stock

2 cup fresh pea

1 tsp instant wasabi paste

2 tsp honey

1 tsp rice wine vinegar

A small cube of unsalted butter

A pinch of salt to taste

2 tbsp heavy cream

Preparation:

1.   Stir brown sugar in Shoyu until dissolved, add ground black pepper, and mix well. Add fish and marinate in refrigerator for 1-2 hour.

2.   Cook pea in boiling water with a little bit of salt for a few minutes or until the peas become tender. Drain the water and keep aside.

3.   Transfer cooked pea in food processer, add wasabi, honey, rice wine vinegar, butter, heavy cream and salt to taste. Blend for 5-10 seconds or until you gets desirable consistency. It should be creamy and thick, smooth but with coarsely soft grains.

4.   Heat the large skillet over the medium heat and add oil. When the oil becomes hot, add fish and cook about 2-3 minutes each side or until golden brown and cooked trough.

5.   Serve grilled shoyu fish on the bed of hot mushy pea.

6.   For a little oily liquid left on the pan, whisk a tbsp of flour in. Stir until combine, and then add some vegetable stock to create a thick sauce. Pour the sauce over the fish and mushy pea. Serve hot and enjoy.
I love the color of this dish, dark glossy fish on top of velvety green pea. They were really perfect for each other. Sweet fish dug in the pungent hot smoothness. Another successful recipe, I am so proud that Yaseen loves mushy pea now.
Love,