Happy Halloween!  Forgive me for giving you so many doughnuts (pumpkin, banana, now chocolate) over the past few days.  But, I wanted to make a delicious Halloween dinner treat for you all.  And then, Hurricane Sandy hit.  If you don't know what I'm talking about, you have to be living under a rock.  I think; it's hard to know how much coverage this got outside our area.
Our area (NYC) has just been devastated.  We're lucky to have power, internet, you name it, we have it.  But, my parents, Awa, they haven't been as lucky.  Likewise, my office has lost all of its power and I haven't been to work for the last 3 days.  While many read that and think I'm lucky, I would rather go to work as normal than experiencing what many New Yorkers are going through right now.
My parents, sister,new friend J, and Awa came over for much-needed hot showers, hot food, and charging of phones, laptops, etc.  It's so hard to remember when we didn't have this technology because I practically grew up on it.  My parents aren't even the worst hit; some towns are without drinking water since in certain areas, sewage treatment centers have been compromised.  Trick or treat indeed.
In the face of trouble, I use my hands – during the hurricane, I made these doughnuts which have been devoured by all ever since.  Top them with some leftover Halloween candy and you have yourself a nice little treat – something to comfort you on the harder, or I hope for all of our sakes, easier days!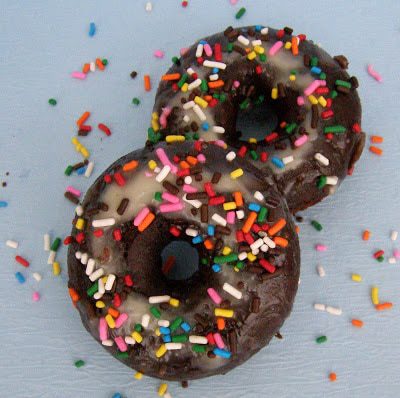 Glazed Chocolate Doughnuts (adapted from Tracey's Culinary Adventures)
Serves:  12
Doughnuts:
2 cups flour
1 cup sugar
1/2 cup unsweetened cocoa powder
1 teaspoon baking soda
1 teaspoon baking powder
3/4 cups milk
2 eggs
1 teaspoon vanilla extract
Glaze:
2 tablespoons butter
1 teaspoon vanilla extract
1 cup confectioner's sugar
1-3 tablespoons milk
Preheat the oven to 350 degrees F.  In a large bowl, whisk flour, sugar, cocoa powder, baking soda, and baking powder.  In another bowl, combine milk, eggs, and vanilla.  Stir the milk mixture gently into the dry ingredients until just combined.  Grease 2 doughnut pans and fill them 1/2 way full.  Bake for 8-12 minutes, until fully cooked through and a toothpick comes out clean.  Let cool.
Meanwhile, make the glaze.  In a saucepan, melt the butter over low heat.  Remove from heat and stir in the vanilla.  Sift the confectioners sugar into the butter, stirring well.  When the mixture begins to get lumpy (after about 1 cup of sugar), add the milk, one tablespoon at a time and whisk quickly to combine, until the desired consistency is reached.  Drop the doughnuts in on one side; remove, and top with sprinkles before serving.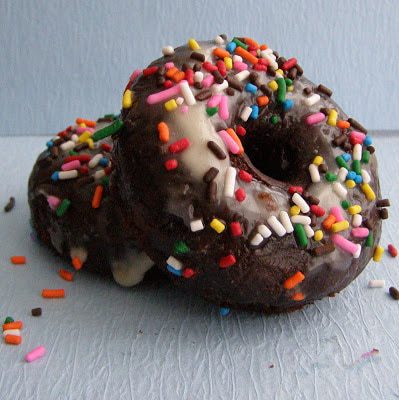 This is a great "trick" for Halloween "treats".  Add some of the chopped chocolate bars (Snickers, Milky Ways, etc.) into the dough and then more on top.  Great way to use up all that Halloween candy with minimal fuss.
Until the next time my oven is on…