Have you tried olive oil cake yet?  It has a crackling crust with an aromatic, oil-rich middle that is super moist.  What's best of all, it's so easy to throw together, no whipping egg whites you that you have to fold in or creaming together butter and sugar, at least not in this recipe.
And what would make that even better, topping it was a black cherry compote that is sweet with just a touch of tartness.
Making the cherry compote is very simple, starting with sugar and water and a little lemon zest and adding in dark sweet cherries.  I used frozen because it's March, and finding ripe cherries would be impossible.  Plus, since you are creating a compote, you are breaking down the fruit, and frozen fruit works perfectly for this.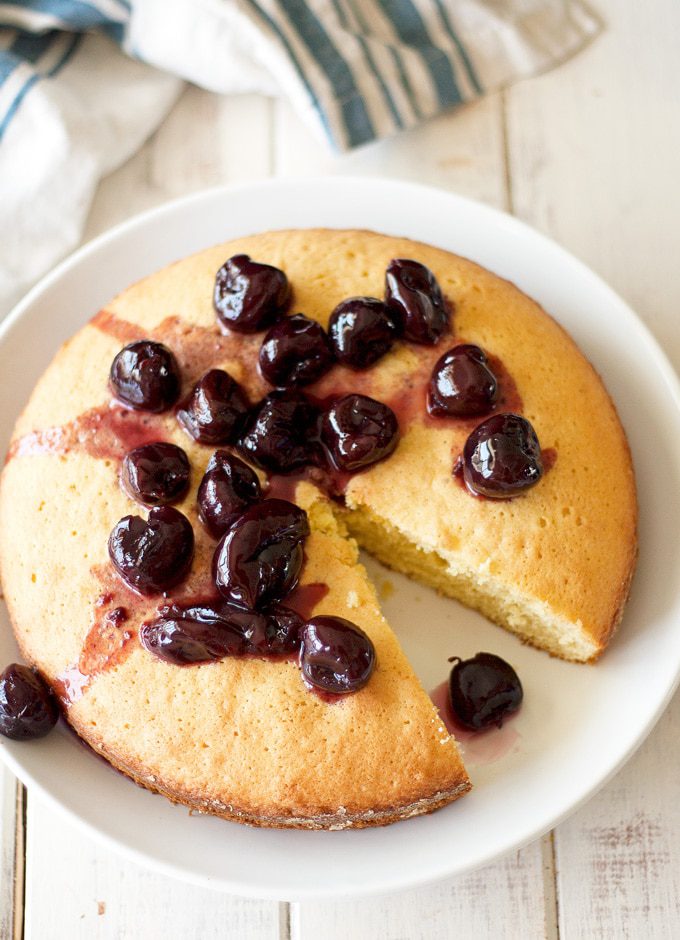 The olive oil cake cooks up very quickly and once it's cooled and you are ready to serve, simply ladle over your homemade cherry compote.
This makes for a beautiful presentation, plus I like to reserve a little extra compote to ladle over each individual piece.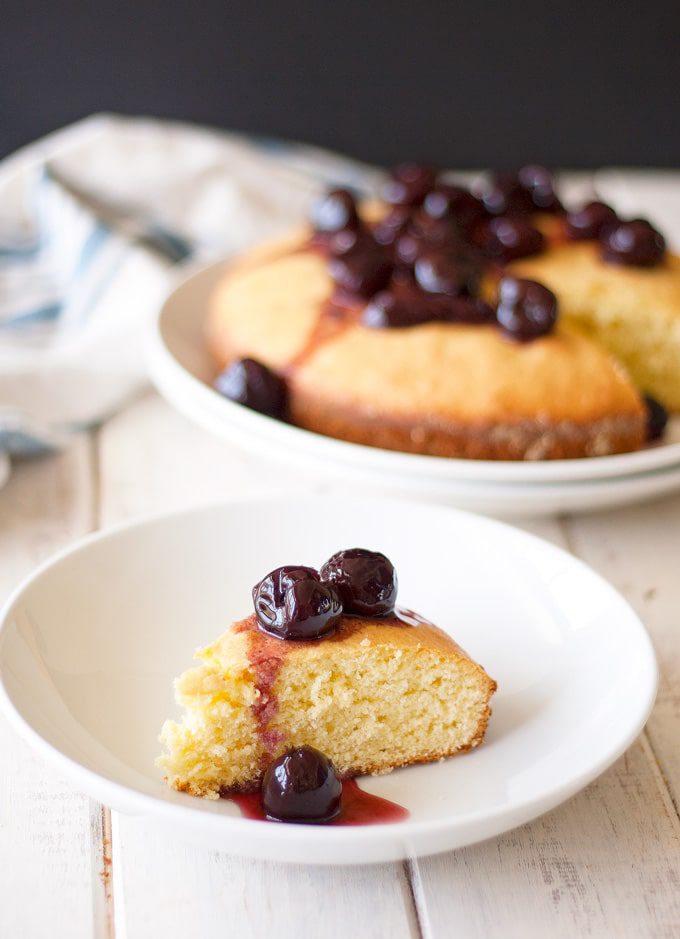 This olive oil and black cherry compote would make the perfect birthday cake alternative or after dinner treat, it would also make the perfect addition to a weekend brunch spread or even an Easter dinner.
ingredients
black cherry compote
½ cup sugar
½ cup + 2 tablespoons water, divided
1 lb fresh or thawed sweet dark cherries, pitted
2 lemon zest strips
2 teaspoons cornstarch
olive oil cake
1½ cup all-purpose flour
2 teaspoons baking powder
1 teaspoon kosher salt
3 large eggs
1 cup sugar
½ cup olive oil
1 teaspoon pure vanilla extract
1 teaspoon grated lemon zest
2 tablespoons fresh lemon juice
olive oil cake with black cherry compote
Instructions
black cherry compote
In a saucepan over medium heat, bring the sugar and ½ cup water to a simmer and cook, stirring until the sugar dissolves, about 3 minutes.
Add the cherries and lemon zest and return to a simmer. Cook until the cherries are tender but still firm, about 2 minutes. Add to the simmering cherries and cook, stirring occasionally, until the liquid has thickened, about 3 to 5 minutes.
Transfer the compote to a bowl and discard the lemon zest.
Let cool at room temperature.
olive oil cake
Preheat oven to 350 degrees F. Butter a 9-inch cake pan and line with a piece of parchment.
In a medium bowl, sift together the flour, baking powder and salt.
In the bowl of a stand mixer, add the eggs and beat on medium speed until thick and a pale yellow, about three minutes. With the stand mixer still going, slowly add the sugar in a thin, steady stream.
Next, add the oil, in the same thin, steady stream as the sugar, continuing to beat constantly.
Beat in the vanilla and the lemon zest.
Remove bowl form the stand mixer, scraping down sides, and then gently fold the dry ingredients into the egg mixture. Be careful not to over mix, stirring just until no dry patches are left in the batter.
Transfer the batter into the pan and bake until the cake is golden brown and a toothpick is inserted into the center and comes out clean, about 35-40 minutes.
Let cool in the pan on a wire rack for about 10 minutes, and then transfer cake form pan to a wire rack. Let cool.
Once completely cool and ready to serve, top with cherry compote.