It's been pouring cats and dogs here. Don't get me wrong. I love the rains. At the appropriate time, dark clouds overtaking blazing sunshine and giving everyone a much needed respite. This turn of weather though is another beast altogether. Suffice to say, I am still cooking winter appropriate dishes. No "come hither" spring in my days. It's cold and dreary and terrible. That being said today's dish is perfect for any weather. Call it what you may, murg saagwala or palak chicken; it is a pan-fried chicken in a spinach sauce which is delicious no matter what the name.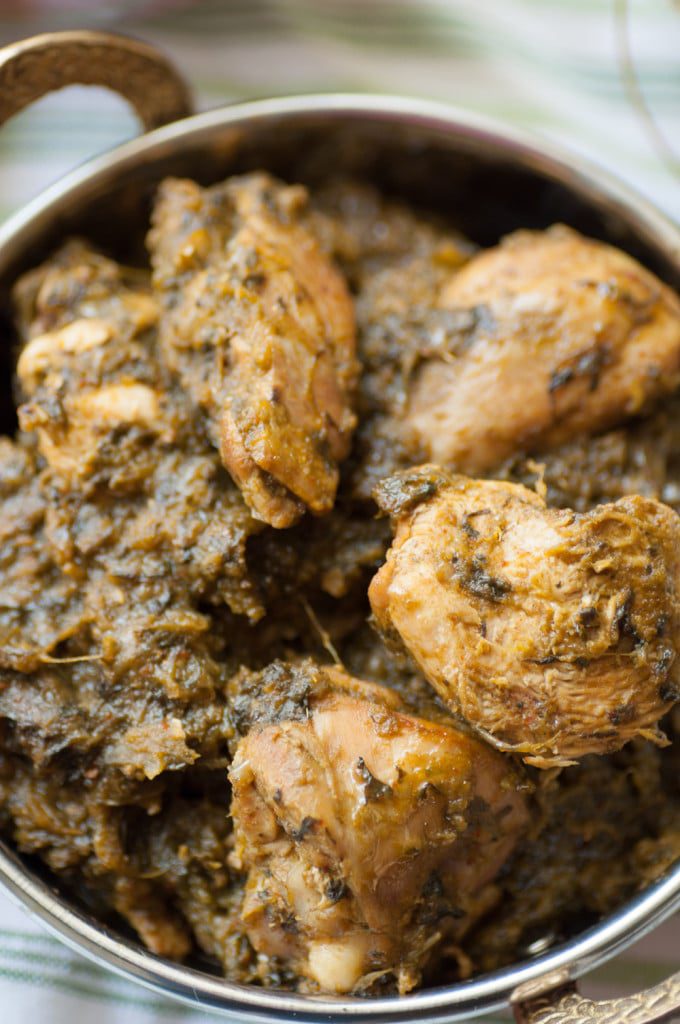 Palak chicken is a staple in my mom's house. It gets made whenever spinach is in season. It is nuanced dish striking a perfect balance between savoury and spicy; making it wonderfully addictive. Mom's a vegetarian. Barring her everyone else eats this. So it is prepared whenever the family gets together.
For a long time I had tried to make this dish at home, assuming it would be the same way as you make palak paneer. I was wrong. Finally, armed with the family recipe, I have a delectable delight that needs to be shared. In the video, I walk you through the processes. Don't worry about keeping a tab on the ingredients or anything, as it's neatly lined up for you in the end. I suggest you watch the video to absorb how easy things are once you break the steps down in to small relational processes. Indian food is not difficult. It is just a matter of key pressure points that allow flavour to develop.
Indian food is easy when you see #howto make it #stepbystep. Easy Palak Chicken. Click To Tweet
So was the video useful? Let me know in the comments below how I can make them more worth your while. I am all ears. Please like this video if you want to see more of such content and subscribe to my Youtube channel for free. You will get updates twice a week about the latest recipes the moment they are out. You can do it from right here by clicking the button below.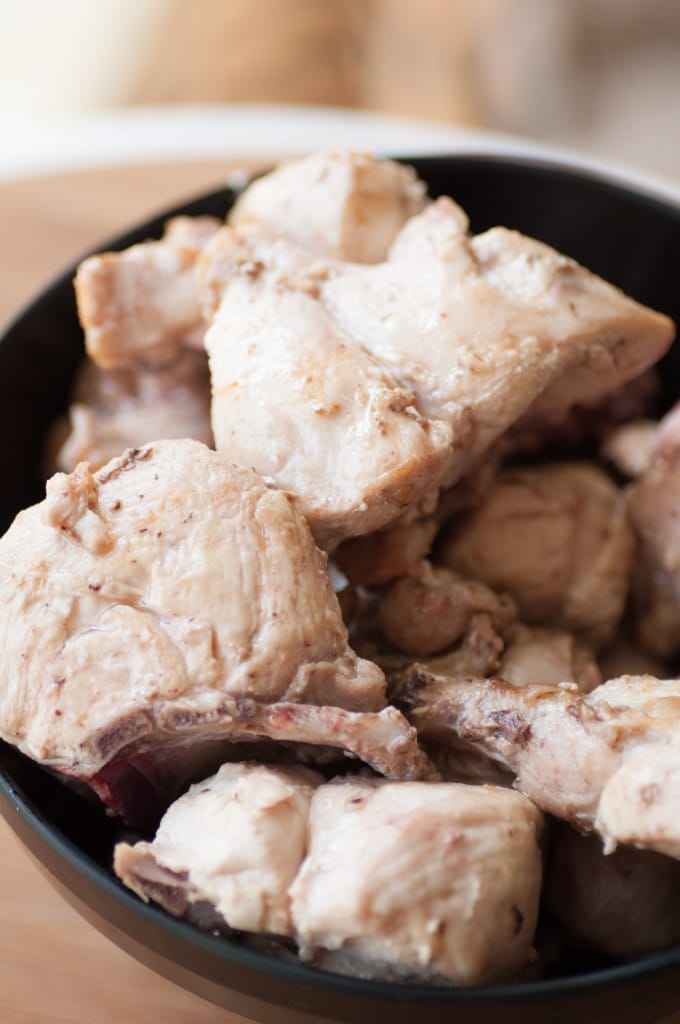 Have you seen Jamie Oliver's Save With Jamie? It's an old programme but it is often shown in many food channels. Anyway, I caught a repeat telecast of an episode a few weeks back where he made an economical fish pie. Normally, I am not the kind of person who makes a fish pie but something about this recipe intrigued me.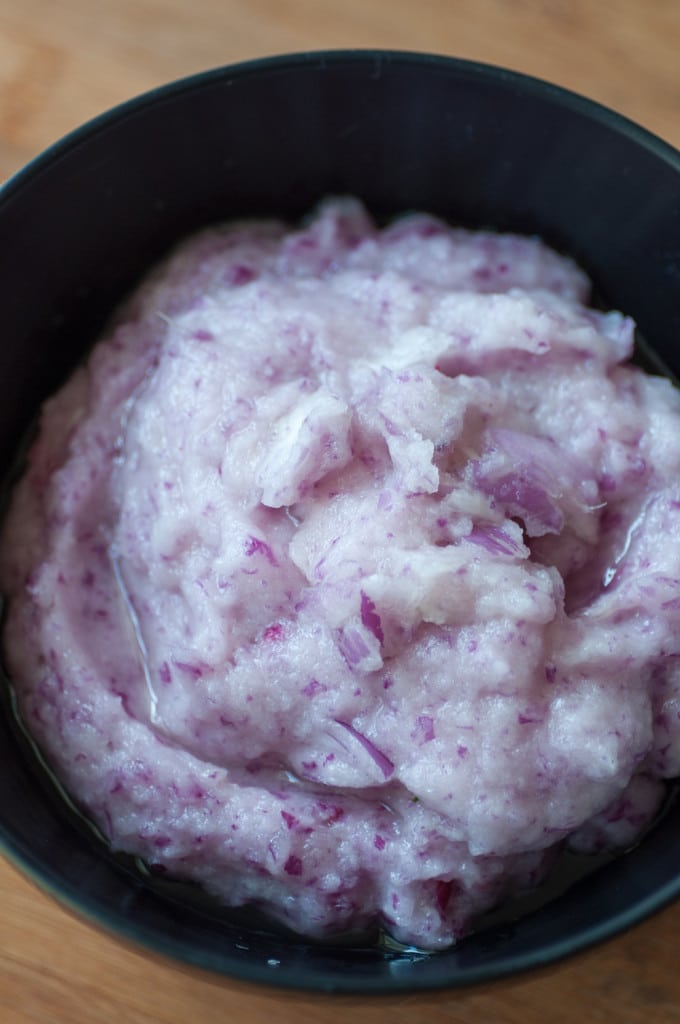 You see, Mr. Oliver suggested that we use prepared frozen spinach, which are blanched, chopped, and bagged for easy use when the texture of the spinach is not consequential to the dish. He said they were perfect for all those recipes where spinach was part of the flavouring and not the display. Could it be right? Then I did my research, how to best go about doing a DIY for this, since our grocery stores don't have packaged frozen spinach and in Bangalore, buying them in season, spinach is dead cheap.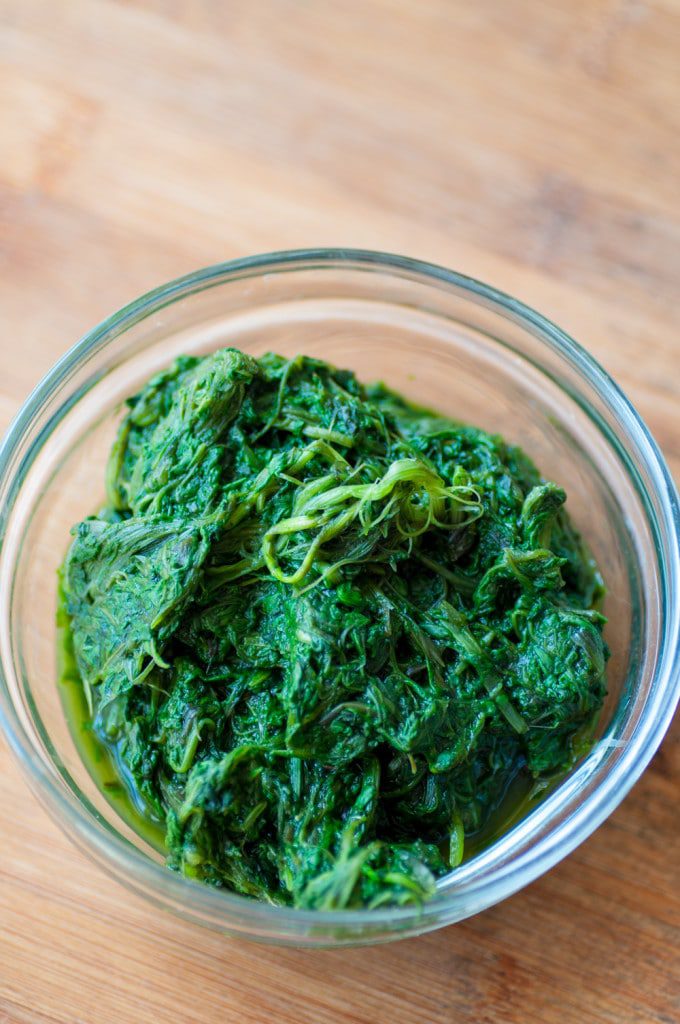 So naturally, I went through my usual sources (cough, Pinterest… cough, Google) and found my way around the way spinach needs to be treated before it can be frozen. Since then, I cannot tell you the number of times I have made myself a green smoothie post my work-outs, made palak paneer for an easy no fuss dinner. Point is, if you have access to frozen prepared spinach, use it. Get the greens into your system. If however like me, you need to do a DIY, here's a good resource from where you can get it done.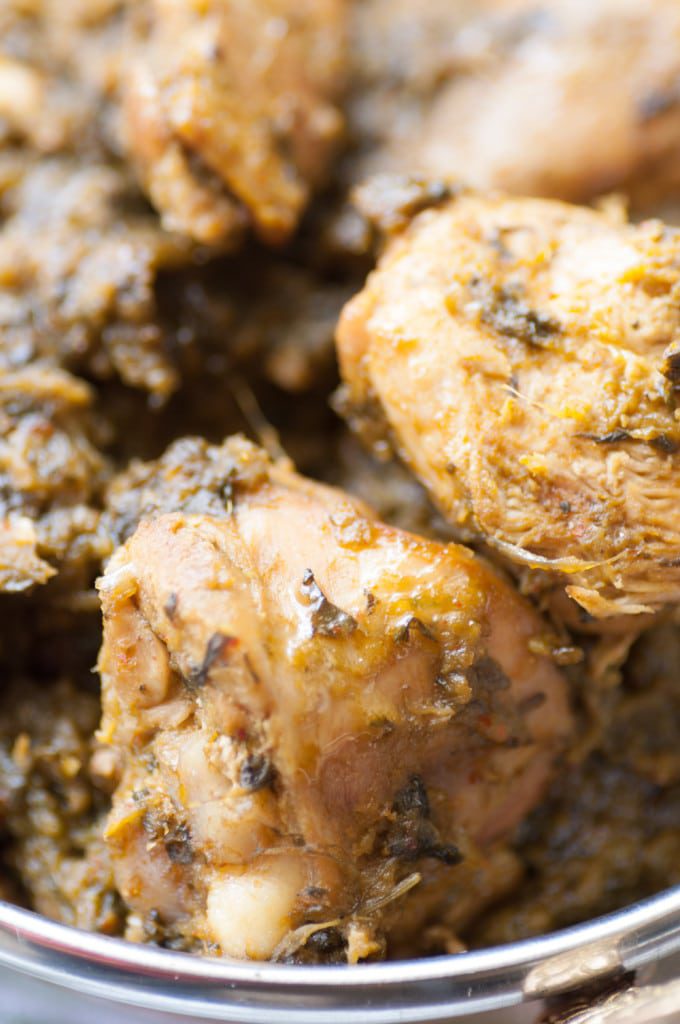 Fresh or frozen spinach is always delicious in Palak Chicken. #recipe #glutenfree Click To Tweet
For today's recipe, I have used fresh spinach, which I have blanched and pureed myself. The reason I am doing that is because I wanted to show you guys the real deal. How this recipe is traditionally made in my home. In the notes section of the recipe I have mentioned how you can use the magic frozen cubes instead. Either way, fresh or frozen, the recipe below has you covered.
Palak chicken goes rather well with my home-made peas pulao. If you don't enjoy your rice, don't fret though, naan or any sort of flatbreads can be a perfect accompaniment to this dish.
THE RECIPE:
Palak Chicken (Pan-fried Chicken in Spinach Sauce)
Palak chicken is a dish in which pan-fried chicken pieces are braised in a creamy, redolent spinach sauce. It is perfect with rice or any flatbread.
Method
Heat the oil in a heavy bottomed pan on medium-low heat and pan-fry the chicken. Reserve the chicken for later use.
In the same oil, fry the whole spices and allow them to become fragrant. Add the onions and fry till golden.
Add the ginger and the garlic pastes and also the tomato paste successively. Cook till the mixture glistens.
Add the powdered spices and seasonings. Combine well. Now add in the pan-fried chicken and mix thoroughly. Add water, mix, cover the pan. Cook on a low heat till the chicken is tender. It takes about 35 minutes.
Once done, serve hot with any rice or flatbread of your choice.
Notes
The nutritional information is a rough estimate of 1 part (of 4) of the dish (chicken pieces and gravy) without any accompaniments.
Using Bone-less chicken: cut into medium sized pieces. Pan-fry over high heat till the pieces are golden on all sides. Cook the rest of the dish as mentioned. Braise till the chicken reaches an internal temperature of 74°C/ 165°F.
Using paprika: To adjust the level of spice, you can substitute the red chillie powder with your choice of paprika. Smoked is preferable.
Using frozen spinach: measure out the requisite amount and use as directed in the recipe. There is no need to thaw before-hand.

Please let me know what you like about this recipe. Leave a comment below.
If you enjoyed seeing the images, please pin your favourites on Pinterest and share with your friends and family.