With summer on its way and berries being in season, I am inspired to make some berry pie! This recipe is a sweet summer recipe that you can hold in your hand while you eat it! Enter- Raspberry Turnovers with Lemon Glaze.
Ingredientology:
The pie crust used in the recipe is modified from King Arthur Flour, substituting half of the water for vodka. Using vodka in pie dough helps minimize the gluten strands that form when water is added to flour, therefore creating a more tender, light and flaky crust. Brown sugar and lemon zest is used in the filling to compliment the flavor of the raspberries. Makes 8 turnovers.
The Ingredients:
Crust:
2 1/2 cups all-purpose flour
3/4 teaspoon salt
1/3 cup vegetable shortening
1/2 cup butter (1 stick)
1/3 cup ice cold water
1/3 cup vodka
Filling:
2 cups fresh raspberries
5 tablespoons brown sugar
1 teaspoon vanilla
1 tablespoon lemon zest
2 teaspoons cornstarch
pinch of salt
Egg wash:
1 egg
1 tablespoon water
Glaze:
3/4 cup powdered sugar, sifted
1 tablespoon lemon juice
1 tablespoon lemon zest
The Method:
In a large mixing bowl, combine the flour and salt
Cut in the shortening until the shortening is the size of peas
Cut in butter until the butter is in small flakes
Combine water and vodka together in a cup
Spoon the water/vodka combination into flour mixture, 1 tablespoon at a time, stirring with a fork until combined
Roll dough into a disk, cutting into two parts
Wrap two parts in plastic wrap, refrigerate for 1 hour
While the dough is chilling, combine the raspberries, sugar, and lemon zest, vanilla, cornstarch and salt in a bowl, set aside
Preheat oven to 375 degrees, and line a baking sheet with parchment paper
Take one half of the dough out of the fridge, and roll out to 10in x 10in dimensions
Cut square into four part
Add a heaping tablespoon of filling to the center of the square
Bring corners together, creating a triangle, and press the edges with a fork
Brush tops with egg wash, bake for approx. 20 minutes or until golden brown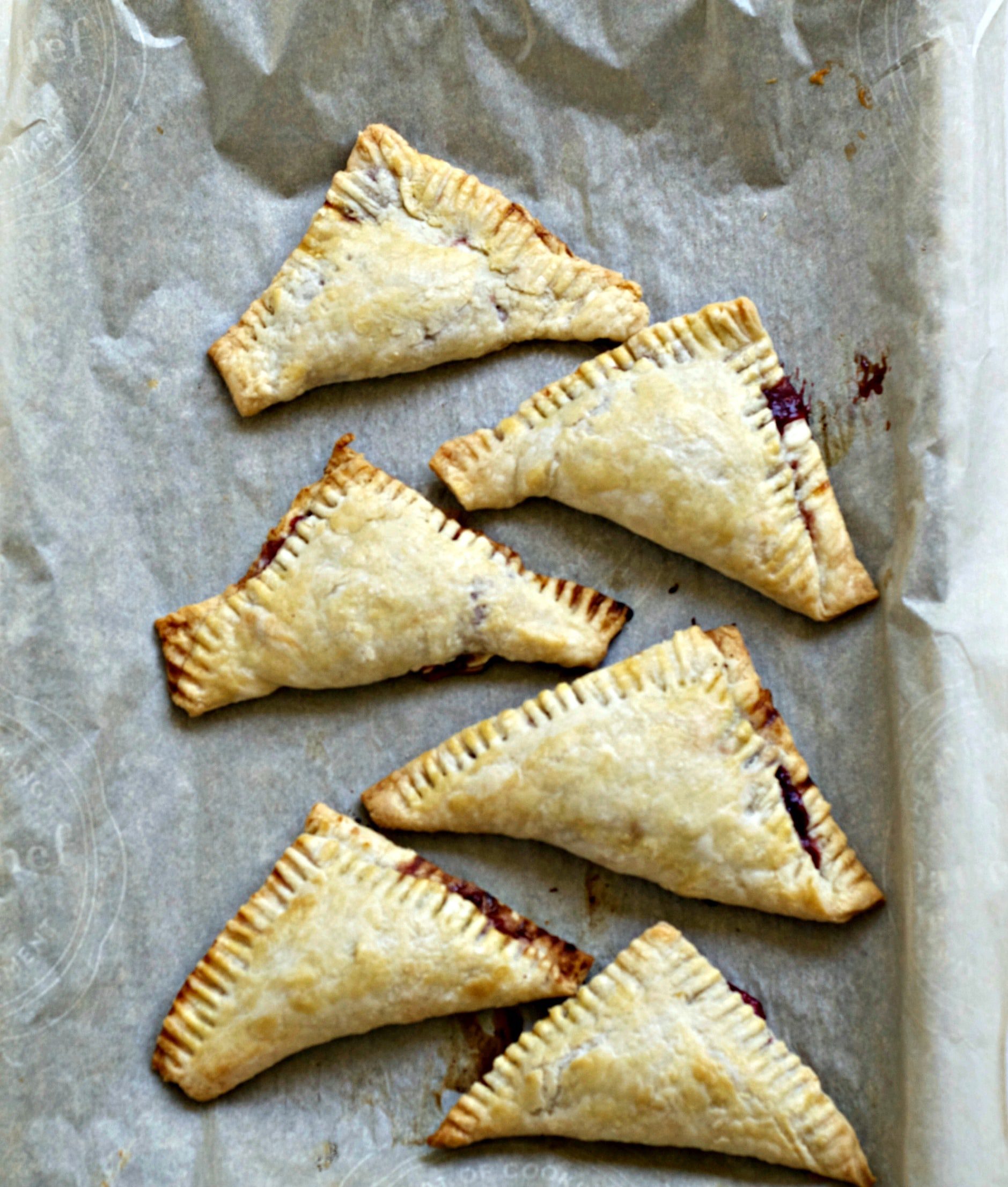 To make the glaze, just combine the powdered sugar, lemon juice and lemon zest in a mixing cup.
Drizzle generously over the turnovers and allow time to dry.