I love making homemade snacks that I can grab on the go.  I know that if I bring something with me when I run errands, I am way less likely to stop somewhere for something to eat.  Even though I swear by our local drive-thru Panera, I digress.These homemade granola bars are super simple to make and you probably already have most of the ingredients in your pantry.  They combine healthy ingredients that you can feel good about eating rather than filling up on a sugary candy bar or fast-food.  I slightly adapted this recipe.
You want to begin by toasting your oats and nuts.  This step is completely optional, but I prefer the taste of toasted oats compared to raw oats.  Toast your oats and nuts in the oven for 10-12 minutes at 350 degrees.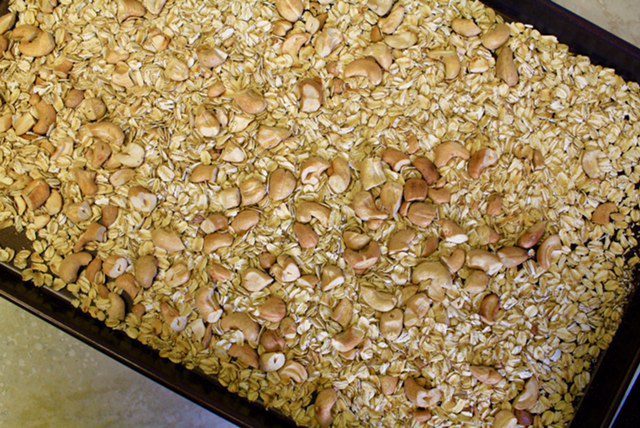 In a small mixing bowl, add the peanut butter and agave.  Microwave the bowl for 30 seconds until the ingredients are completely melted.  You may have to microwave for an additional 10-15 seconds.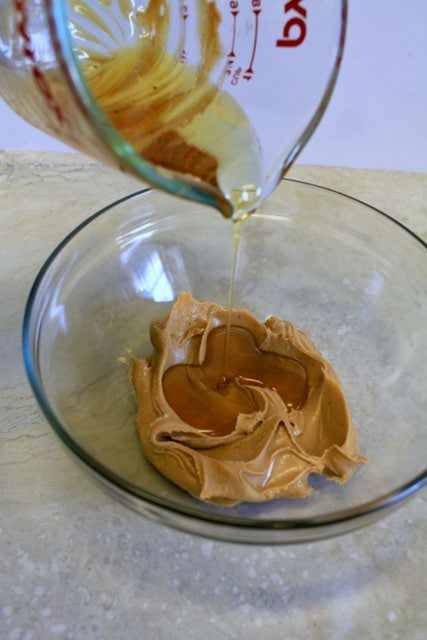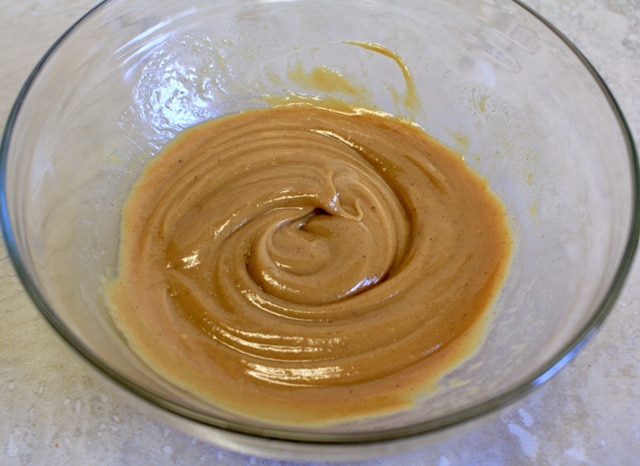 Set the melted peanut butter and agave to the side.
In a larger mixing bowl, add the toasted oats, toasted nuts, dried cherries, and mashed banana.  Add the gooey peanut butter right on top.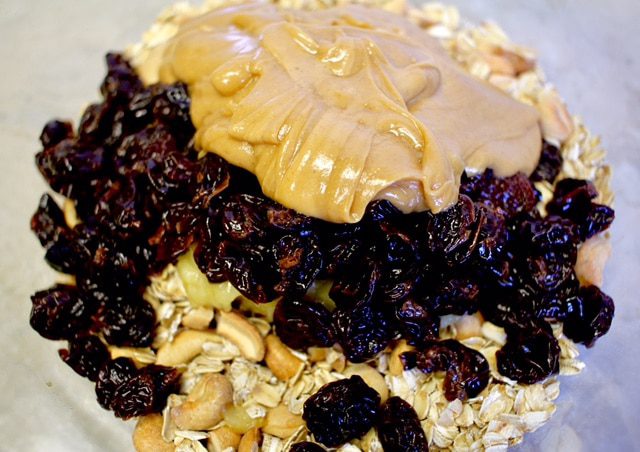 Mix the ingredients together with a wooden spoon until they are thoroughly combined.  It should be fairly easy to mix everything together. Add in the cinnamon and vanilla extract and mix everything around a few more times to be sure that the cinnamon will be in every bite.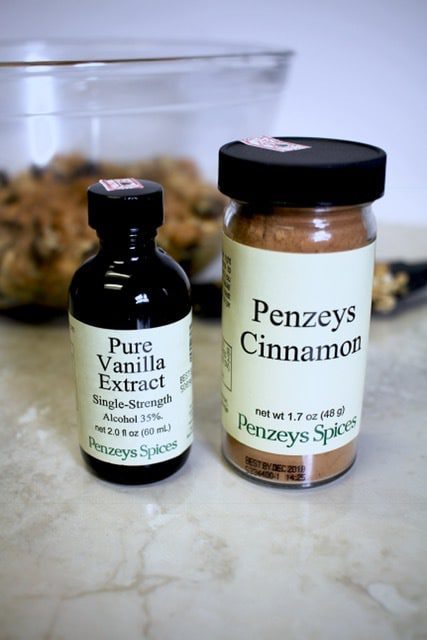 *Side note – I used Penzeys cinnamon for this recipe after receiving a large selection of their spices for Christmas, and I am completely obsessed with their products now! You must give them a try!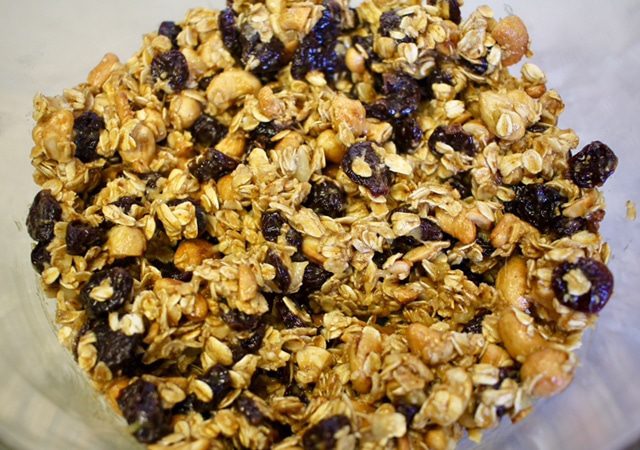 Once the granola is combined, add it to a 9×9 baking dish lined with plastic wrap.  If you do not have plastic wrap, you will want to thoroughly coat the pan with cooking spray.  Who doesn't have plastic wrap these days though?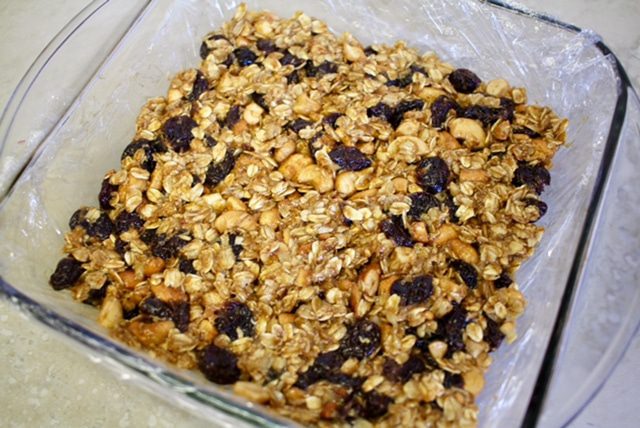 Pop the granola bar pan in the freezer for 2-3 hours, or in the fridge overnight. The bars will harden and be much easier to cut the longer you let them stay cold.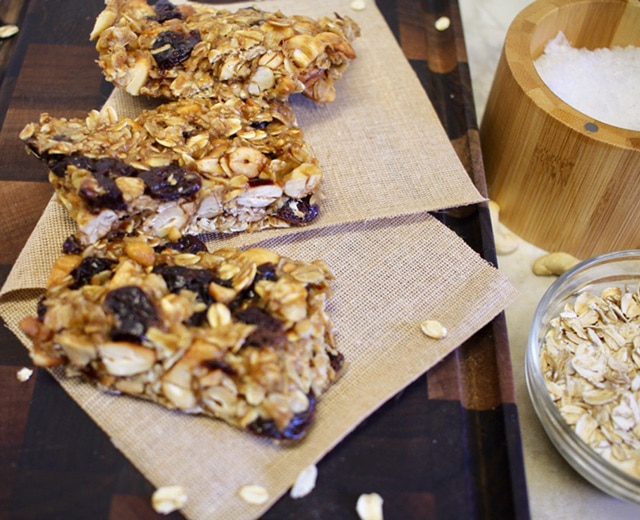 The finished bars are so sweet and crunchy!  I love making a huge batch of these and storing them in plastic bags in my freezer to grab on the go.
They are so delicious and a healthy alternative to many sugary snacks! Enjoy!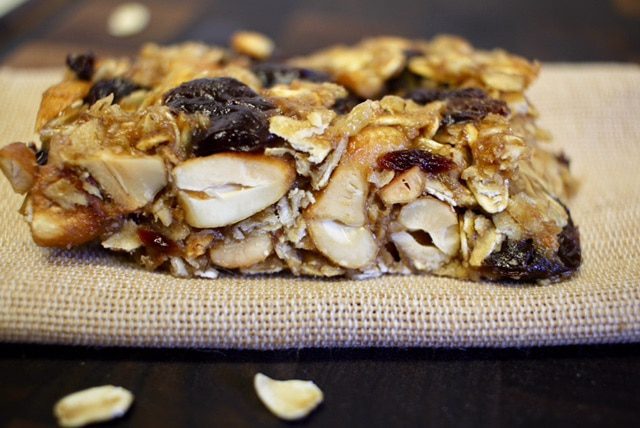 INGREDIENTS:
1 1/2 cups old fashioned oats
1/3 cup smooth peanut butter
1/4 cup agave
1 cup cashews (or any nuts that you have on hand)
1 cup dried fruit (I used cherries, but I have used apricots & cranberries before!)
Question for you:
What is your favorite snack to pack on the go?