Fried, cheesy goodness made in the comforts of you home! Why buy them when you can make Homemade Fried Cheeseballs at home?!
When you go out to eat you are always sure to find cheeseballs on the appetizer menu. I've finally taken the time to just make my own instead of spending an outrageous price to buy them. Might I add also… they're pretty quick to make and even taste better! You can make them "plain" with just salt and pepper or you can spice them up by adding some cajun or garlic as well. The possibilities are endless when you make them yourself!
One day last week I finally made the time to get in the kitchen and actually cook… after I got the chores done of course! Main reason… January has been dubbed #NationalSundaySupperMonth and the bloggers have teamed up with the Famous Idaho Potatoes to bring you "think outside of the box" poutine recipes…. So yes this Fried Cheeseball recipe is only leading you up to my poutine recipe, but that's only minor details!
Weather has finally started to get cold here in Iowa. We all knew it was coming, but we just weren't prepared. Winter always makes for harder work. Water tanks freeze up daily, livestock eat more and we unroll a lot more hay so it gives the cows something warm to lay on. Oh, did I mention how it's just a chore in itself to dress and undress for the weather?!
Winter also means calving season is fast approaching and we're going on special "cow watch detail"…. my cows are due February 28th, but they can come one to two weeks early or be about one week late. Hopefully the weather warms up some as I don't want any babies with frost bit ears! No matter how fast you find the little suckers and get them in the barn and help their mother dry them off… when they come out at around 103*F and it's -20*F outside… it doesn't take long for the frostbite. Luckily we haven't had any issues the last few years, but this year I moved up our calving date by two weeks and as I read the projected forecast in the Old Farmers Almanac it looks like it's going to be a cold one! Ugh. That's why… comfort food is the best during these cold winter months and that brings us back to these delicious, cheesy fried balls of goodness.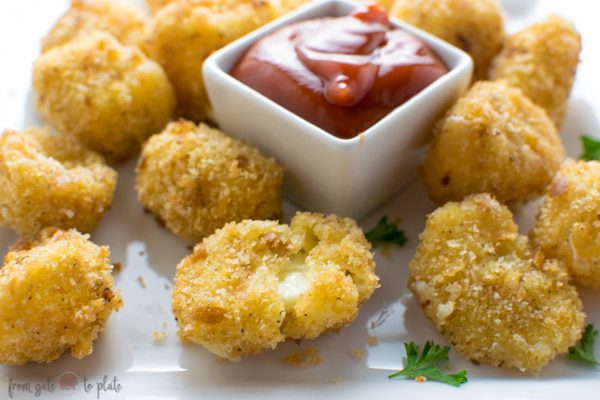 You can experiment yourself to see whether you like one layer of bread coating or two on your cheeseballs… I personally go for the two layers because that way the cheese doesn't ooze out into your fryer as quick and you get a nice golden outside layer with a melted center. Perfect if you ask me! It doesn't take much longer to just add a double coating.
Homemade Fried Cheeseballs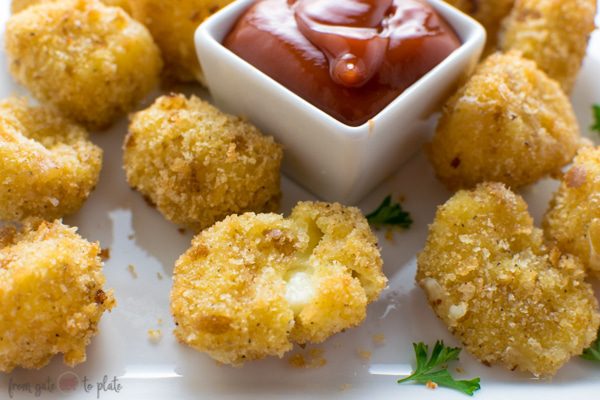 Serves 4
Fried, cheesy goodness made in the comforts of you home!
Ingredients
1 pound mozzarella cheese, cut in 1″ cubes
3 cups all-purpose flour
5 eggs
3/4 cup milk
5 cups bread crumbs
3 teaspoons salt, divided
1 1/2 teaspoons pepper, divided
Oil for frying
Instructions
Preheat oil to 350*F in a deep pan at least 2 inches deep or in a deep fryer. Prepare a cookie sheet with paper towels or a cooling rack for placing the cooked cheeseballs.
In one medium-large bowl combine flour, 1 teaspoon salt, and 1/2 teaspoon pepper.
In another medium-large bowl combine the eggs, milk, 1 teaspoon salt and 1/2 teaspoon pepper.
In the third medium-large bowl combine the bread crumbs and remaining 1 teaspoon salt and 1/2 teaspoon pepper.
Place a few, 10 or so, pieces of cheese in the flour mixture.
Shake off excess flour and place in the egg mixture.
Again, shake off excess and dredge in the bread crumb mixture.
*If you only want one coating you may fry now otherwise repeat the process for a second coating*
Repeat process until all cheese pieces have been used.
Serve immediately!!