May is a month chock full of birthdays.  In fact, today is my MOM'S BIRTHDAY!  Happy Birthday Mom!  This isn't her type of dessert though; she would much prefer ice cream.But it was K's birthday on Sunday and of course, I had to make her the awesome red velvet cupcakes that she loves.  Knowing she was being "health conscious", I used reduced fat cream cheese and less sugar in the frosting.  I substituted buttermilk for skim milk, cut down on the butter and made the cupcakes smaller than normal.

But, I couldn't let her birthday go without something more celebratory thanthese cupcakes.  So, I thought I would surprise her and what better way than with my new pan making some delicious red velvet doughnuts!!!  I asked for the doughnut pan for my birthday and Awa was happy to oblige.  But, it's just sat in its wrapping until this past weekend.  Friday night, while I was home alone, I turned up the music and set to work.

The doughnuts were easier than I imagined, and also so much fun!  Plus the look on my family's face when I brought them in the door was awesome!  I already have on order from M to make some chocolate doughnuts for her.  I can't wait to fulfill that request!  I've noticed doughnuts becoming very popular lately and it was so nice that everyone loved these.  They are baked, but they tasted so cake-like.  I can imagine that the chocolate doughnuts will taste very similar to the chocolate doughnuts I love at a certain coffeehouse!
Red Velvet Doughnuts (adapted from here)
Serves:  12 (12 doughnuts)
Doughnuts
1/2 cup sugar
1 large egg
2 tablespoons unsalted butter, melted
1/2 tablespoon vanilla extract
2 1/4 cup flour
1 tablespoon baking powder
1 teaspoon baking soda
1/3 cup unsweetened cocoa powder
1/2 cup milk
1 teaspoon white vinegar
3 tablespoons red food coloring
Cream Cheese Frosting
4 ounces reduced-fat cream cheese
2 tablespoons butter
1 cup powdered sugar
Time to make the doughnuts (hehe):  Preheat the oven to 350 degrees F.  In a large bowl, beat sugar, egg, butter, and vanilla.  In another bowl, combine flour, baking powder, baking soda, and cocoa powder.  In a third bowl, combine milk, white vinegar, and red food coloring.  Add 1/4 of the flour mixture to the egg mixture.  Beat fully.  Then add 1/3 of the milk mixture.  Beat fully.  Continue alternating, ending in the flour mixture.  Grease the doughnut pans and pour the batter into them (about 2/3 of the way high).  Bake for about 10-12 minutes, until fully cooked through (test with a toothpick).
To make the frosting, beat cream cheese, butter, and sugar until fully mixed.  Store in the fridge until using.  Frost each doughnut before serving.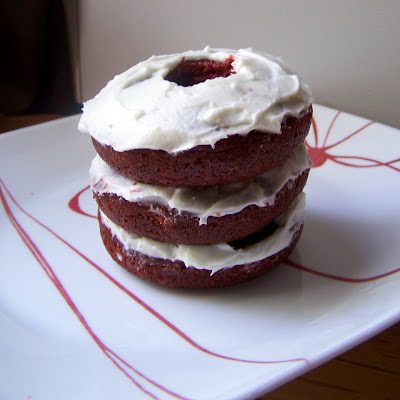 Until the next time my oven is on…