If you like zucchini the way I do, this kugel is a no-brainer. Unless, of course, you don't have a food processor. In that case, you'd have to really, really, really like zucchini. Or it'd have to be on sale for NIS 1.99/kilo, the likes of which I haven't yet seen in nearly 10 months of married grocery shopping.
But the point is that this kugel is delicious, and pretty hard to mess up. Shred zucchini and onion, mix with a few things, and bake. That's a 1-2-3 recipe if I ever saw one.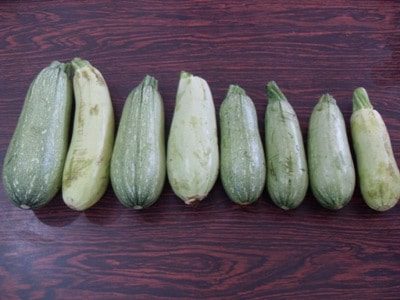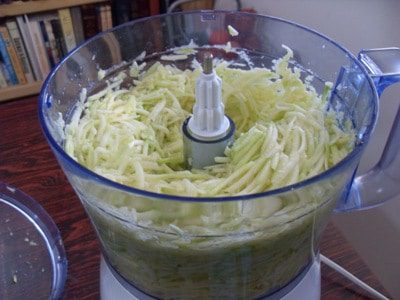 I think I was most impressed with this kugel when I served it to two yeshiva-guy guests over the summer. It was the first time we were having guys over, and I was worried that a zucchini kugel would be too girly. I made it anyway and couldn't help grinning as the guys each took THREE pieces.
So did my husband, by the way. The one who didn't like zucchini before we were married.
Classic zucchini kugel
Yield: One 9×13 kugel, about 16 pieces
Ingredients
6 medium zucchini, peeled and shredded (about 6 cups)
3 onions, shredded
3 eggs
1½ cups all-purpose flour (do not substitute with whole wheat)
1 tsp baking powder
½ cup canola oil
1½ tsp salt
Black pepper, to taste
Directions
1. Preheat oven to 350 F/180 C.
2. In a large mixing bowl, combine all ingredients and mix until no dry spots remain. Pour into an ungreased 9×13 baking dish and bake (uncovered) for 1 hour, or until the top browns and the kugel is set. I have needed up to 80 minutes for this, so if only the edges are brown, give it more time.
Do ahead: This kugel can be made in advance and frozen; just let it defrost for several hours in the fridge before warming it up in the oven. There were some ice crystals on the surface of the defrosted kugel that I brushed off before heating it up, and the consistency was great.
Note (Aug. 21, 2019): This recipe has been through several changes since the time it was originally posted. I now (1) omit the water in the batter as well as the step that previously had me squeezing out the shredded zucchini, (2) I use less oil, and (3) I omit the soup powder and increase the salt a bit. Thanks to my readers' feedback (and ongoing testing here), it's better than ever.