French toast and me go waaaaayyy back.  One of my earliest memories in the kitchen is me with my father cooking french toast for Sunday brunch.  Normally everyone else were in bed, while we were secretly cooking up a storm in the kitchen.  It's a funny memory really, because my Mum was the cook in our household, and an exquisite one at that.  It's thanks to my Mum that I was instilled with my own passion for cooking.  However this is something special that I remember sharing with my father, who sadly passed away a number of years ago.  And so this particular post is dedicated to him.
I've long since moved on from the simple french toast that my Dad and I used to make when I was a kid.  I now consider this particular version of French Toast to be one of my signature dishes.  Instead of the usual thin slices of white bread, my ultimate indulgence consists uses thick slices of fruit bread.  The Dutch have a specific bread called a Drentse Bol (pictured above) which is available at the C1000 (a Dutch supermarket) which is absolutely ideal for this.  The bread is silky and soft inside, with a sweet aroma reminiscent of vanilla.  It makes for an ooey gooey slice of french toast once the egg mixture has soaked in.  It also means that you can cut the slices to your desired thickness – and for me, the thicker the better!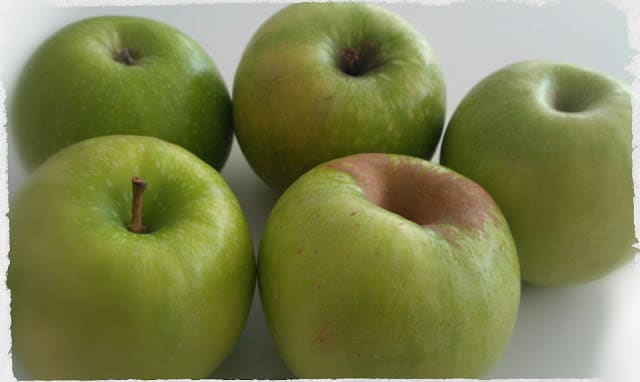 I originally got the idea for this recipe from a cafe in Lower Hutt, New Zealand called "The Tiki Lounge".  It's been a few years since I last went so I have no idea if it's still any good, and I see that they've since taken it off their brunch menu, but back when I used to go, they made a killer cinnamon and apple french toast, served with whipped cream.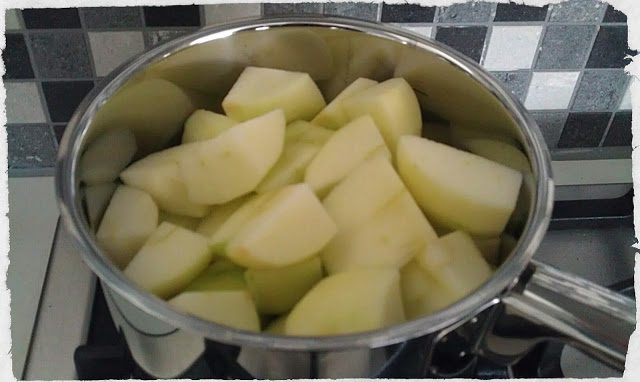 I'm also entering this recipe into the Dutch Food Blogging Event, hosted this month by Gereons Keuken Thuis.   This month's theme is "Wat deel je aan tafel?" for which I can't think of a sexy translation for, except to say I believe it's asking about the experiences involved when sharing a meal with others.  For me, this relates partly to the rare quality time my father and I shared while making french toast all those years ago.
But also, as mentioned earlier in my blog post about corn fritters (click here), us New Zealanders love to go out to cafes during the weekend for brunch – that period somewhere after breakfast but before lunchtime, when the most comforting of foods are served and the atmosphere is casual; lazy even.  It doesn't matter if it's winter or summer, brunch is the ideal time of day to catch up with friends before heading off to conquer the world for the rest of the day.  It's a time to discuss the happenings of the week gone by, the juicy pieces of work gossip, or to recover from a hangover from the evening before. It's completely relaxed and informal, with people often reading the weekend newspaper, children running around, or sleepy couples waking up to a decent meal before lazily moving on to enjoy the rest of their Sunday.
And although this tradition doesn't exist in the same way here in Holland, for me it's still the ultimate time to entertain friends.  On this occasion, we invited two couples who are very close friends of ours to stay with us overnight after spending the Saturday evening in Amsterdam.  The "theme" of our brunch together was reminiscing the events of the night before.  As usual when eating brunch at our place, we were all still in our pyjamas and dressing gowns, no makeup, no pretense at all.  Just a sleepy dreamy brunch on the couch, as we recount the festivities of the night before and compare each others headaches – all while devouring my signature brunch dish – a delicious gooey slice of french toast, served with cinnamon stewed apples and whipped cream.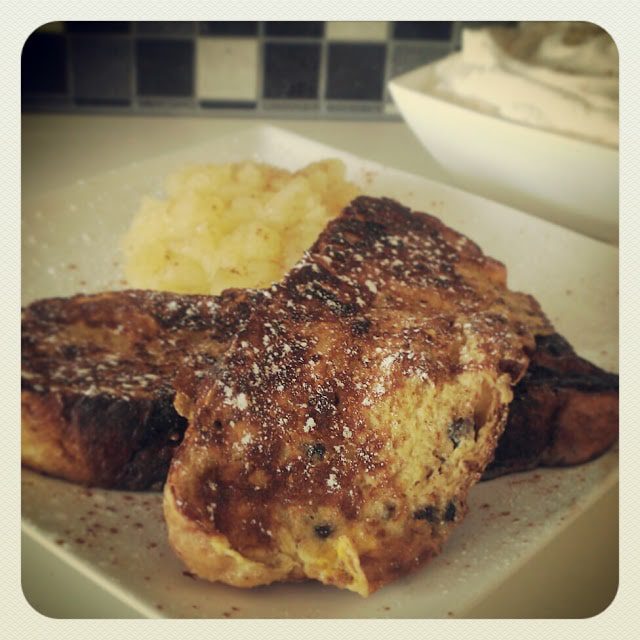 French Fruit Toast with Cinnamon Stewed Apples & Whipped Cream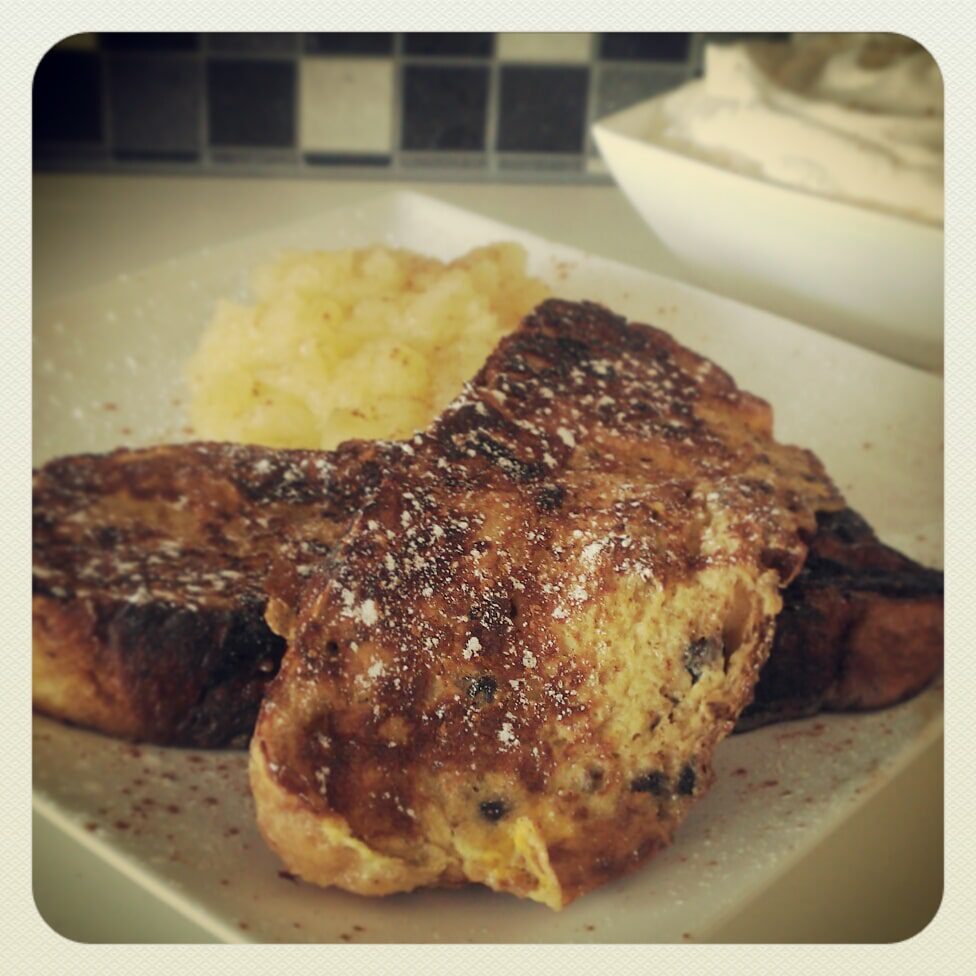 Ingredients
Drentse Bol (or any loaf of fruit bread – the thicker the slices the better!)
Couple of nobs of butter
Roughly 1 1/2 eggs per person
Roughly 2 tablespoons of milk per person
Roughly 1 teaspoon of white sugar per person (fijne kristalsuiker)
A good slosh of vanilla essence
1 apple per person, preferably tangy green ones
dried ground cinnamon (gemalen kaneel)
whipped cream to serve
Instructions
To make the stewed apples: Slice up the apples into chunks. The bigger the chunks, the more they will resemble apple pieces once stewed. Apples break down quickly when cooked in a pot, and so if you cut the apple too finely, you will be left with apple compote – which is also nice. It's up to you what you prefer.
Add the pieces of apple to a pot together with a dash of water (just enough to stop the apples from burning on the bottom of the pot) and about a teaspoon of cinnamon. If the apples are very sour, then you may also want to add a teaspoon or two of sugar. Personally I like to keep the apples somewhat tangy to compliment the sweet whipped cream and gooey french toast.
Cook the apples over a low to medium heat until completely softened.
Meanwhile, slice the Drentse Bol or fruit loaf into nice thick slices.
Add a nob of butter to a non-stick frying pan (large enough to hold your bread slices) and place on a medium heat.
Add the eggs, milk, vanilla, and sugar to a shallow dish big enough to hold your biggest slice. Use a fork to whisk the ingredients together until well combined.
Dip the bread slices into the egg mixture until both sides are covered. I prefer to do this quickly, otherwise the bread becomes too soggy with the mixture.
Fry the egg coated bread in the frying pan until golden brown. You will need to play a little with the heat. You don't want it to cook too fast, otherwise the bread will be golden before the soggy inside is cooked.
Serve the french toast with the cinnamon stewed apples and a small pinch bowl of whipped cream on the side (the whipped cream will start to melt the second it touches the warm french toast, so it's nicer for your guests to spoon little amounts onto their mouthful of french toast).
Eet Smakelijk!!
Monique xx