What does this mac n' cheese, un-fried chicken, and biscuits have in common? Yogurt. That's right, Greek Gods Greek yogurt and kefir. Many of you are already aware of Greek yogurt, but what you may not know is that it's not just for breakfast or healthy snacking anymore.
You may not have also been introduced to yogurt's drinkable sister: kefir. It tastes just like traditional yogurt with the same creaminess and richness, except comes in a pourable form. It's a great swap up to the traditional milk and cereal combo, drizzled on top of fresh fruit, or can be substituted for buttermilk in recipes like pancakes, dressings, and even fried chicken!
So lets get started in showing you how to incorporate these protein packed yogurt products into your everyday cooking.
Kefir Un-fried Chicken: no deep fryer required! And it just might be the crispiest baked chicken you'll ever pull out of your oven. Traditional fried chicken is soaked in buttermilk for about 12 hours to tenderize the meat and ensure it stays nice and juicy. In this recipe, the kefir is going to do the same exact thing, but we're gonna spice it up a bit. Mix about two cups of plain kefir with a few cloves of smashed garlic, hot sauce (more or less depending on how spicy you like it), Cajun seasoning, salt, and pepper. Give it stir to combine and add the chicken. You can use whichever chicken pieces you prefer, but I went with a broken down, bone in and skin on chicken: 2 thighs, 2 wings, and 2 breasts (cut in half to make 4 pieces).
Marinade the chicken up to 12 hours. To get the ultimate crunch, crushed corn flakes do the job perfectly. If you don't feel like crushing them yourself, they actually come in crumb form (check the breadcrumb section of your local grocery store)! Season them with more Cajun seasoning, salt, pepper, and dried parsley. Let the excess marinade drip off the chicken and coat it directly in the corn flake mix: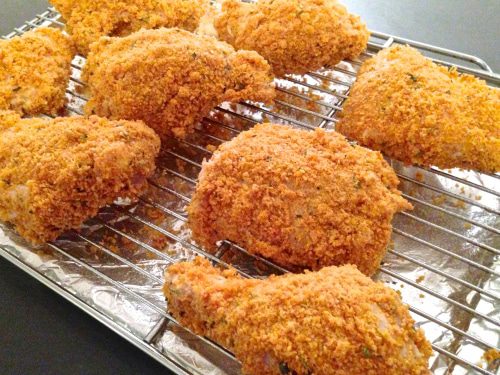 Preheat the oven to 400-degrees and place the chicken on a non-stick sprayed cooling rack to ensure the heat circulates evenly around each piece of chicken (say goodbye to soggy breading with this trick!). Spray with a light coating of olive oil spray.
Bake for about 40 minutes or until the juices run clear when a knife is inserted towards the bone: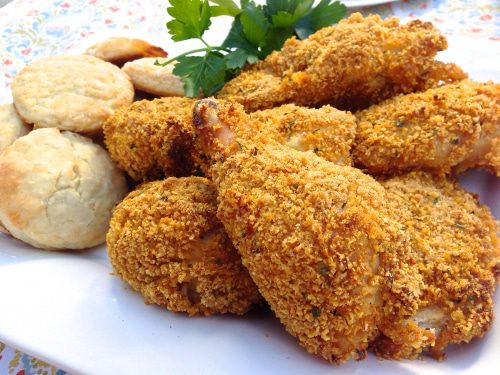 And there you have it! Zac Brown may have written a hit song about how he likes his chicken fried, but if he tasted this version, I bet he'd write a new one.
Next up, mac n' cheese! Adding a cup of plain, full-fat Greek yogurt to your favorite mac n' cheese recipe will add even more creaminess to your cheese sauce: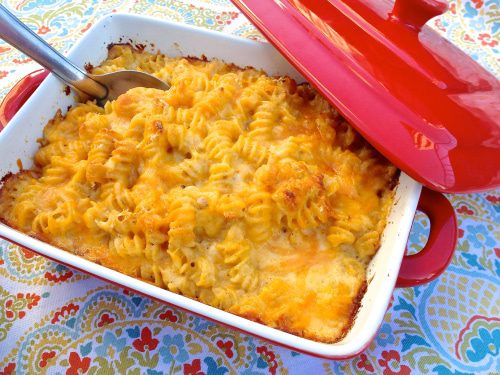 For this mac n' cheese, I used 8 oz of freshly shredded extra sharp cheddar cheese and 4 oz of jack cheese. Once these are grated, set them aside in a large bowl. Next, make a roux with 3 tablespoons butter and flour. Cook them in a skillet until the flour cooks out and the roux develops a sandy consistency. Slowly whisk in two cups of milk and stir until thickened. Pour the roux over the cheese and stir to melt. Last but not least, fold in the yogurt, a heavy showering of freshly grated Parmesan cheese, a pinch of salt and pepper, and a few dashes of hot sauce.
Add a pound of al-dente cooked pasta of your choice (I used whole grain rotini) and toss to coat. It might look really, really thick but once that baby hits the oven, the sauce melts down and coats all the pasta. Transfer to a greased baking dish.
Last but not least, more cheese please! Top with more shredded and grated cheeses. Breadcrumbs or crushed potato chips (or Ritz crackers or gold fish) work too: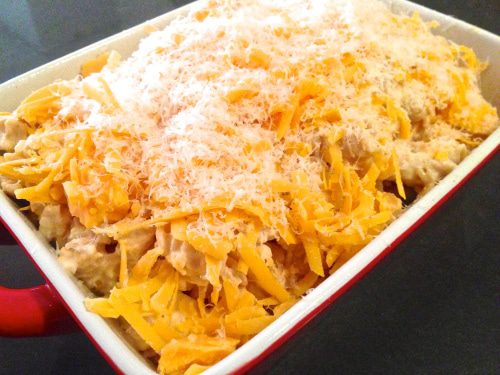 Bake in a 350-degree oven for 30 minutes or until golden brown and bubbly: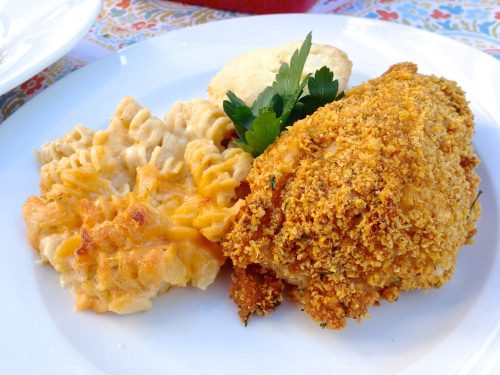 Eat immediately because you won't be able to resist it anyways. Let's just say, between my roommate and I, we killed half this in a day. That's a little embarrassing, but not as much as eating it for breakfast the next Sunday morning. Whoops.
And now for those biscuits. I used Greek yogurt in these in replace of buttermilk, but you could easily substitute kefir in there too. If you don't have a go-to biscuit recipe, check this one here. Make sure you hit them with a little (or a lot) of melted butter right after you pull them out of the oven. A little sprinkle of kosher salt doesn't hurt either : ) !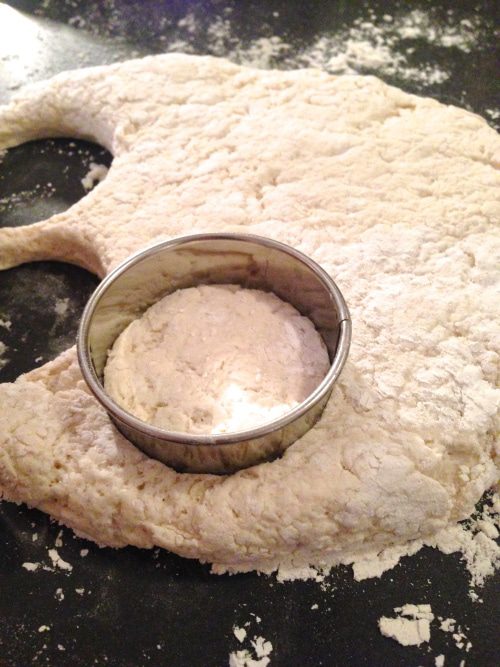 Three recipes that when piled all on one plate, make a pretty epic meal! All of which you'd have no idea contained any traces of yogurt.  And with that, and a fully stocked fridge of Greek Gods yogurt products (thank you!!), you might just have some more yogurt recipes coming your way.