I'm not a terribly good food blogger yet. I should have had multiple holiday themed recipes up weeks ago. Maybe one day I can aspire to this level of organisation, but I have not completely failed! I am presenting to you… a Christmas side dish.For twelve years, I have celebrated Christmas in the Southern Hemisphere. At first, it was quite a shock when Christmas came in the completely wrong season. (To me.)  When you're thrown into a world where BBQs and fish and chips on the beach are normal, yet nobody is wrapped up in front of the fire with eggnog, and where nobody has heard of cornbread stuffing or ever seen mistletoe? It's all a bit perplexing. I still hold and cherish some American traditions, and almost all of them involve food. I like to slip things like maple sweet potatoes in before the pavlova(s).
One of my goals in life is to make vegetables more appealing. I like to look forward to vegetables, to treat them less as a burden and more as a luxury. It's definitely possible to hold to holiday tradition while also making vegetables surprising. I've dressed these sweet potatoes (or orange kumara) up in maple syrup, orange, walnut, and chili. They are luxurious and charming; a simple little dish not to be forgotten.
Christmas is usually a whimsical, uplifting time for us as a couple but it's also sometimes painful. Christmas is about family. Or really, Christmas is about children. We don't have any of those, nor can we ever hope to. I'm unsure when that stops being raw.  However, relating the grief I feel to those who have neither a significant other nor any family around has helped me to dramatically change my perspective on this holiday.
I used to get caught up in what "should" be: following traditions I'm not in love with, seeing everyone we can, everything tasting perfect or looking just so. That's not what holidays should be! It's no wonder depression spikes for so many at this time. We see snapshots of "perfection" on Facebook or Twitter that are nobody's reality. I'm blessed with a beautiful, quirky family and wise, funny friends. We can afford delicious food and wonderful little presents. (There was a time we most certainly could not!) We laugh until we cry, we squabble over board games. We spoil our senses with the food we like and fill our hearts with each others' presence. That joy and communion is this holiday and it need not be more complicated. I am grateful for every moment of it.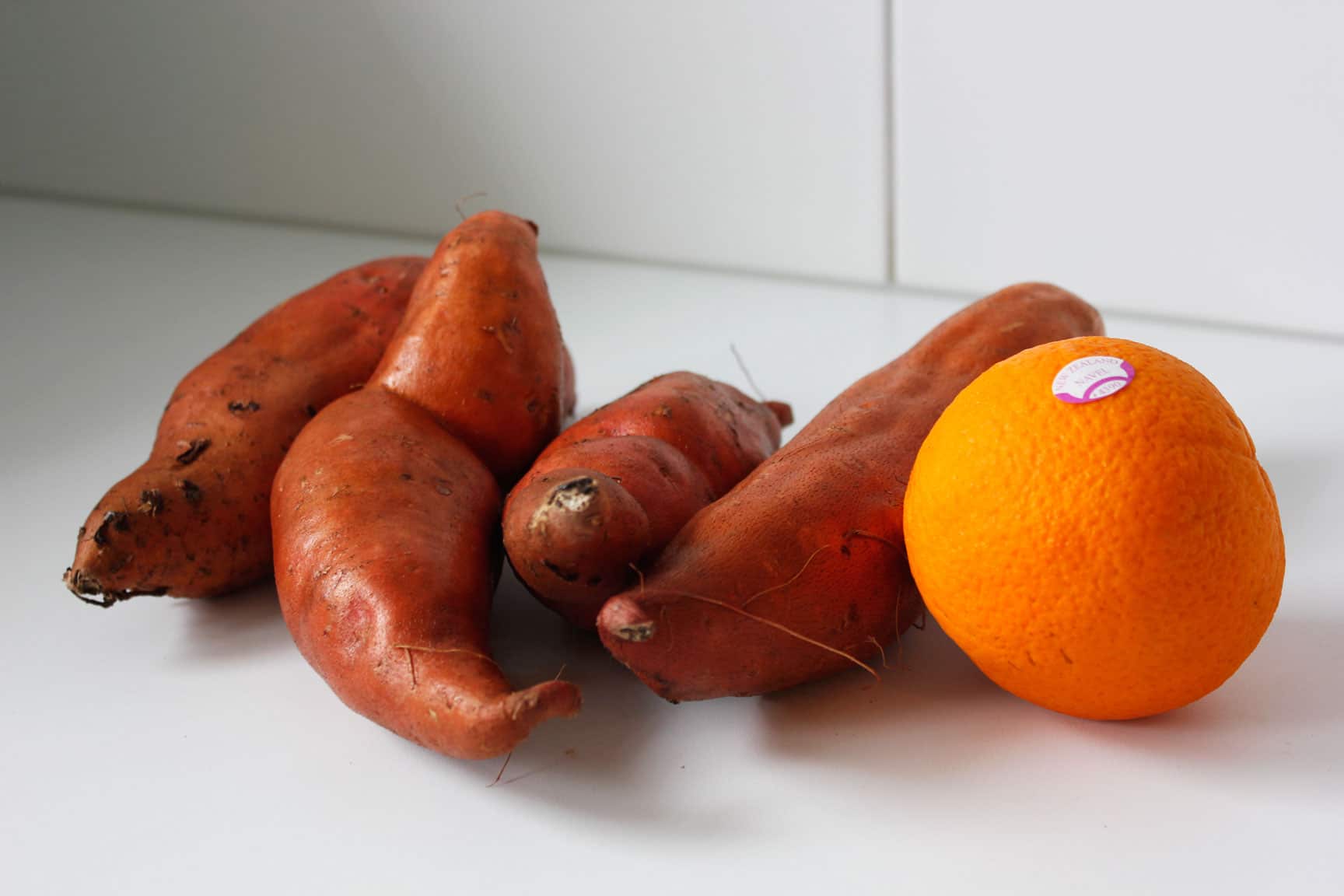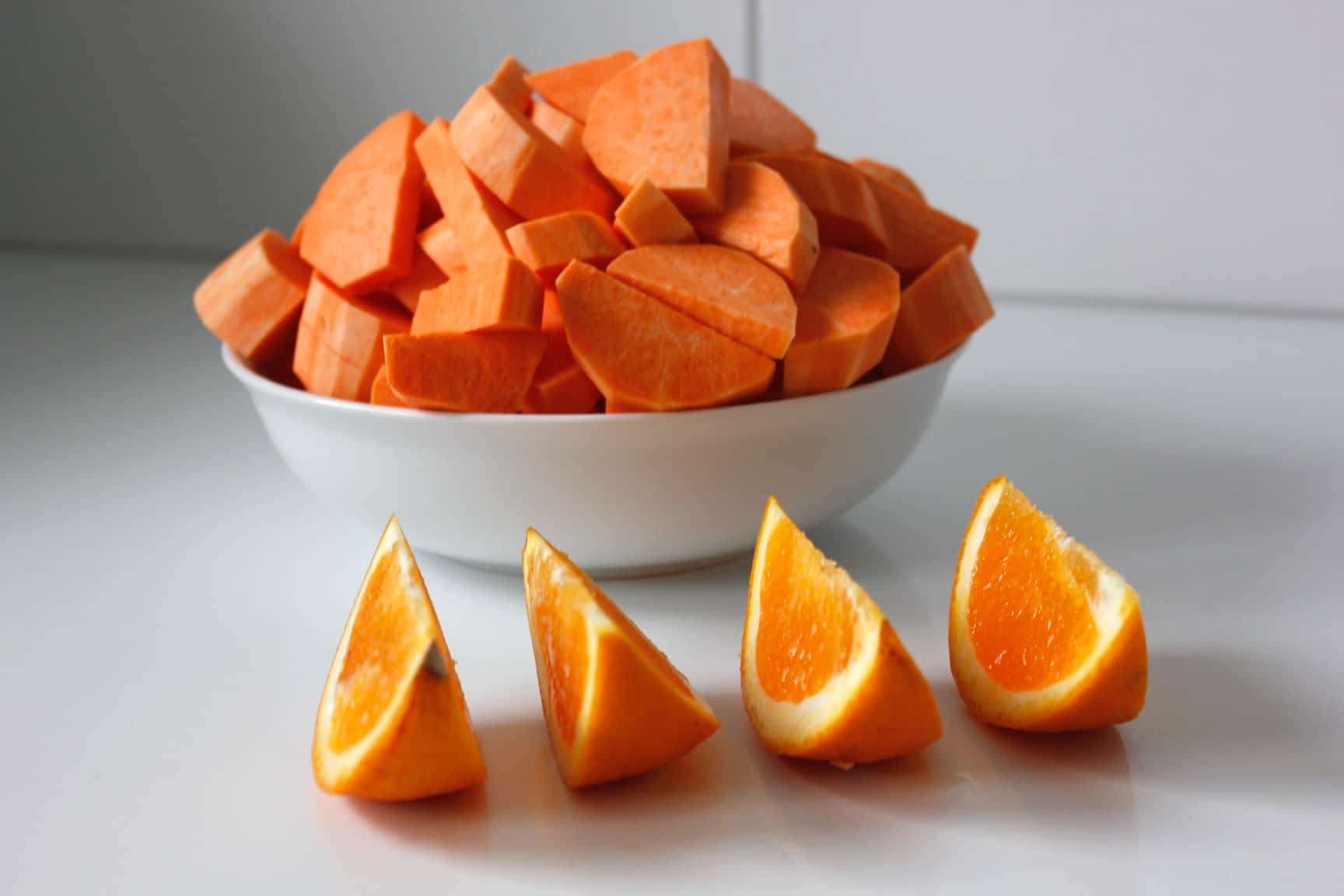 Yet, however stress free I may make it sound, it doesn't always go smoothly. There might be tears of exhaustion after the pavlova has cracked in half or I might take myself to bed because all the activity has become overwhelming. I no longer want to risk meltdowns so I now have a peachy trick to avoid complete physical and emotional disaster: planning. 
Planning again, yes. Whether your illness is CFS, MS, PTSD, GAD… I believe it's all about the planning. I've started to plan the things I want to do over the next few weeks, with the people I want to see. I plan for sleep and down time. I plan all the self-care I can squeeze in between the commitments that won't budge. I do this so that I can go a little ways to preventing pain or fatigue stealing too many moments. So that I am up to spoiling everyone I love with the food I love.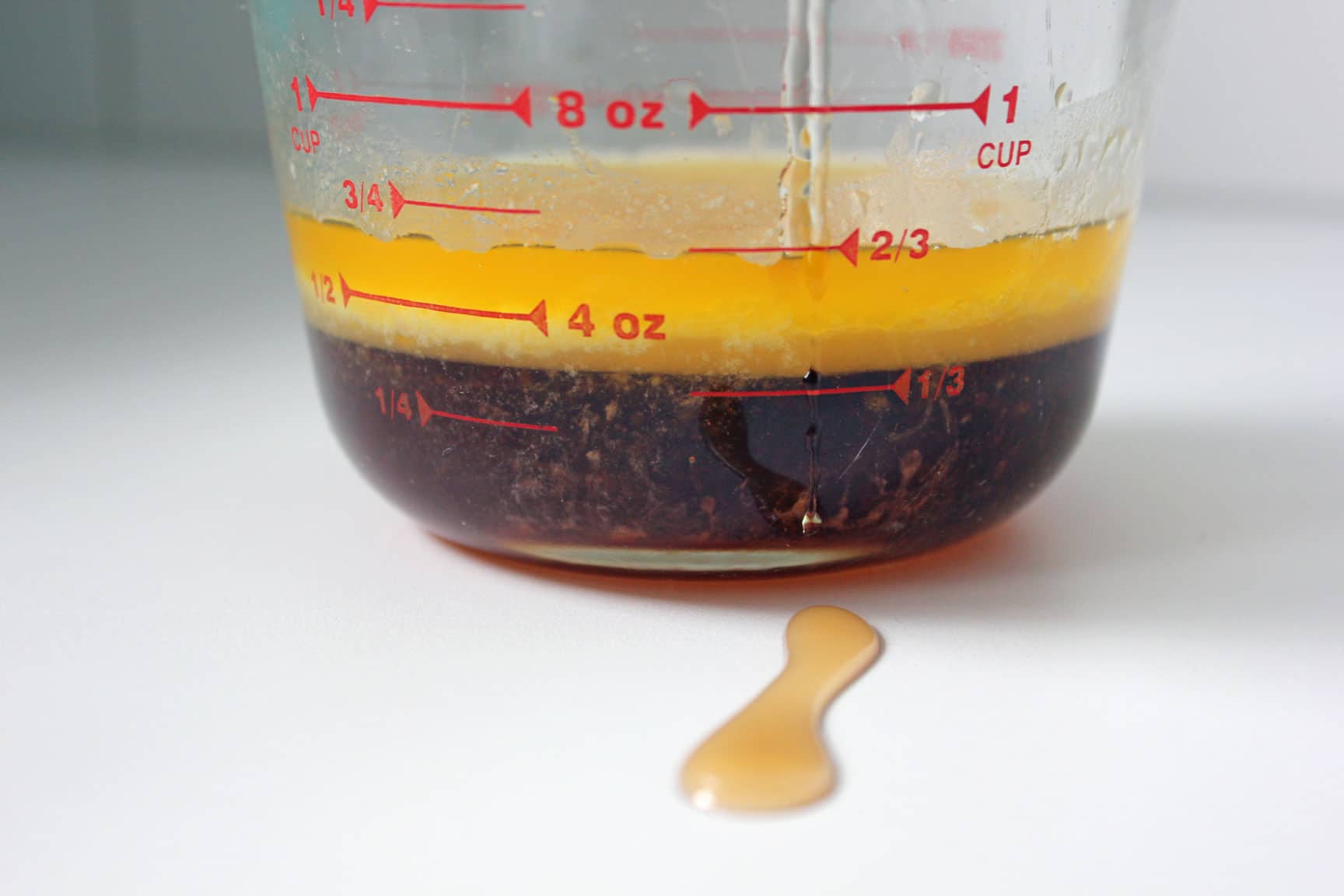 This is food I love. Candied sweet potatoes (kumaras) are a common American holiday dish. You can cover baked kumaras with marshmallows but I think that takes us into tacky-side-dish territory. This dish holds onto grace while cheekily altering a tradition. Make no mistake, this is a fairly sweet dish. It's never cloying though. The butter gives it depth, the chilli breaks some of the sugary sensation while the walnuts help give it an earthy grounding. The orange here is subtle but you can find it if you pause; it's the gentle acidity that holds all these ingredients together. I find this dish simultaneously relaxing and inspiring. My favourite type of food journey.
As you might have noticed, I didn't cut my sweet potatoes terribly even. That's fine. We are striving for the experience, not perfection. Walnuts can be smashed up however you please and once cooked, this dish can easily be reheated in the oven. (Though the microwave is just fine as well.)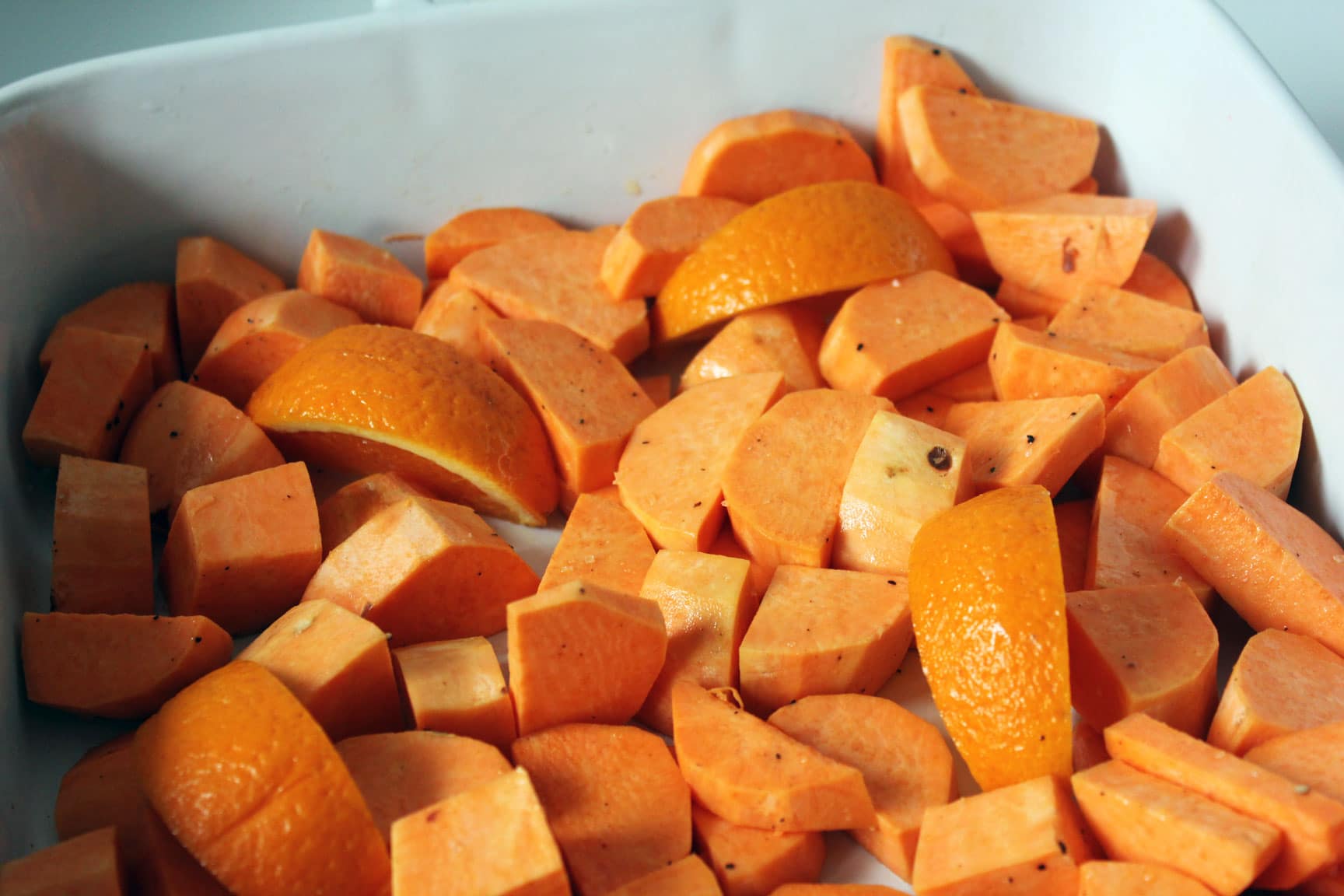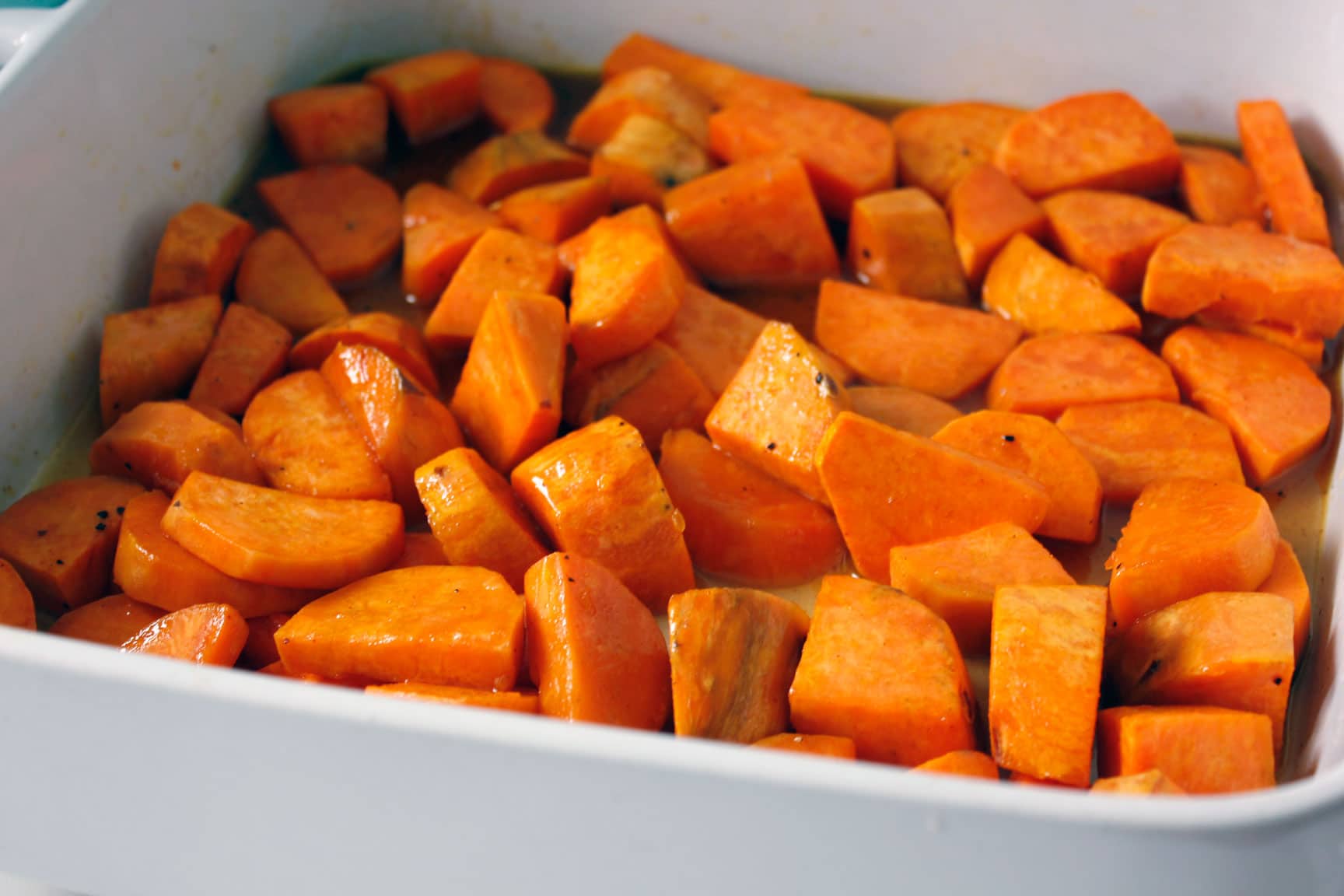 For this dish, you need to prep the kumaras/sweet potatoes by cutting them into wedges. Add these, along with half an orange (cut into four wedges) to a baking dish. You then mix the butter, maple syrup, orange juice and chilli in a bowl or measuring jug. This becomes the glaze. Once in the oven, the sweet potatoes need attendance only once – to pour glaze all over and sprinkle the walnuts. When they smell and look done, stab at a piece with a fork; or carefully taste it. You want them tender but not mushy. Though, if they do get cooked for too long, they will taste fabulous still.
Spiced Maple Sweet Potatoes
Serves 6
4 or 5 medium sweet potatoes (or orange kumara)
1 orange
1 Tbl vegetable oil
3 Tbl (42 g) butter, melted
1/3 cup maple syrup
1/8 teaspoon of cayenne pepper
1/2 cup (60 g) chopped walnuts
salt and pepper
Preheat oven to 180°C ( 355°F)
Peel and chop the sweet potatoes into wedges of about 3 cm
Place the cut sweet potatoes in a wide baking dish.
Cut the orange in half. Set one half aside, cut the other half into 4 wedges.
Add the wedges to the dish with the sweet potatoes. ♥
Drizzle over the vegetable oil and season with salt and pepper.
Place in oven for 20 minutes. ♥
Anytime before the timer is up, melt the butter in a bowl or measuring jug.
Add the maple syrup and 2 Tbl orange juice from the remaining half orange to the measuring jug with the butter.
Add the cayenne pepper and stir to combine.
When the timer goes off, remove the sweet potatoes from the oven.
Pour the maple syrup glaze over the sweet potatoes and stir.
Sprinkle the chopped walnuts on top.
Return to oven for 20-30 minutes. ♥
When there is not much syrup left and the sweet potatoes are tender, remove from oven and allow to sit for ten minutes.
Remove the orange segments before serving.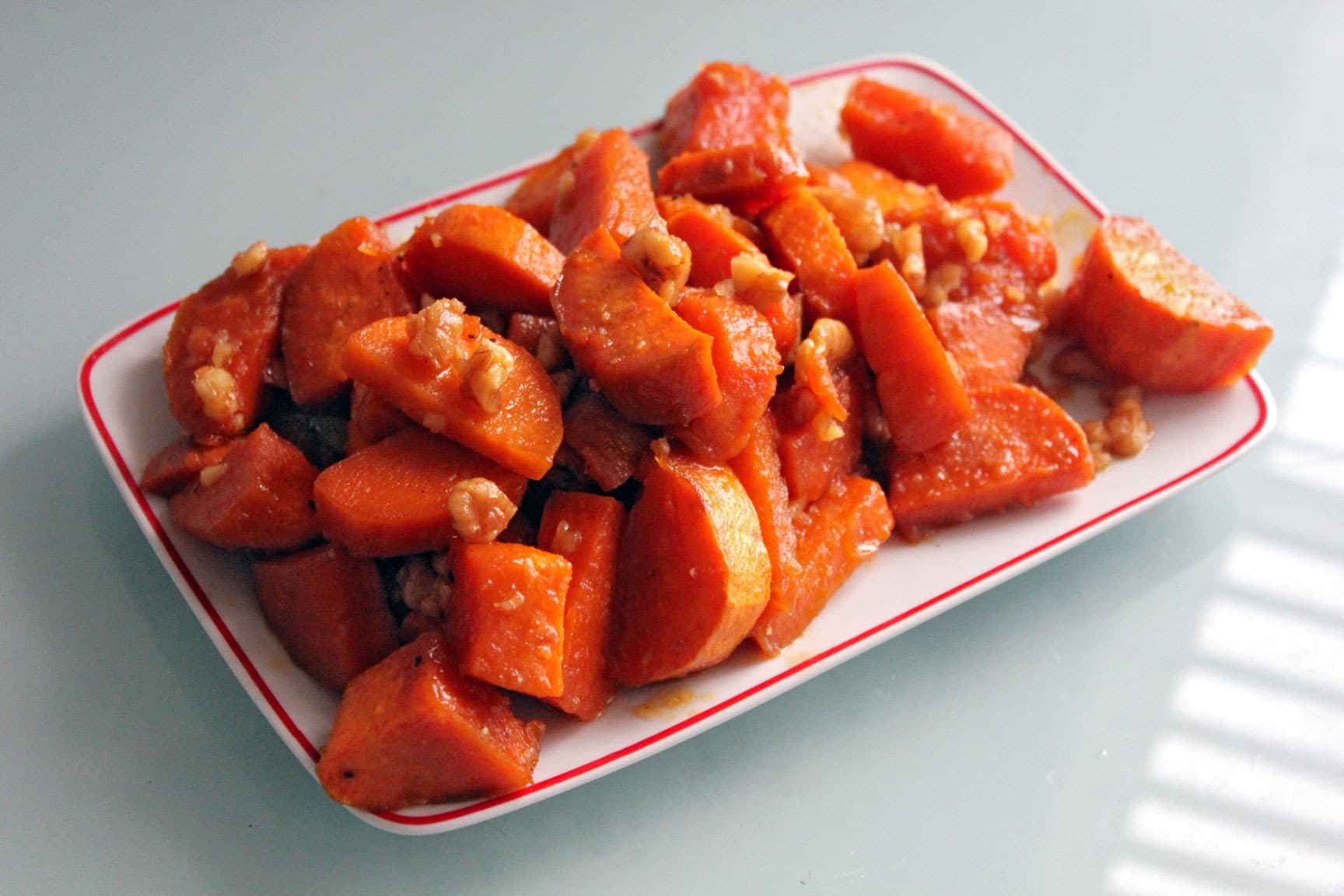 Have a wonderful, less-than-perfect Christmas. If you're at all lonely and feel that you might struggle over the coming weeks, I urge you to reach out. People will find extra food, time, space and spoons to share, I promise. Wishing you joy ♥