Hey everybody!  Did you know that Thursday, March 14th, is Pi(e) Day?  I've known about this holiday for years, but I never can seem to get my act together and post a pie recipe on that day.
Pillsbury sent me a press release the other day with some of their pie history and Bake-Off recipes, and I thought I'd share it with you.   I kind of love the Bake-Off; I've followed it for years.  I hope you all enter this year and make me proud!  You could win a million dollars!
Did you know French Silk Chocolate Pie was originally created in 1951 by Betty Cooper at the 3rd Pillsbury Bake-Off Contest?   I didn't know that.  I thought the recipe was older than that!  Oh man…. I love French silk chocolate pie.
Open Sesame Pie won the 6th Pillsbury Bake-Off in 1954.– Grocery stores reported a "run" on sesame seeds after the 6th Bake-Off. Sesame seeds became a regularly stocked item after that.  I've heard of this pie, but never eaten it.  It sounds kind of crazy!  It has dates in it.  Do you think you'd like it?
Chick-N-Broccoli Pot Pies (28th Pillsbury Bake-Off, 1978) – Ingredients in the recipe reflected consumer interest in nutrition at the time.  Mmmm chicken and broccoli pot pie sounds so good right now.
Quick Crescent Pecan Pie Bars (24th Pillsbury Bake-Off, 1973) – The "Bake-It-Easy" theme of the 24th Bake-Off stressed a need for simple, family-friendly recipes, similar to the contest theme this year.
By the way, voting for the first category of the Bake-Off, Amazing Doable Dinners, will be open March 14 (Pi Day) through March 28 at www.BakeOff.com.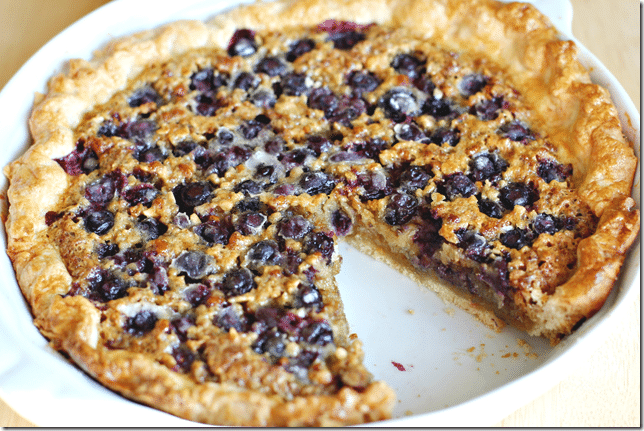 So I was browsing through some of Pillsbury's pie recipes, and theOats 'n Honey Granola Pie stuck out.  It looks really good!  It's Pillsbury pie crust filled with butter, brown sugar, corn syrup, eggs, walnuts, oats, chocolate chips and crushed granola.  I didn't have all of the ingredients to make that pie, so I used it as inspiration for my Maple Oatmeal Blueberry Pie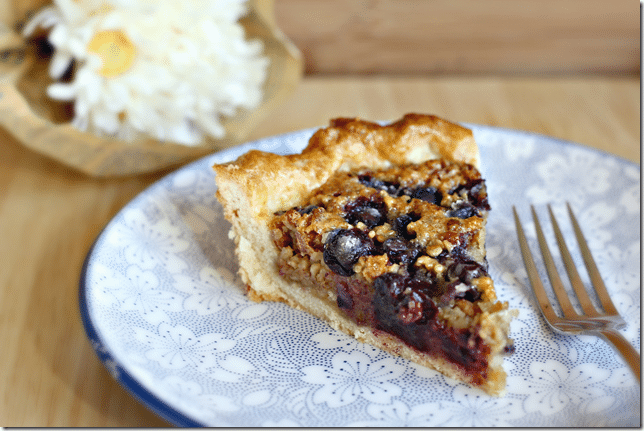 I made my own pie crust and filled it with melted butter, sugar, maple syrup, oats, granola, nuts and fresh blueberries.  I coated the the blueberries with a little bit of sugar and flour to prevent them from sinking but I don't think that step is necessary.
This was good!  Not too shabby for a last minute recipe.  It tastes like blueberry pecan pie.   Mmm two of my favorite pies.  Happy Pi Day!  Go celebrate.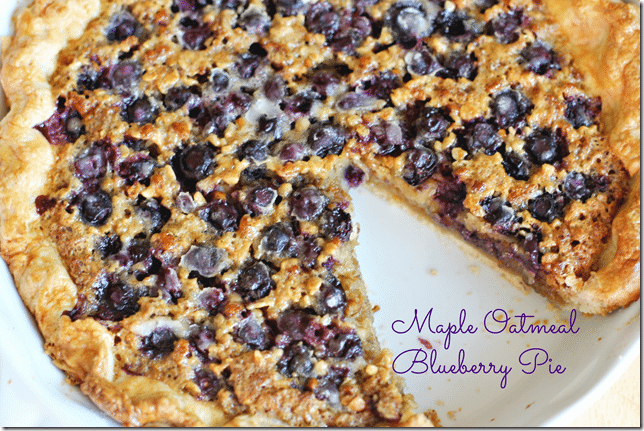 Maple Oatmeal Blueberry Pie

Ingredients:
1/4 cup unsalted butter, melted
1/2 cup granulated sugar
1/2 maple syrup
1 large egg
1 teaspoon vanilla extract
1/8 teaspoon salt
2/3 cup crumbled granola
1/3 cup finely chopped pecans or walnuts, toasted
1/4 cup uncooked quick or old fashioned oats
1 cup blueberries
1 tablespoon all-purpose flour
1 tablespoon granulated sugar
1 unbaked pie crust
Directions:
Heat oven to 350 degrees F.
In a large mixing bowl, whisk together butter, 1/2 cup sugar, maple syrup, egg, vanilla and salt until well combined.  Stir in granola, nuts and oats until combined.  Place mixture into pie crust.  Toss together blueberries, flour and 1 tablespoon sugar until well combined.  Place blueberries on top of filling.
Bake 40-45 minutes, or until golden brown.