I must have been a very good girl all of 2009, because for Christmas, I won not one but two cookbooks – one from Clare's blog (Chocolate Desserts by Pierre Hermé), the other from Catherine's blog (David Rocco's Dolce Vita).I guess I was in Santa's good books (pun intended).
While I have not gone about making anything from Pierre Hermés' book (some day when I overcome my fear of making French desserts, I will … I promise you, Clare), I have already made something from David Rocco's. I'm always more comfortable cooking than baking.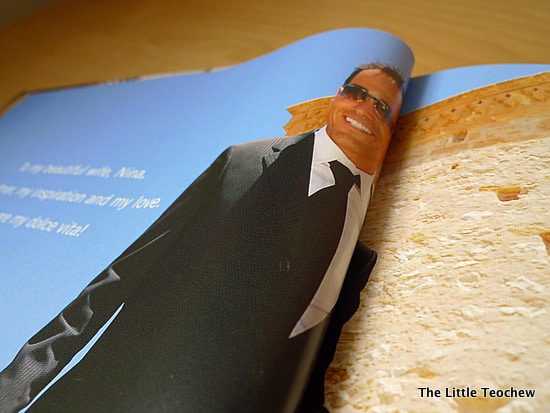 Dolce Vita is a beautiful book, filled with lots of drool-worthy, gorgeous photos ofDavid food.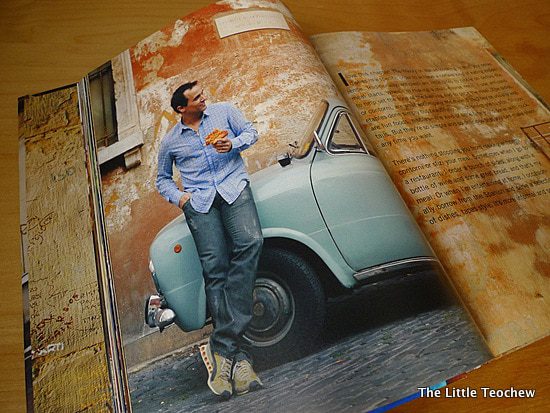 My heart skipped a beat at the HUNKS of fish. The BEEFY stew. The SMOOTH panna cotta. The RED HOT peppers. The STEAMY soups.
Mamma mia! Yes, I really can't stop gawking atDavid the food.
Well, today my friends, I made the first pasta dish of 2010 – Drunken Pasta. It caught my eye with its regal red colour. Quite a feat, considering there are so many other tantalising photos ofDavid the food.
Like all his recipes, this was very simple and straightforward. The pasta gets its lovely scarlet hue from red wine, so make sure you have a good bottle on hand.
BUT, would I make this again? No, I don't think so. As much as I enjoyed colouring my food, I wasn't wild about the taste. I still like my pasta eggy and cheesy, thank you very much. Now, excuse me while I go back togawking reading.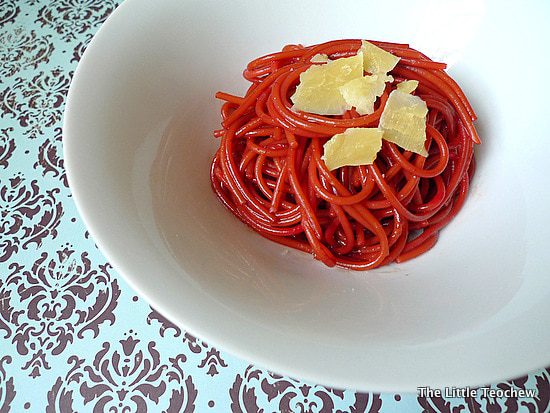 Recipe
(from David Rocco's Dolce Vita)
Serves 4
– 500g spaghetti
– 4 to 5 cups red wine (David recommended using Chianti, but all I had was a Merlot, so I used that)
– 4 tbsp EVOO
– 2 cloves garlic, finely chopped
– 2 anchovies, finely chopped (I didn't have this and it was stated in the book that the addition of anchovies was an adaptation on the part of David)
– Chili pepper flakes, as much as you like
– 1 small bunch fresh flat-leaf parsley, finely chopped
– 1/4 cup (50ml) freshly grated pecorino cheese (I used flakes instead)
1. Boil some water and cook your pasta for about 2 mins. Drain well.
2. In a second large pasta pot, put your wine on to boil.
3. In a frying pan, heat up the olive oil. Add the garlic, anchovies and chili pepper flakes and cook on medium until the anchovies melt into the oil and the garlic is brown. Set aside.
4. Now add your pasta to the boiling wine, give it a god stir and finish cooking the pasta until al dente, another 6 or 7 minutes.
5. When the pasta is ready, the wine will have infused the spaghetti, giving it a gorgeous ruby red colour. Don't worry about the wine being too strong for the sauce. The alcohol will burn off and leave a sweet delicate taste. Drain spaghetti from the wine, toss in the frying pan with the garlic-anchovy sauce, and finish cooking for 30 seconds. Remove from the heat sprinkle with a bit of parsley and some grated pecorino.