I do realise its Christmas Eve and your all probably either working (bah humbug) or chained to your oven looking like a deranged version of your former composed self after all the hours of planning, shopping, wrapping and cooking.
You're probably thinking, why the hell is she posting on Christmas Eve? I've already bought my ingredients, I've already planned my Christmas table, theres no time for making bloody coconut macaroons. I do realise I'm a little late on the Christmas baking train but believe me when I say, these literally take about ten minutes to make.
Never one for being a fan of coconut, these are the last thing I thought I'd ever make. However, one thing thats changed on this whirlwind of a journey thats growing up, is that I love coconut! I sincerely apologise to all the mini Bounty chocolate bars I turned my nose up to as a child, from the Christmas Celebration box.
I decided to make mine really small. At the time, I thought it would be absolutely adorable and that it'd mean I wouldn't eat as much because they were so small. Fast forward to half an hour after they emerged from the oven; I ended up eating like 15 and it turned out making mini versions of things doesn't really work out for me.
I dipped mine into glistening melted dark chocolate and sprinkled them with slithers of toasted almonds. This outside crunch makes a lovely contrast to the soft chewy centre. The combinations here are endless; dried apricots and white chocolate, add in a spoonful of chocolate chips or just keep them plain. Whatever takes your fancy, there's a variation for everyone.
Merry Christmas everyone. I hope your days are filled with happiness, gratitude, family, friends and festive cheer. What a wonderful year its been.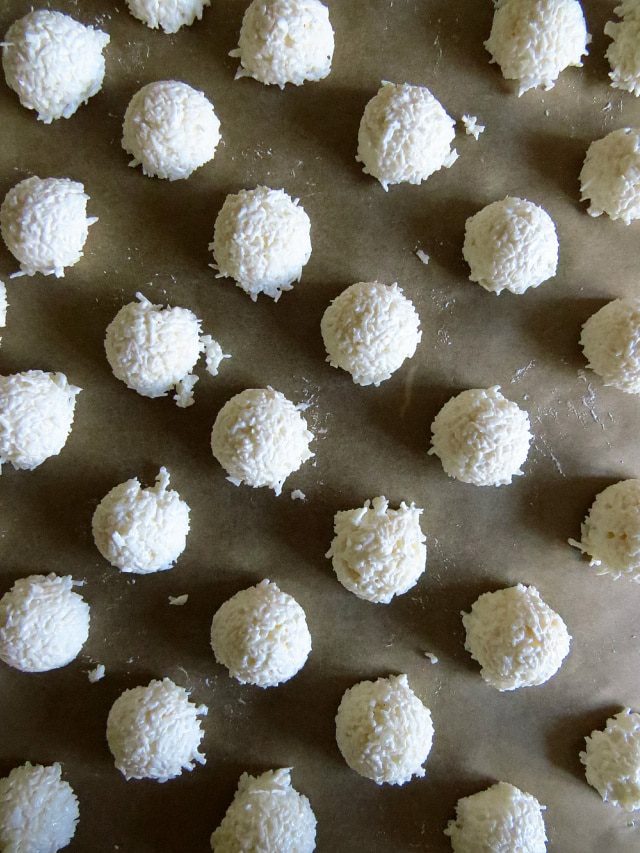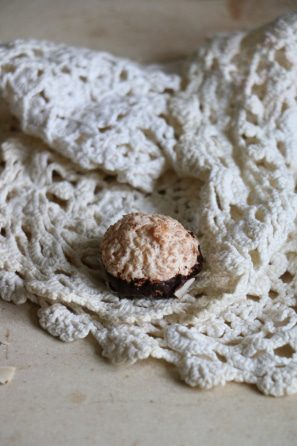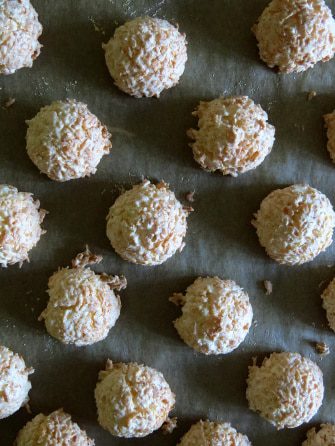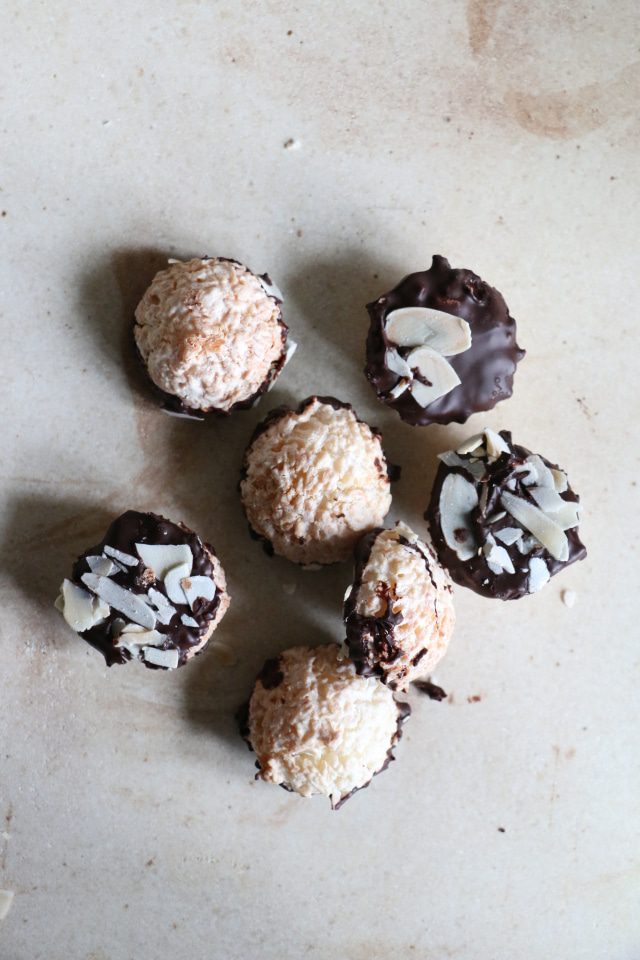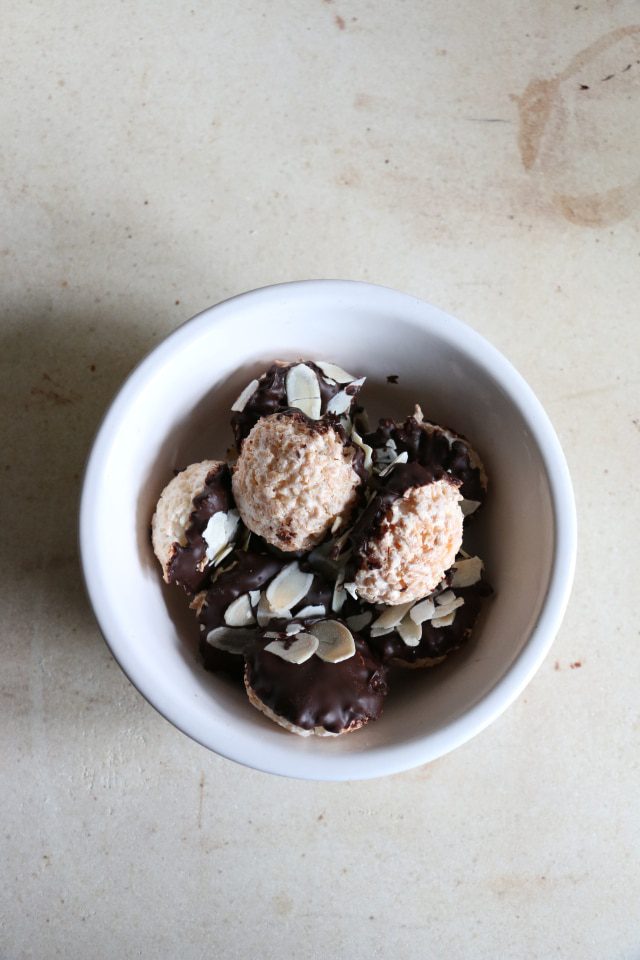 Ingredients – Makes approx. 30-40 mini macaroons (depending on size), recipe adapted from Smitten Kitchen
200g unsweetened flaked coconut *
60g caster sugar
1 large egg white
Pinch of sea salt
A handful of toasted flaked almonds
100g good quality dark chocolate, melted
*If your coconut flakes are particularly large, pulse in a food processor first to chop up slightly. Don't use desiccated coconut unless it's very coarse.
Method
First, preheat your oven to 160°C and line a baking tray or two with baking parchment.
You can make these macaroons two ways, in a processor or by hand. Both are made in exactly the same way. Making them in a processor is a good option if your flaked coconut is very chunky. However, I had a very coarse type of desiccated coconut so there was no need.
Combine your coconut, sugar and salt in a bowl or processor. (If your coconut is in large flakes, pulse on their own in a processor before starting.) Pulse or stir in the egg white until combined. Using a very small ice cream/cookie scoop, portion out your macaroons directly onto your prepared baking tray. (I used a melon ball to do this.) Place the macaroons close together as they won't spread like a normal butter cookie.
Bake for 10-20 minutes (depending on size) until lightly golden on top. Make sure not to overcook them, no one wants a dry macaroon! Leave to cool on the baking tray so that the biscuits can firm up before transferring to a cooling rack.
To finish, dip the bottom of the macaroon in a little dark chocolate and then into some toasted almonds. Leave to set and enjoy!