Hamburgers might be my most favorite food ever.  Let me qualify that. Good quality, fresh ground beef (with the perfect balance of fat) hamburgers, topped with Gouda cheese and all the fixin's might be my most favorite food ever.  I cringe every time Scott picks up a burger from Micky D's, BK or Wendy's.  "Why the hell would you waste calories on that garbage?" I scream fists balled in rage (that's a little more dramatic than the actual conversation, but not far off).  Then I quickly remember that he can eat whatever he wants and not gain an ounce because of his self discipline to daily workouts and his insane metabolism, and I shut up.  I, on the other hand, cannot eat whatever I want.  I gain ten pounds when I even look in the direction of a cheeseburger.  Life is not fair.
To balance the scales in my favor, I am always brainstorming healthier alternatives to cheeseburgers.  One of my go-to recipes as an alternative to classic beef burgers are theSpinach Feta Turkey Burgers from Eat.Live.Run.  Make these ASAP, you will not be sorry. They are a reoccurring regular on our weekly menus.
I tried to think of other flavor combinations that rock my world, which led me to this…
I am litteraly obsessed with the combination of grilled chicken, apples, blue cheese and balsamic vinaigrette (homemade, not that nasty bottled rubbish).  I could eat salads every day of my life so long as they contain these four simple ingredients (and that is saying a lot considering my impatience with meal repetition).  So why not throw them into a burger?  And what burger is complete without onions? Caramelize those onions and you have an irrefutable winner.  And bam, the Chicken Apple Blue Cheese Burger with Balsamic Mustard Sauce recipe was created (say that five times fast).
Start by caramelizing the onions.  This takes patience people.  You need at least 20-30 minutes over medium heat.  Do yourself a favor and get them going first, then prep all of the other ingredients.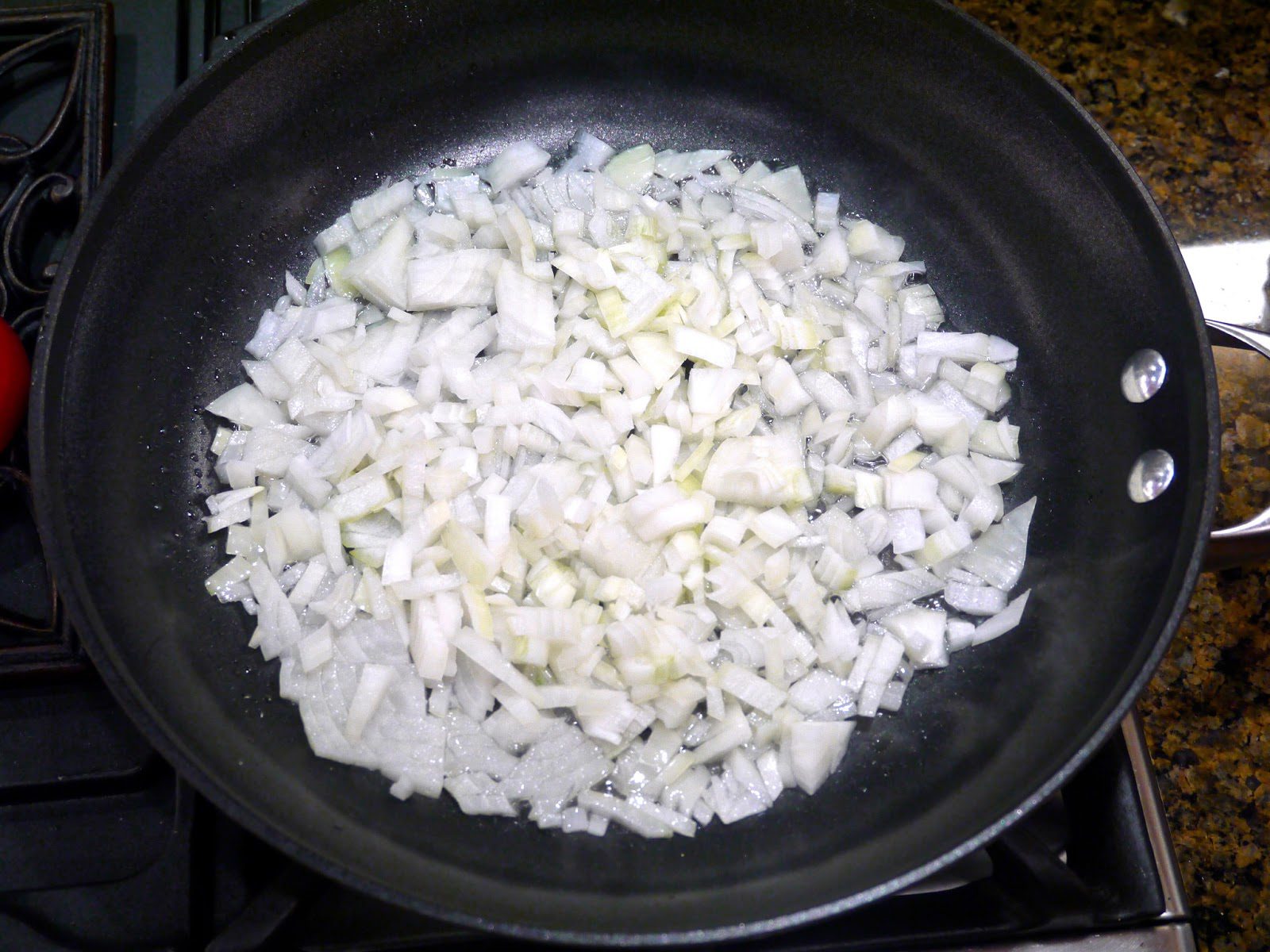 Chop the apple, mince the garlic, and make the Balsamic Mustard Sauce (recipe below) while the onions caramelize.  Allow onions to cool when finished.  Combine ground chicken, onions, apples, minced garlic, egg, blue cheese, salt, pepper and breadcrumbs.  Don't be afraid to get your hands dirty.  Its fun, really.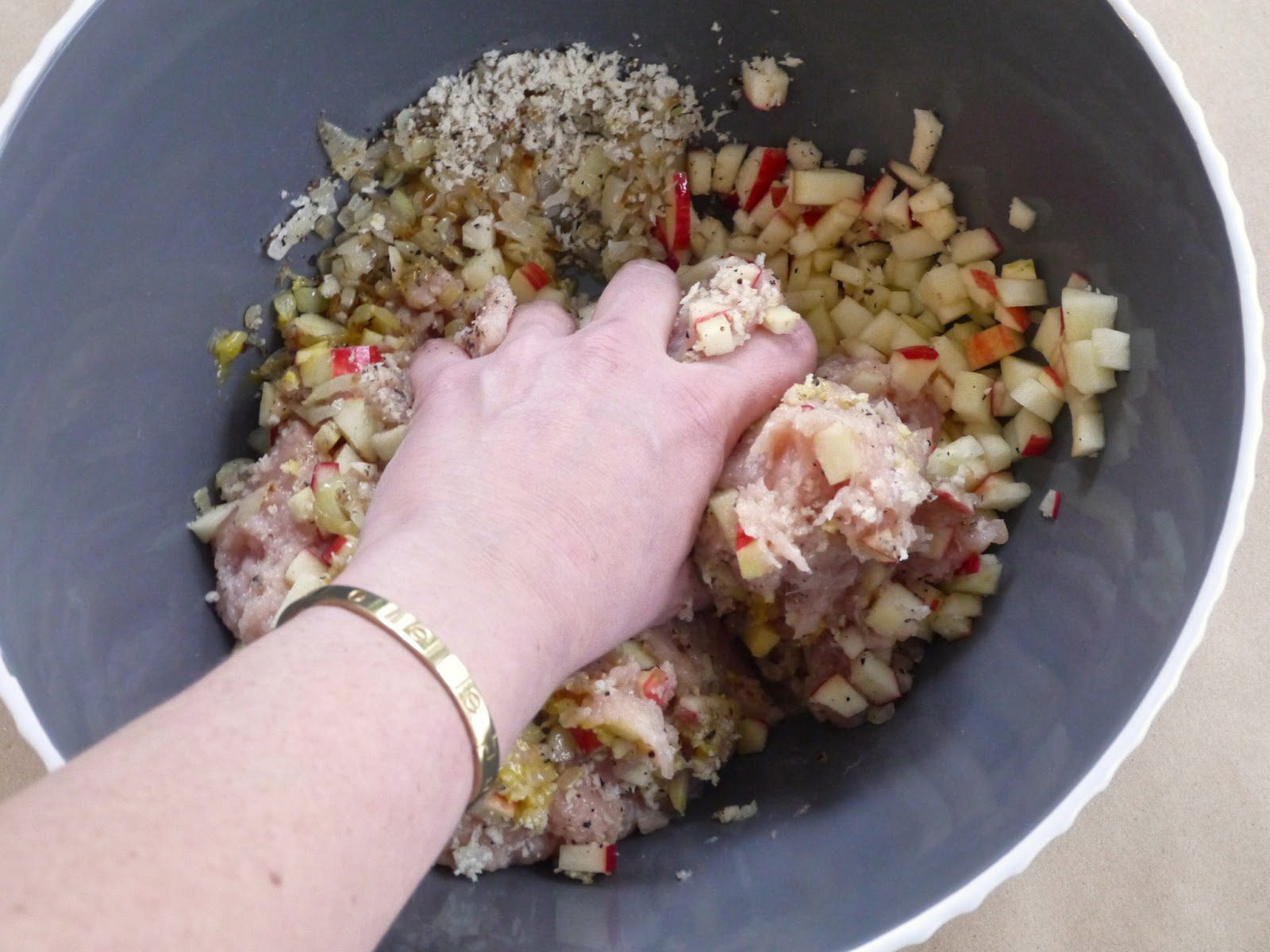 Form the mixture into patties.  The size depends on your reference.   I tend to favor 1/4 to 1/3 pound burgers.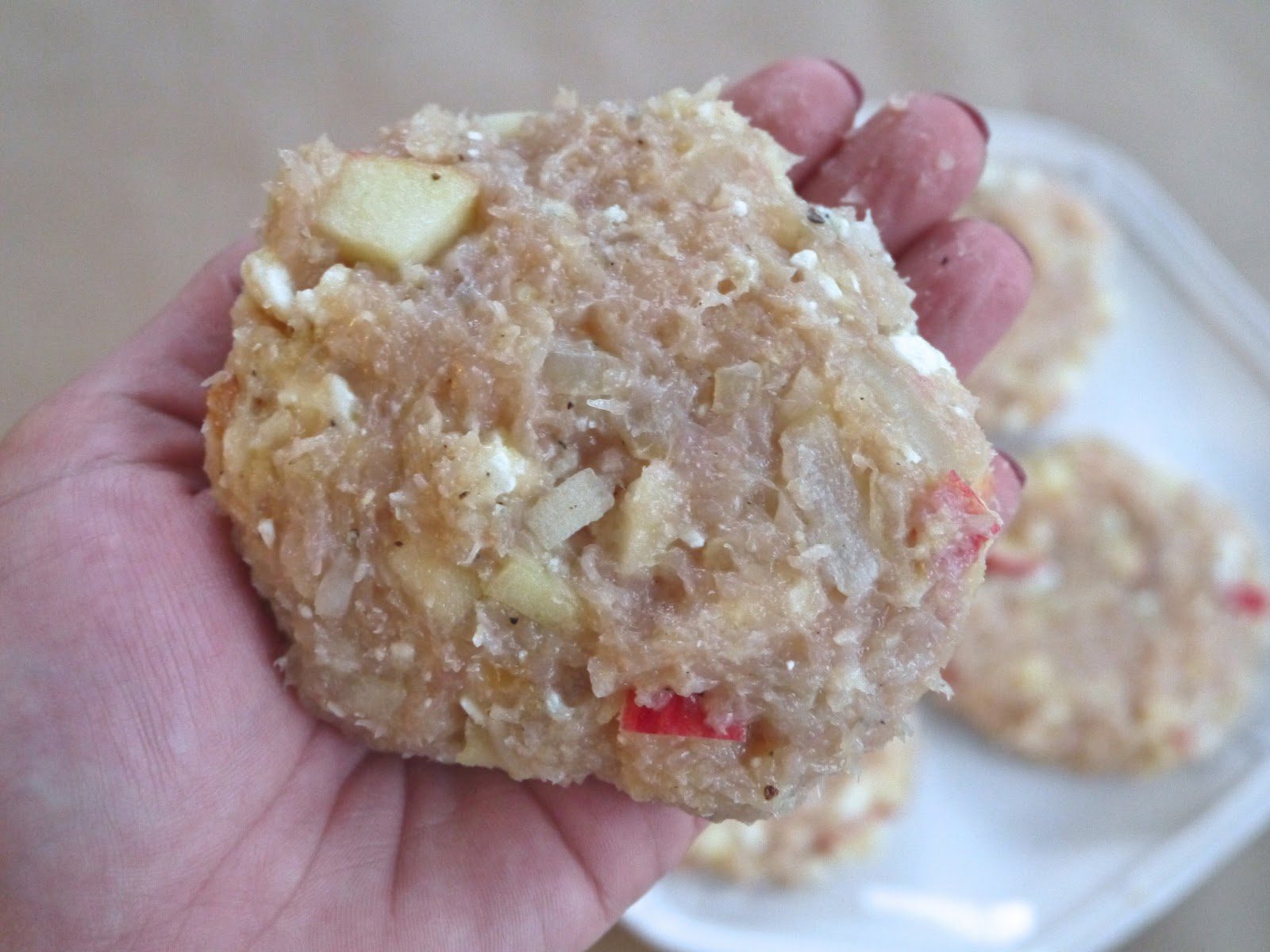 Preheat a skillet over medium high heat.  I don't recommend grilling these burgers.  They will more than likely fall a part when you try to flip them, make a mess of your grill, and drive you into a homicidal rage over ruining dinner.  Not advised.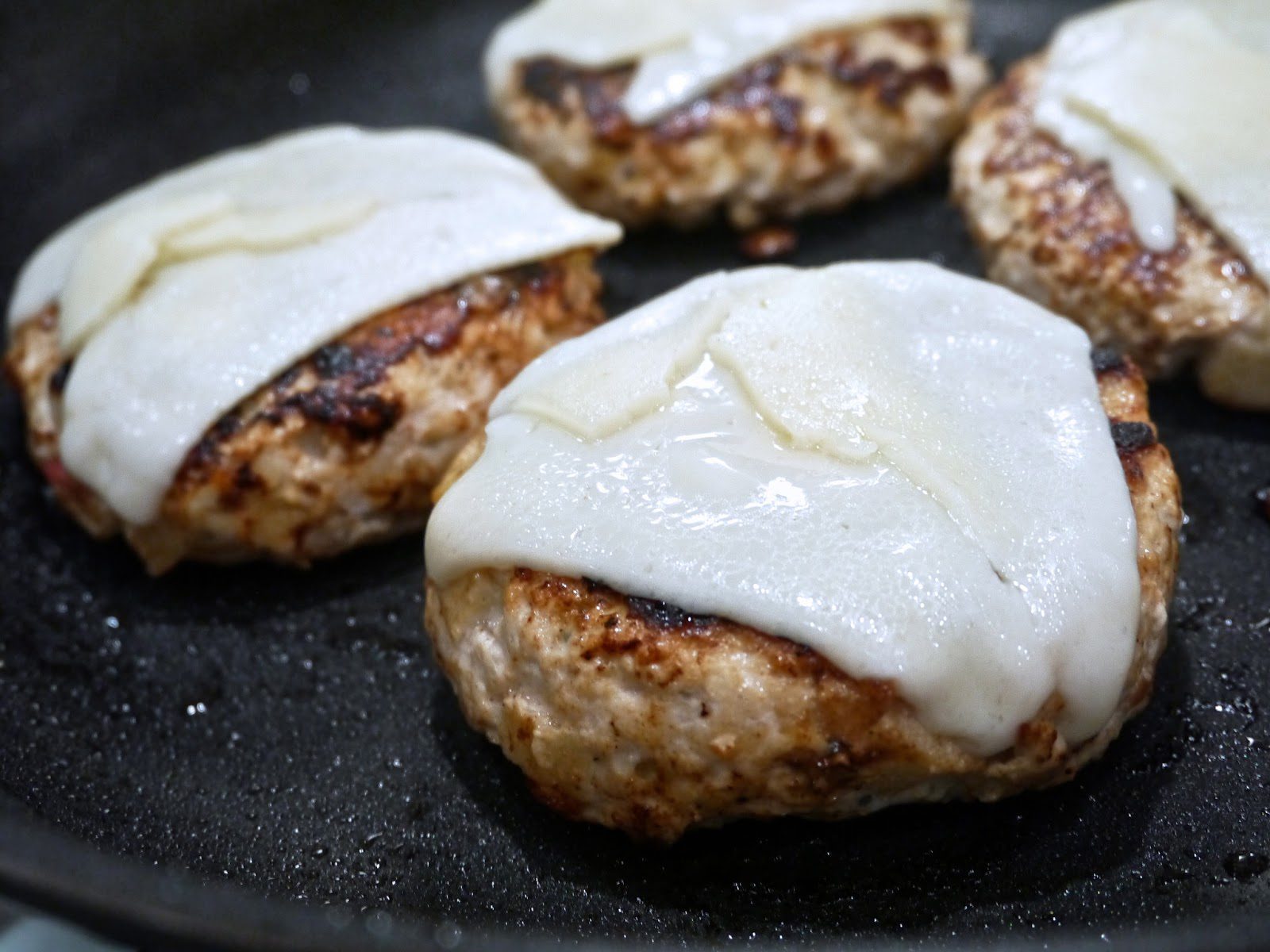 Cook for about 8 minutes per side.  If you choose to add cheese (and why wouldn't you?), add to burgers in the last 5 minutes of cooking.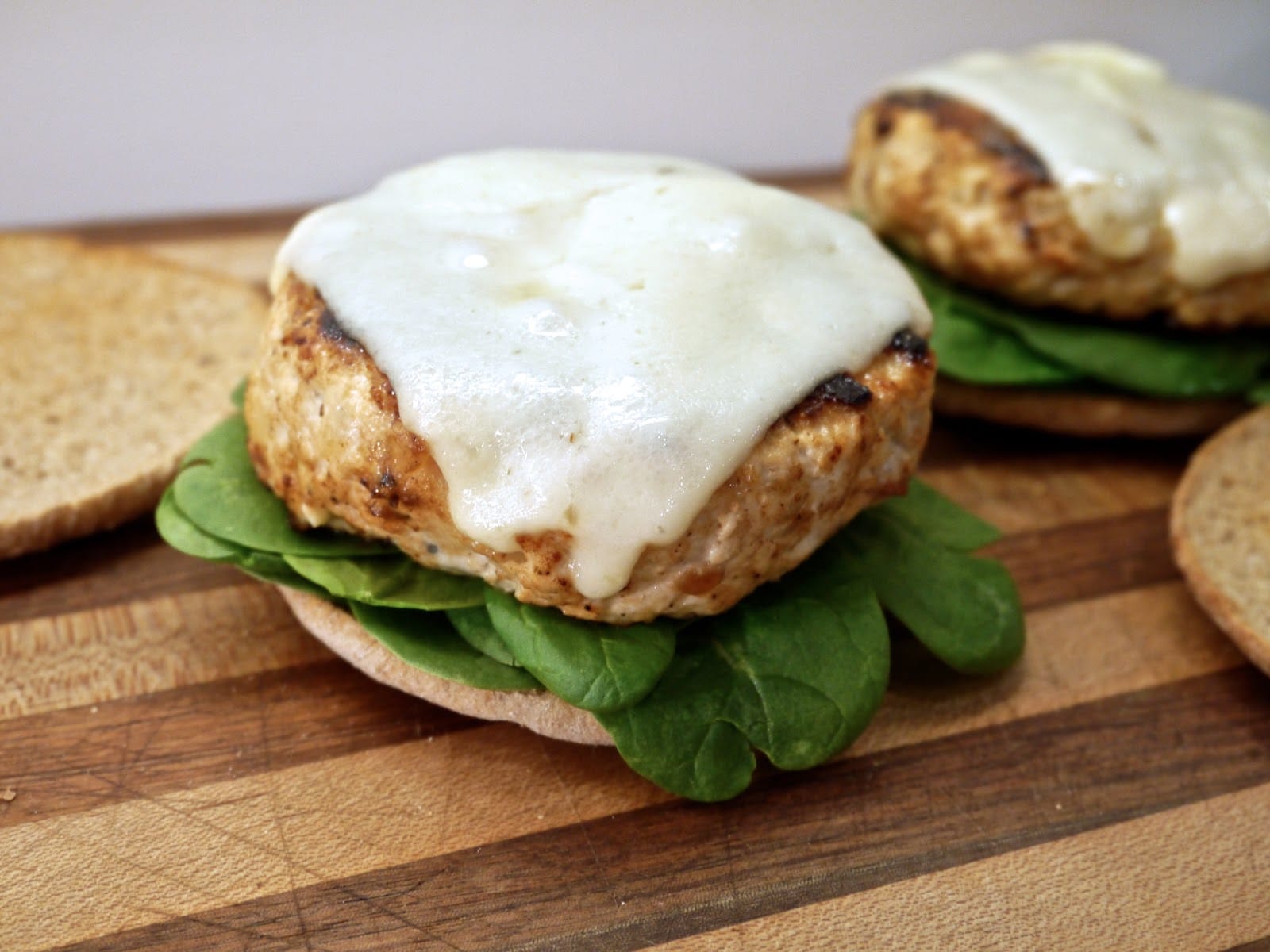 Serve on top of spinach, arugula, or other greens.  I used spinach.  Top with Balsamic Mustard Sauce.  Have plenty of napkins ready.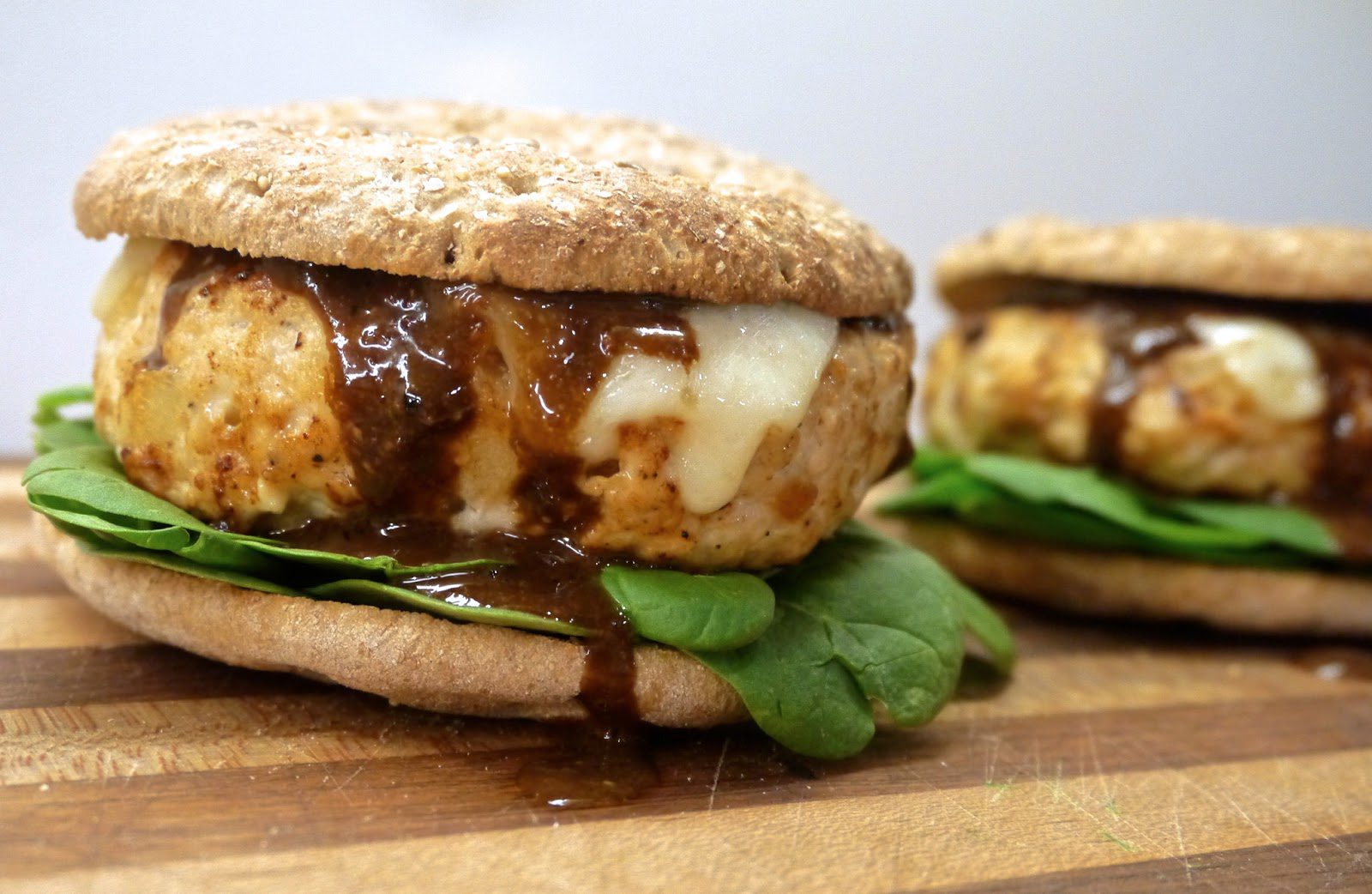 Chicken Burgers with Apple, Balsamic, and Blue Cheese
Yield: makes 7-9 burgers
Prep Time: 25 minutes
Cook Time: 20 minutes
Total Time: 45 minutes
Ingredients:
2 lbs ground chicken
1 1/2 apple diced small (I used Honey crisp)
1 medium onion diced small
3 cloves garlic minced
1 egg
1 handful of panko breadcrumbs
1 c. of blue cheese crumbled
1/2 tsp. salt
1/2 tsp. pepper
Buns (I used Wholewheat Flax and Fiber Sandwich Thins)
Spinach
Oil (I used coconut oil)
Balsamic Mustard Sauce (recipe below)
Cheese for topping (optional, I used Havarti)
Any other burger toppings you prefer
Directions:
Heat 2 tbsp. of coconut oil (or other high burn point oil or butter) over medium heat.  Add onion.  Cook 20-25 minutes stirring occasionally until caramelized.  Allow onion to cool. Mix ground chicken, diced apple, caramelized onion, minced garlic, egg, breadcrumbs, blue cheese and salt and pepper in a large bowl with hands.  Make sure all ingredients are incorporated well. Form patties from the mixture.  You should yield 7-9 patties from the mix (more or less depending on the size of patty you prefer).  Heat coconut oil (or other high burn point oil) over medium heat.  Cook patties 7-8 minutes on each side or until they have reached an internal temperature of 160 degrees.  If you choose to top with cheese, do so in the last 5 minutes of cooking time.   Toast buns.  Top with spinach, burger, and Balsamic Mustard Sauce.
Balsamic Mustard Sauce
1/3 c. balsamic vinegar *
1 tbsp. whole grain mustard
1 tbsp. Dijon mustard
2 tbsp. light mayo
1 tbsp. honey
3 cloves garlic
1/2 tsp. pepper
Add all ingredients to blender, food processor, or magic bullet (I use magic bullet for easy clean up on sauces).  Blend for 10-15 seconds until garlic is finely incorporated.  Store in fridge.
*Use good quality balsamic vinegar.  I like the Kirkland Brand.  Its as good as many expensive aged balsamic vinegars I have tried.