If you have been denying yourself the joy of a good pizza, stop now!
This is cheesy, satisfying, and -yes, I dare to say it- not junk food!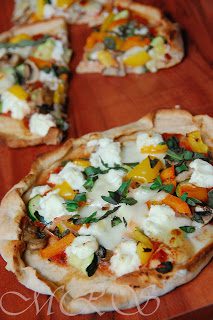 Roasted Vegetables make these individual-sized pizzas both healthy and filling, without sacrificing flavor. Loaded with mushrooms, bell peppers, shallots, and zucchini, these pizzas are like a beautifully painted picture with pops of color and flavor! Ricotta cheese and mozzarella melt into the soft, thin crust beautifully. If you want a pizza that will impress the crowds, this is it.
Each pizza is huge if you make them with thin crusts! My mother literally couldn't finish her serving. Normally, one slice of a 12-inch cheese pizza is 400 calories (and that is for only 1/8 of the pie!) At only 456 calories foreach pizza (four slices!!), my recipe is a health miracle! Eating healthily doesn't mean that pizza is off your dinner options!
Cheesy Roasted Vegetable Pizzas 
Makes 4 servings               Serving Size: 1 individual pizza             Calories/Serving: 456
Ingredients:
1 pound of pizza dough (my recipe here; I seriously recommend using this to ensure proper calorie amounts and delicious flavor)
1c. chopped mushrooms
1c. chopped zucchini
1 orange/yellow bell pepper, chopped
1/3c. shallots, thinly sliced into ringlets
1/2tsp salt
1/4tsp black pepper
3/4c. Fire-Roasted Tomato Marinara  (seriously, use this marinara. It is worth the extra 15 min. Other marinara sauces are higher in calories and sodium, and aren't nearly as good).
3 oz part-skim mozzarella, cut into small cubes
1c. low-fat ricotta
1/4c. finely chopped basil
Cooking Spray
Instructions:
Preheat oven to 475 degrees. Take a pizza pan or stone and place it in the oven (so it heats up).
Line a baking sheet with aluminum foil and spray with cooking spray. Place vegetables on the pan and sprinkle with salt and pepper. Place in the 475 degree oven to roast for 20 minutes (or until desired doneness).
While vegetables cook, form the pizza dough into a ball; cut in half and then cut each half in two (you should now have four equal pieces). Roll each piece into it's own ball. Take each ball and, on a lightly floured surface, roll out the dough until desired thinness (I like mine very thin crust: also, the larger you roll it out, the more stuff you can pack on it). This will make four nicely-sized individual pizzas. Create a crust on the pizzas.
Remove the vegetables and increase the oven temperature to 500 degrees. Remove the pan/stone that will hold the pizzas, spray with cooking spray, and transfer each dough onto it (you will be building the pizzas on the pan, so that you don't have the pizzas fall apart when you try to move them with the toppings on).
For each pizza, spread on 3 tablespoons sauce (avoiding crust). Place 1/4c. mushrooms, 1/4c. zucchini, 1/4 of the bell pepper, and 1/4 of the shallots on each pizza. vegetables should be evenly divided among them.
Dollop 1/4c. ricotta onto each pizza (I like breaking up the 1/4c. into half-tablespoons, and working in a circle with little dollops all over the pizza). Evenly divide the mozzarella cubes among the pizzas. 
Cook in the 500 degree oven for about 11-12 minutes, or until dough is no longer "gooey", cheese has melted, and crust is lightly browned.  Sprinkle 1tbl basil onto each pizza.
To serve, give each person their own pizza, which they can then cut into 4 large pieces that they have all to themselves! And, by the way, when I say large, I mean large. As stated before, my mother couldn't even finish her serving.