Man food.  Delicious, hearty, and savory, but it doesn't have to be barbaric.  It can be cozy and comforting too, which is entirely appropriate for a frosty, February night in. This stew is my brother, Steve's, absolute favorite winter meal.  Chunks of potatoes, carrots, and celery swimming in a rich, beef broth would win anyone's heart, so I was happy to make a big pot for his starving, stressed out, last semester of pre-med little self. And, getting to hang out with him for a bit made it taste even better.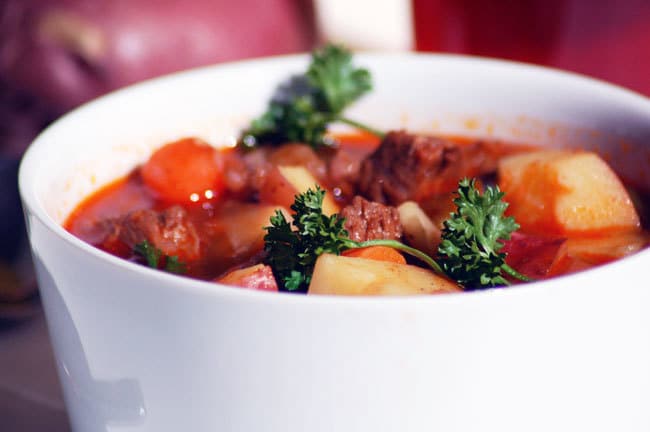 Steve's Beef Stew
Click here for a printable recipe!
Adapted from The Pioneer Woman
Ingredients:
3 tablespoons olive oil
1 tablespoons butter
2 pounds stew meat or chuck, cut into cubes
1 whole medium red onion, diced
3 cloves garlic, minced
2 cups red wine or 1 16 oz. bottle of hard cider
4 cups beef broth
1 tablespoon Worcestershire sauce
2 tablespoon tomato paste
1/2 teaspoon paprika
1/2 teaspoon salt
Freshly ground black pepper
1 1/2 teaspoons sugar
10-12 baby carrots, sliced
5 whole red potatoes, cut into 1/2″ cubes
4 celery stalks, minced
Fresh parsley
1-2 cups of water (if necessary)
Yields: 6 servings
Prep Time: 20 minutes
Cook Time: 1 1/2 hours
Method:
1. Heat oil and butter in a large pot.  Saute beef pieces until beef is browned, about 8 minutes.  Remove from heat and cut pieces into bite sized pieces.  Set aside.
2. Toss onion and garlic into the pot. Cook until browned, about 3 minutes.  Add broth, red wine, Worcestershire, tomato paste, paprika, salt, pepper, sugar, and beef.  Cook for 1 hour.
3.  Add vegetables. Cook and cover for 30 more minutes. Stew should be incredibly thick at this point.  Add a bit of water if it needs a little thinning.
4. Garnish with parsley and serve immediately.