I bought packages of Bean Sheet noodle without knowing what to do with them. I am a noodle fan and always intrigue to try noodles in any shape and form. Though I have tried this kind of noodle before a number of times but I have no idea how to prepare them.
Bean Sheet is a type of Chinese noodle made from Mung beans. It is transparent, thin flat sheet found in dried form. It is great for stir fry, soup and salad dishes. Bean sheet is very similar to grass noodle as in my Spicy Thai noodle salad recipe but different in shape and texture.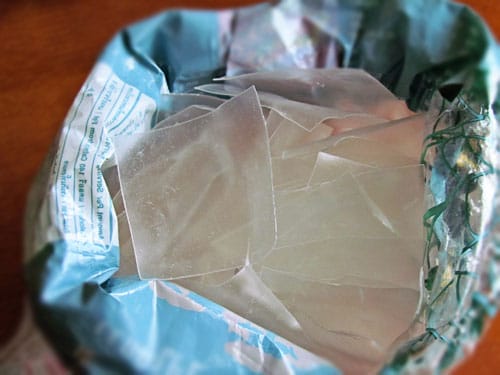 The beautiful see-through sheets in the package suddenly inspired me to try something new. Bean sheet noodle is very gentle and soft like a delicate savory jelly in our summery Asian salad. It soaks up the flavourful sauce so lovely.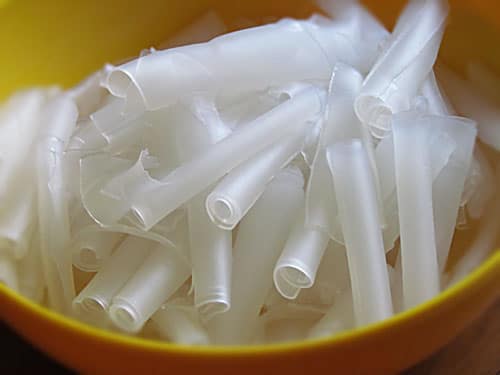 The noodle curls and rolls up as soon as in hit the boiling water. Few minutes later, they are sparking curly jelly rolls ready to be eaten or use in many ways. I drop some sesame seed oil over them to prevent them from sticking together. Sesame oil also gives the beautiful nutty flavour to them.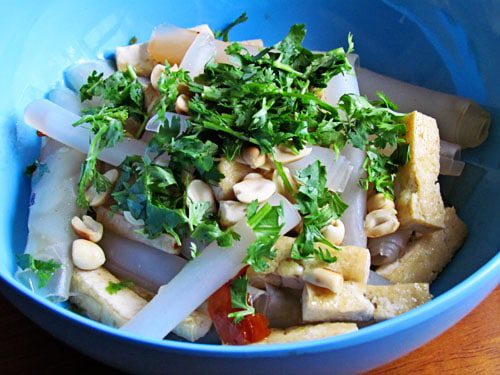 The flavourful dressing is really light and simple. I bring equally part of vinegar and sugar to boil with a little water and a pinch of salt. Few drizzle of soy sauce turns the savory sweet syrup into the luscious dark amber sauce.
Bean Sheet Salad with Tofu

Ingredients: (4 servings)

100 gm dried bean sheet noodle

1 tsp sesame oil

2 tbsp sugar

2 tbsp vinegar

1 tsp salt

2 tsp water

1 tsp soy sauce

1 tsp chili flakes

200 gm firm tofu- sliced into small pieces

A handful fresh coriander leaves- chopped

Roasted peanut for garnishing

1 tbsp vegetable oil

Preparation

Drop bean sheets in boiling water and cooked for 3-5 minutes or until the noodles roll up and become tender. Drain and toss in some sesame oil and keep aside.
Bring vinegar, sugar, salt, water and soy sauce to boil for 2 minutes. Add chili flakes and keep aside.
Heat oil in the large pan and stir fry tofu until lightly brown and cooked thoroughly. Remove from the heat and keep aside.
In a large salad bowl, add cooked bean sheet, tofu and the dressing and mix well.
Top with fresh coriander and roasted peanut before serving.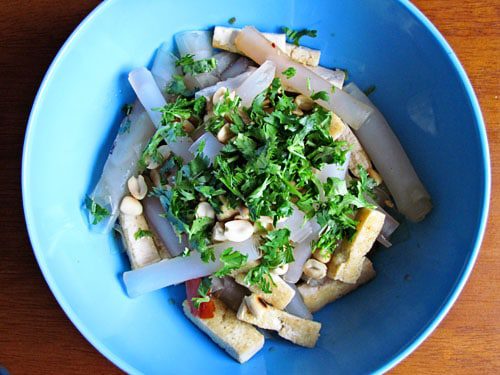 The bean sheet noodle salad was amazing and packed with flavours. Yaseen especially loved this gentle noodle. The dressing was sweet, sour and tingling hot. The noodle and tofu absorbed the sassy sauce wonderfully. The whole dish was so fresh and delicious.
Have you ever tried bean sheet before? How was it?