Full.
Panic.
Mode.
I really should calm down, nothing is actually going wrong with my new house or my current house, but it's all happening in less than a week and… omg is anyone else seeing stars?
I think my right leg just went numb.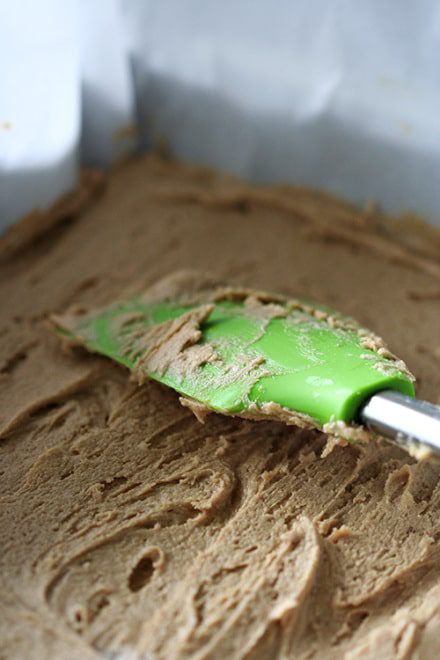 When we bought the condo and Trevor had to head everything (because I didn't have an American credit score yet) his body handled the stress by giving him a perpetual head cold that faded in and out of existence over the span of two months.
Now that I'm heading the house purchase, my body has decided to respond by having momentary "OMG WHAT IS HAPPENING I DON'T EVEN SHOULDN'T I BE SUBMITTING A DOCUMENT OR SIGNING PAPERS OR WHAT IS HAPPENING???" panic moments.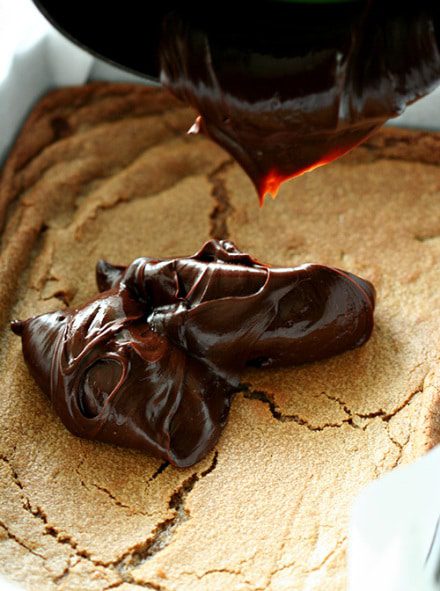 These are usually followed by one of two extremes… either I desperately need a nap or I'm bouncing off the walls, doing something like singing The Lion Sleeps Tonight by The Tokens.
Better known by some as sung by Timone of Timone and Pumbaa fame.
Aaahhh-weeeeeeeeeeee…..eeeeeEEEEeeee…. a weeee-oooo-om-buweeeeeeeeeeeeeeeh…….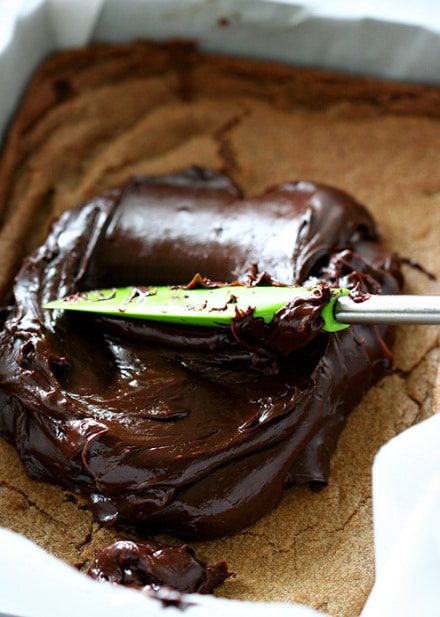 I'm not entirely sure my brain is still present. It's taken a vacation to get away from the crazy. LITTLE DOES IT KNOW, IT IN ITSELF IS CRAZY.
Because I drove it crazy with my house transitioning and large amounts of work.
ALL AT THE SAME TIME.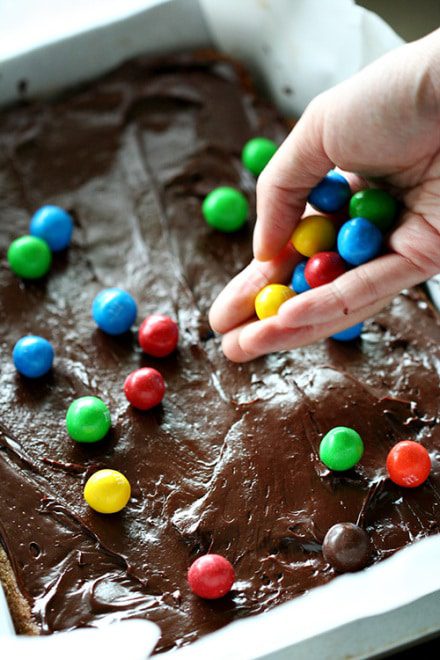 I hope this is just what I sound like when I'm panicking and not what I normally sound like on this blog.
If this is what I normally sound like, I'm sorry. I'm so sorry.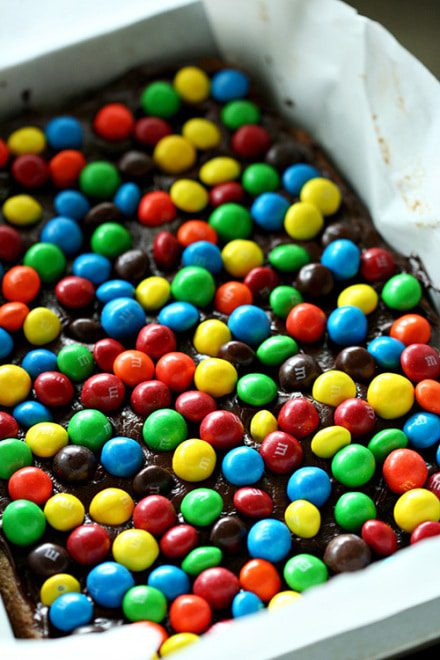 INTERESTING TIDBIT FOR THIS POST!
Almost all of my stuff was already in boxes at the point of these bars. I kept out enough baking tools to make these bars and basically everything else was in boxes. The tools to make these bars are now also in boxes.
Example!
The following photo looks all fine and dandy,  like all the other photos on this blog, yes?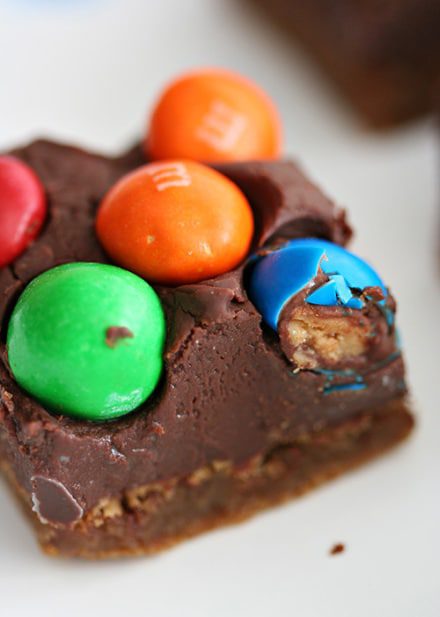 OOOoooooOoooh… depth of field. Fancy.
MOVING SECRET: This bar is totally on one of many Dixie paper plates that we bought at the QFC after we aggressively packed all of dishes.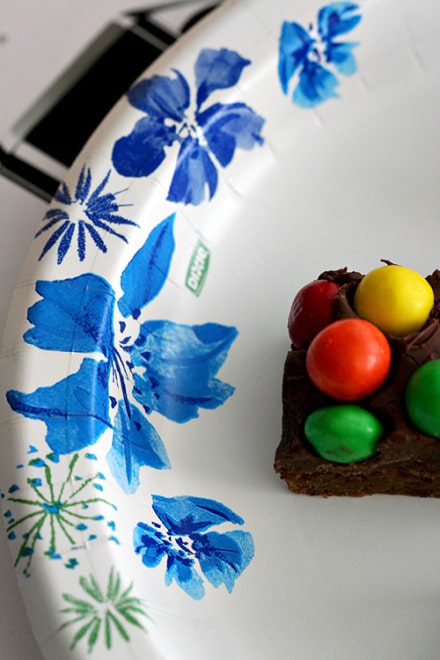 See. Told you. At least those flowers are downright magical.
MOVING SECRET #2: I usually set up a nice space to take photos in. It involves putting a plate on a footstool, but the footstool is the perfect distance from the window and there's large white cardboard set up to help reflect light back and make things look nice. This time?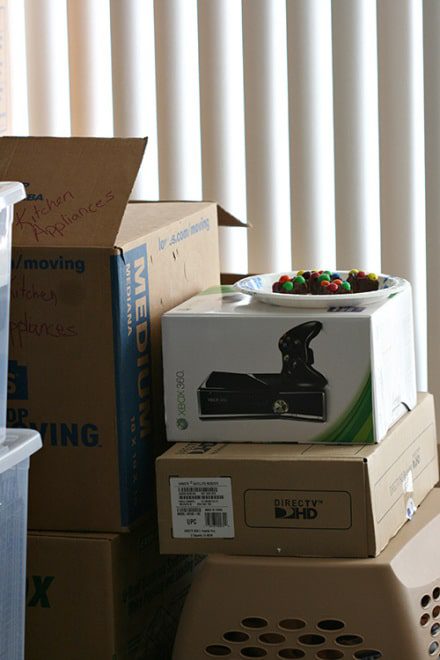 Boxes. Boxes, boxes, boxes everywhere. Super classy, high tech set up here at Chez Amandeleine, folks. Tell your friends.
The hardest part about this incredibly crazy, meandering post is the fact that it will probably be the last one for a few weeks while I move and get my kitchen back in working order.
Don't worry though, my new place has a pantry and a gas range and a convection oven and lots of counter space near windows to take photos at.
Instead of footstools.
It will be fabulous
Assuming it all goes as planned.
/panic
See you soon…ish. Promise. 🙂
Malted Fudge M&M Bars
Heavily adapted from Shugary Sweets
Malt Crust
3/4 cup unsalted butter, softened
2 tablespoons milk
1 1/4 cup packed dark brown sugar
1 egg
1/4 cup malted milk powder (original, not chocolate)
1 1/2 cup flour
1/2 teaspoon salt
3/4 teaspoon baking soda
Fudge Filling
1 can (14oz) sweetened condensed milk
2 tablespoons unsalted butter
12 oz bittersweet chocolate, chopped (I used 70%)
1 cup peanut butter M&Ms
1 cup pretzel M&Ms
Directions
Preheat oven to 375 degrees F. Line a 9×13-inch pan with parchment such that there is an inch overhang on opposite sides of the pan.
In large mixing bowl, cream together the 3/4 cup butter, milk and brown sugar. Add egg and beat until fully incorporated.
In a medium bowl, whisk together malted milk powder, flour, salt and baking soda. Beat into the butter mixture until fully combined
Evenly press cookie dough into prepared pan. Bake for 18-20 minutes until browned. Remove from oven.
Meanwhile, in large sauce pan, heat sweetened condensed milk until and 2 tablespoons butter until warm over med-low heat. Add in chocolate and heat until smooth, whisking constantly. Pour into prepared cookie crust.
Evenly distribute the pretzel and peanut butter M&Ms and use your flattened palm to press them into the fudge layer. Cool to room temperate then cut into squares. Store in an airtight container at room temperature.