Back from my beloved Birmingham with my
belly full of vegan brownies and ice cream andapple crumble I stop by the
Turkish supermarket and get a box of rose Turkish Delight to munch on the way
home (about half a minute away. But I can eat several hundreds kilos of Turkish
Delight in half a minute, you should know). The rest goes on this pretty cake,
for Amber's birthday. It is. Good.
TURKISH DELIGHT CAKE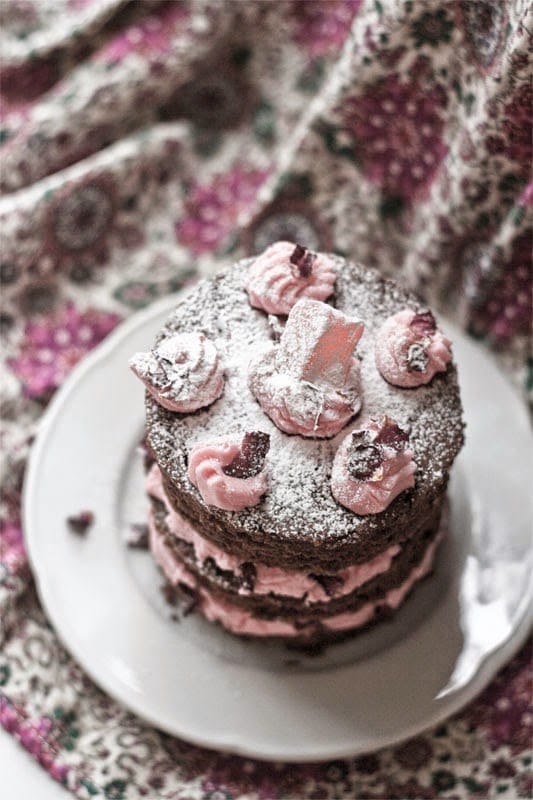 170g (1 ¼ cup + 1 tablespoon) self-raising
flour
30g (1/4 cup) cocoa powder
120g (1/2 cup) caster sugar
1 teaspoon baking powder
200ml (2/3 cup) soya milk or other
non-dairy milk
80ml (1/3 cup) sunflower oil or other
flavourless oil
1 tablespoon vanilla extract
1 tablespoon rose water
Rose cream filling:
20g (1 ½ tablespoons) margarine
20g (1 ½ tablespoons) vegetable fat
120g (2 cups) icing sugar
2 tablespoons rose water
1 teaspoon vanilla extract
a few drops red or pink food colouring
2 or 3 rose flavoured Turkish Delight, chopped
Preheat the oven to 180°C (350°F) and lightly grease a brownie tin (for a small 3 or 4 layer sandwich cake) or a regular cake tin (for a 22cm single layer cake). Sift in self-raising flour and cocoa powder in a medium bowl, then add sugar and baking powder and mix well. In a separate bowl, mix soya milk, oil, vanilla extract and rose water and mix until combined. Add the wet ingredients to the dry and quickly mix together with a spoon until just combined. Pour batter into the tin and place in the oven. For the thin cake, bake for 10 minutes or until a toothpick inserted into the centre comes out clean. For a regular cake, bake for 20-25 minutes. Cool in the tin on a cooling rack for about 15 minutes, then take out of the tin and leave to cool completely. If making a sandwich cake, use a large circular cookie cutter to cut out your layers, then move on to the filling.
Whisk together margarine, vegetable fat, vanilla extract and rose water until creamy, then add icing sugar and the food colouring until you get the desired consistency. Lastly add the chopped Turkish Delight and mix well.
Spread the rose water cream filling on top of one layer, then place the other on top. Repeat for the remaining layers, then spread or pipe more cream on top and decorate with more Turkish Delight and dried rose petals if you like.