Hello there!! I'm happy to introduce you to my mother, Cindy.  🙂  I've been trying to get her on the blog for a while and she finally emailed me this recipe last week.  It was a blast to spend yesterday afternoon baking, chatting, drinking coffee, and staging this delicious recipe. She taught me everything I know about food and quite a bit about life, but she's here today to share these ridiculous, moist peanut butter chocolate chip cookie bars.
Hi! Cindy here!  For over a year now gluten has been banned from our home, so we've had to come up with tasty modifications of our favorite foods.  It's been a lot of trial and error.  Some gf recipes just need love (and tweaking) to pass my kids' taste test. Baked goods are especially challenging, but not impossible.  These gluten-free cookie bars taste like classic peanut butter chocolate chip cookies and have a way of disappearing almost as soon as I pull them out of the oven.
For this recipe, I developed a flour mixture of 1 1/2 cups sorghum flour, 1 cup tapioca starch, and 1/2 cup potato starch.  Unlike brown rice flour, sorghum creates a slightly chewier texture.  This flour mixture is great for any cookie or brownie recipe you want to make gluten-free.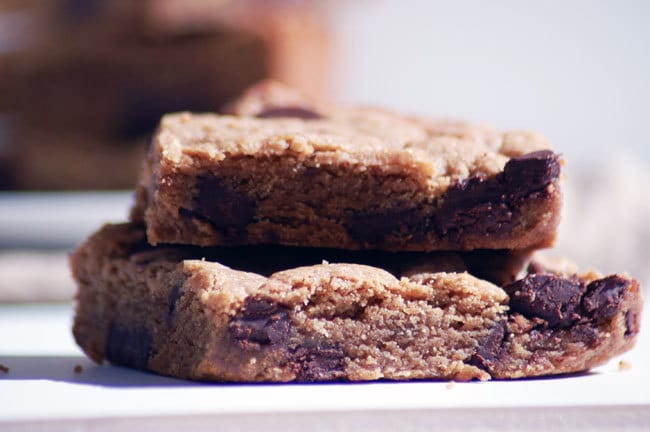 Cindy's Peanut Butter Chocolate Chip Cookie Bars
Ingredients:
1 cup creamy peanut butter
1 cup packed light brown sugar
2 teaspoons vanilla extract
2 eggs
1 1/3 sorghum flour mix (1 1/2 cups sorghum flour, 1 cup tapioca starch, and 1/2 cup potato starch)
1 teaspoon xanthan gum
1/2 teaspoon salt
1/2 teaspoon baking powder
1/2 teaspoon baking soda
1/2 gf chocolate chips
Yields: 12 cookie bars
Prep Time: 15 minutes
Bake Time: 20 minutes
Method:
1. Preheat oven to 350° F.
2. Whisk together flour, xanthan gum, salt, baking powder, and baking soda.  Set aside.
3. In mixing bowl, cream peanut butter and sugar.  Add vanilla and eggs, one at a time, until well blended.
4. Add dry ingredients a little at a time until completely incorporated. Add chocolate chips. Dough will be thick.
5. Press into a greased 9X13 pan.  Bake for 20 minutes or until a toothpick come out clean and the edges are golden.
6.  Serve warm with ice cream or with a giant glass of milk.  Store in an airtight container or freeze bars up to one month.