You guys, I have been in such a pudding mood.
I'm not one of those people who normally sits down and thinks, "Man, pudding just soundsgreat right now!" No. I'm someone who loves chocolate, pecans, peanut butter, and cake. You know, along with the
loads of salted caramels
healthy stuff I eat in my balanced diet. But lately, I have been having almost unquenchable cravings for pudding.
Oatmeal raisin pudding. Rice pudding. Bread pudding.
And, you know, pumpkin cheesecake pudding layered in a dish with tons of whipped cream.
Sinful.
Except with this recipe, it's not busting my waistline. Pudding is good, but not time-to-up-my-jeans-size good. And with the holidays coming up, I don't want to overindulgetoo much (it can be easy to get swept away by the holiday cheer, but there is no reason to not just enjoy and be healthy at the same time!) So I decided that I was going to create a healthy, indulgent pudding that I could feel good about serving– to both myself and my family.
Heck, this would be awesome for Thanksgiving. Or anytime, really. I'm not in charge of the Thanksgiving menu this year, but if I was I would totally serve this alongside my grandmother's famous carrot cake ring mold…. yumm! Regardless of the holiday timeline, this recipe is pretty much the flavors of fall all mixed up with a smooth cheesecake pudding base and fluffy, creamy whipped cream.
So after stuffing myself full of this pure deliciousness, I got to watch the snow falling outside (yes, it is snowing here already!) and curl up on the couch with my pudding craving, well, satisfied.
For now.
Pumpkin Cheesecake Trifles
Serves 4        Serving Size: 2/3c. pudding with 1/4c. whipped cream
Calories/Serving: 102
Ingredients: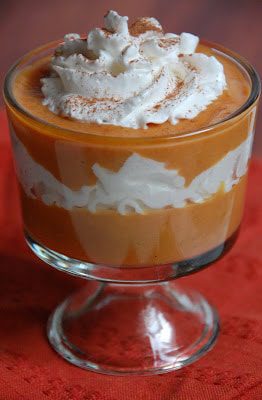 1 package sugar-free instant cheesecake pudding mix (such as Jello brand)
2c. skim milk
1/4tsp vanilla extract
1/2tsp pumpkin pie spice (can substitute cinnamon if needed), plus extra for garnish
1c. pumpkin puree (not pie mix)
1c. fat-free whip cream (such as Redi-Whip, found in a can)
Instructions:
In a medium bowl, beat together pudding mix, milk, vanilla extract, and pumpkin spice (in accordance to package directions). Cover and chill for one hour. Remove from fridge and fold in the pumpkin puree until very evenly distributed.
To serve, take out four small parfait or clear dishes. In each dish, start with a layer of 1/3c. pumpkin cheesecake pudding mix (I spoon the mix into a large plastic bag, snip off one end, and use the bag to pipe it in to look pretty). Top that with two tablespoons of whip cream, then another 1/3c. cheesecake mix, and then another two tablespoons whip cream. Sprinkle with cinnamon as garnish.