The lovely thing about banana waffle is it is very soft and sticky unlike a basic waffle which is spongy and fluffy. The smell of cooked banana is like a warm and comforting baby food. This is of course, Yaseen's favourite dish.
Banana Waffle
Ingredients: (4 servings)
1 cup flour
1 tsp baking powder
2 banana- mashed
2 eggs
1/2 cup sugar
75 gm butter- soften
3/4 cup milk
How to cook:
Whisk sugar, butter, eggs and milk together until combined and sugar dissolved.
Sift in flour and baking powder and mix well.
Add mashed banana and mix well.
Preheat the waffle maker.
Pour in the batter and close the machine.
Cook until golden brown and remove from the iron plate.
Repeat the process until all the batter is used.
Serve hot with honey.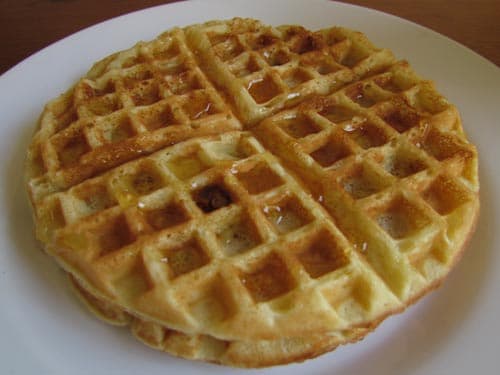 These banana waffles are so gentle and indulgent. They are easily disappeared from everybody's plates.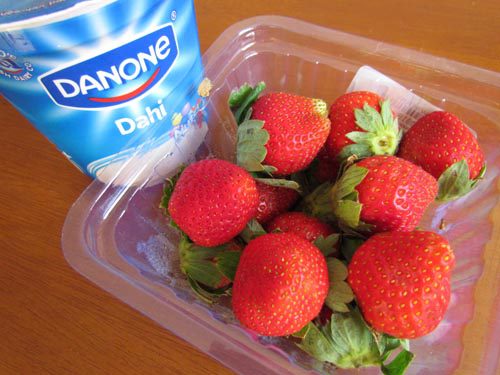 We've got the first batch of perfect & beautiful seasonal strawberries this weekend. Their pretty and sweet smell is so fresh and lively. Yaseen already ate 10 of them when he woke up, and he was so excited when I used them to make some smoothie for breakfast drink.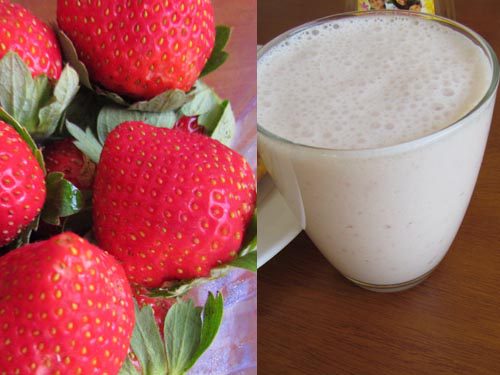 For strawberry smoothie (3 servings)
1 1/2 cup plain yoghurt
1/2 cup cold milk
3 tbsp honey
1 cup strawberries
To make: Add everything in the blender and blend until smooth. Serve chill.
So that's our breakfast…. I'm off to cook lunch now