This is a post for the broken-hearted. Which I am. I just parted with almost $5oo to fix my car … due to a minor accident. Boo hoo! I'm still blue when I think of the damage. Nonetheless, I am thankful that we are all ok.
I have been car-less since yesterday, and will be so for the next few days. Which means I will be staying in, and that only translates to more cooking, baking and EATING! Ah yes, I've already made (and chomped on) quite a few things since yesterday afternoon.
Since I have a broken heart to mend, you can expect loads of fatty, comfort food appearing on my blog. If you're not into deep-fried, artery-clogging, calorie-laden grub, DO NOT read on. You have been warned ;P
A few years ago, I chanced upon this Corn and Prawn Fritters recipe in TODAY's food section. I happened to have the ingredients required and made these sweet niblets on a whim. It was love at first crunch, and as they say, the rest is history.
I've made them many times over – as finger food for guests, or a movie marathon snack for the family, or like today, a salve for my battered heart. Sob.
Recipe
(by Amy Van, TODAY newspaper)
Serves 4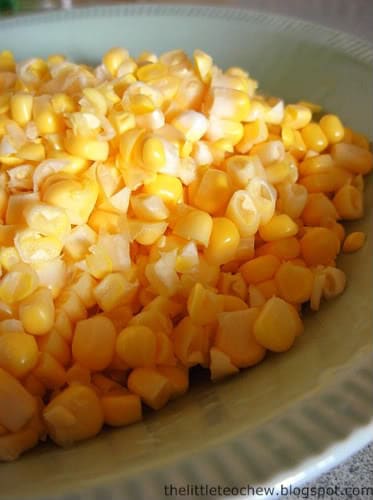 – 150g fresh prawns (shelled, deveined and chopped into small chunks)
– 2 ears sweet corn (peeled, washed, kernels removed from cob*)
* Hold the cob upright and cut the kernels straight down with a sharp knife
– 2 shallots (peeled and chopped)
– 1 stalk spring onions, chopped (I substituted with finely sliced leeks, which I feel, lend a sweeter taste)
– 1 red chilli (seeds removed, sliced or chopped)
– 300g flour
– 1 tsp baking powder
– 375 ml water
– Oil for deep-frying
– Salt, to taste
– Pepper, to taste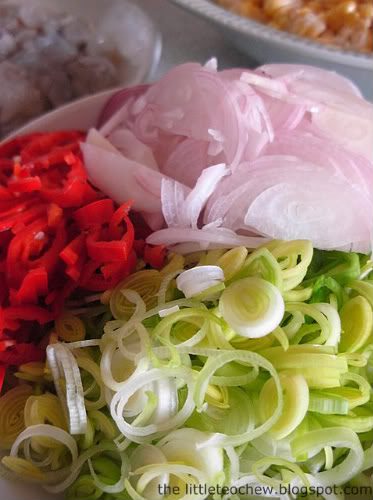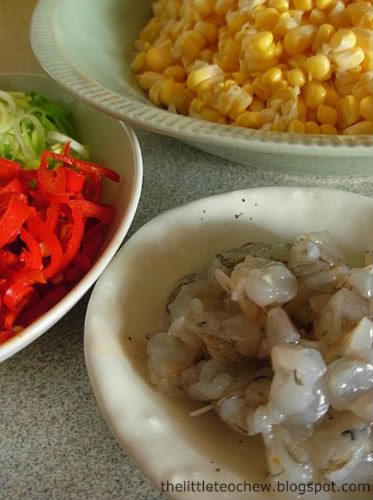 1. Sift flour and baking powder into a bowl. Add salt and pepper. Slowly stir in water to obtain a thick batter (batter should slowly drip off the spoon).
2. Add prawns, shallots, sweet corn, spring onions (or leeks, in my case) and chilli to the batter. Stir until well-mixed.
3. Heat the oil in a skillet over medium-high heat. Drop 1 tbsp of batter into the oil, one at a time, until the skillet is filled up. Make sure your have sufficient space in between fritters so that they don't stick. Flip the fritters to ensure that both sides are browned. Fry in batches.
4. Remove the fritters from skillet and drain on paper towels (I find tempura paper better).
5. Serve with dips, although they are lovely on their own.
Now excuse me while I eat my heart out (pun intended).