Hello Folks!  Happy Monday… Today, I am happy to present you with the first of many "weeknight wonders".  I've posted a few recipes on the blog that are easy to throw together after a long day, but I wanted to make it a more regular occurrence.  I thought every Monday I could post a recipe that comes together in a few minutes. Cross your fingers.  Let's hope I'll keep this up!
This chicken rocked my socks.  Jason and I love Thai food, but I really haven't tried to make it at home very often just because the list of ingredients proved pretty daunting.  But, I was chatting with my mom about a Thai recipe I'd seen and we started talking about a few modifications that would definitely simplify tackling this dish.  What I didn't expect was for it to work out so well.  Jason and I inhaled this dish.  Creamy coconut milk paired with crushed pineapple, garlic, and Sriracha creates a divine sauce.  Savory chicken and brown rice add substance to the meal.  I topped it with strawberries and fresh basil… such a good idea!  The basil really brings the sweet and savory flavors together.  Basically, fireworks are going off in your mouth.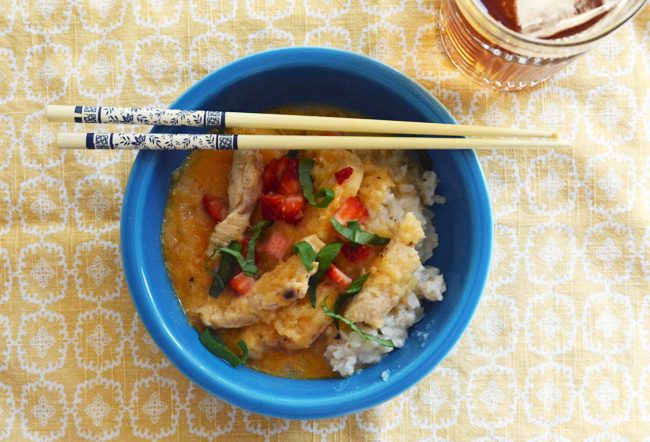 Do it! And don't skip the basil!
Pineapple Coconut Chicken
Lightly adapted from Martha Stewart
Ingredients:
1 lb chicken, cut into 1/2 inch strips
Salt and Pepper
1 tablespoon sesame oil
2 teaspoons minced garlic
3 tablespoons chicken broth
1 cup full fat canned coconut milk
1 16 oz. can crushed pineapple, drained
1 teaspoon ground ginger
2 teaspoons lime juice
1 tablespoon Sriracha Sauce
3 fresh strawberries, finely chopped
2-4 leaves fresh Basil, cut into thin strips
2 cups cooked brown rice
Prep Time: 10 minutes
Cook Time: 15 minutes plus time for rice
Yields: 4 servings
Method:
1.  Heat oil in a large, non-stick skillet over a medium-high heat.  Add chicken and quickly salt and pepper to taste.  Let cook, stirring occasionally, for about 5 minutes or until chicken is done.
2. While chicken is cooking, beat coconut milk with a hand mixer until oils are combined and milk is smooth and thick.
3. Add garlic to chicken.  Cook until fragrant, about 30 seconds.  Add broth, milk, pineapple, ginger, lime juice, and Sriracha.  Bring sauce to a boil and let simmer for about 10 minutes.
4. Serve over rice.  Garnish with strawberries and basil.