I'm not going to talk about Europe today (shock, I know)!  Instead, I'm going to talk about my favorite person in the world, John.  Four years ago on Saturday we met in a chance meeting for the first time.  Since then, well, let's just say that anything that COULD happen to someone, has happened to us.  This past year has been a growing experience for both of us. Living together for a year, we've definitely learned a lot more about each other, and ourselves, than we had known before.
To be honest, I've never felt that our relationship was stronger than it is today.  It is so nice to have someone there for you, someone you can rely on, and someone you can just 100% completely be yourself around without hesitation or embarrassment. I feel like I've always been in relationships where I was trying so hard to conform my personality, my looks, my thoughts, that I never stopped to consider any other way.
So when I found John it was literally like my eyes opened and I saw how damaging those other relationships were to myself and my self esteem.  John, everyday, reinforces his caring and love just by being there for me.  Nothing's sexier than a man helping around the house, right ladies?  Anyway, since I knew we'd be in Europe celebrating four years of happiness, I thought we could celebrate a little early at home with this peanut butter pie.  Do I even need to tell you that he ate the whole thing?!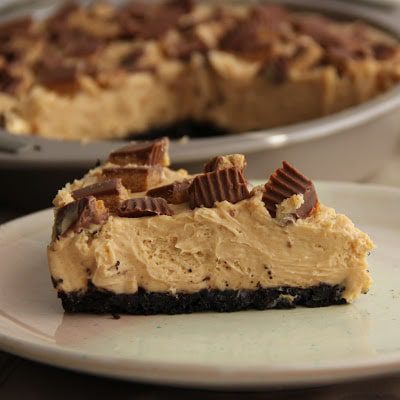 Peanut Butter Cup Pie (adapted from Cinnamon Spice & Everything Nice)
Serves:  8 (a 9-inch pie)
Crust:
2 cups chocolate cookie crumbs
6 tablespoons salted butter, melted
Filling:
12 ounces light cream cheese
1 1/2 cups creamy peanut butter
1 cup sugar
1/2 teaspoon vanilla extract
1 cup heavy cream
12 Reese's Cups, crushed
Crust:  Preheat the oven to 350 degrees F.  In a small food processor, add cookie crumbs and butter.  Process until combined.  Press the crumbs evenly into a 9-inch pie pan.  Bake for 10 minutes and allow to cook completely.
Filling:  In a large bowl, beat cream cheese and peanut butter until well-combined and fluffy (5 minutes).  Add sugar and vanilla.  Beat on medium speed until light and fluffy about 3-5 more minutes.  In a separate bowl, beat heavy cream until stiff.  Fold the cream and Reese's Cups into the peanut butter mixture and spoon into the crust.  Refrigerate overnight prior to serving.
Until the next time my oven is on…