I cannot believe that this is the final week of August.  Seriously, where did this month go?  Does everyone feel like this year has just been going way too fast?  I wonder if the time goes by faster every year…I can't imagine it going faster than this year.  If it does, it will be like whole decades of my life will pass me right on by.  What a sad thought.  I'm so happy with how my life is right now, that I don't want to be throwing any day, hour, minute, second even, away.Sometimes, in the midst of the craziness, John and I take a minute to relish the moment.  At K&E's wedding, we had a moment like that – right before the ceremony started where we held hands, looked around, and took it in.  My little sister was getting married and I never EVER wanted to forget how I felt. Last month on our trip to Maine, we had another, similar, moment.  John had promised me a trip to pick Maine blueberries for my mom.  Imagine his surprise and my disappointment when we were about 4 weeks too early for the Maine blueberries.

The next day, while we sat outside in the sunshine at his mom's, John mentioned to her how disappointed I was to return to my mom without blueberries.  Lo and behold, she had a wild blueberry bush she has cultivated for years in the backyard.  Happily, I picked until my heart was content!  In fact, I might have picked every ripe berry off that bush!  When we got home, I whipped up this galette for our family and served it with mySweet Cream Ice Cream.  From John's mom to mine, this blueberry galette symbolized the best of both of us.  And just like us, it was TASTY!
Wild Maine Blueberry Galette (adapted from The Humble Cook)
Serves: 8
Galette
1 1/2 cups flour
1 teaspoon sugar
1 stick butter or margarine, cold and cut into tablespoons
8 tablespoons ice water
1 egg, beaten
Blueberry Filling
3 cups blueberries (we prefer wild Maine blueberries!)
2 tablespoons flour
1/2 tablespoon lemon juice
1 teaspoon ground cinnamon
1/3 cup sugar (our blueberries were sweet)
In a food processor, or by hand, combine flour and sugar.  Pulse to mix thoroughly.  Remove the cover and add the butter/margarine around different areas of the food processor.  Cover and pulse 6-10 times, until the butter is pea-sized.  Then, slowly add ice water pulsing thoroughly after each tablespoon addition.  The dough should come together slightly, but will look crumbly.  Gather the dough and form it into a round ball.  Form it into a flat round disk and cover it with plastic wrap.  Refrigerate for 30 minutes (or freeze for 15 minutes).
Now make the filling, by combining the blueberries, flour, lemon juice, cinnamon, and sugar in a large bowl.  Be careful not to smash the blueberries but mix until well combined.  Set aside.
Take out the cooled disk and let it come to room temperature (5-10 minutes).  Roll it out on a greased cookie sheet into a large round (about 9 inches).  Mound the blueberry mixture in the middle, leaving a 2-inch border of dough to fold over.  Fold the border over the filling and crimp to make some pleated edges.  Take the whisked egg and brush it thoroughly over the crust.  If desired, sprinkle crust with additional 2 tablespoons of sugar (we skipped this step).  Place it back into the fridge for about 20 minutes, or in the freezer for 10.
Preheat the oven to 400 degrees F.  Place the cookie sheet from the fridge or freezer immediately into the oven and let it bake 20-25 minutes, until the edges are golden brown.  Transfer carefully to a serving plate and serve warm with ice cream.  Alternatively, you can let it cool and serve it room temperature.  To store, place in an airtight container for up to 3 days.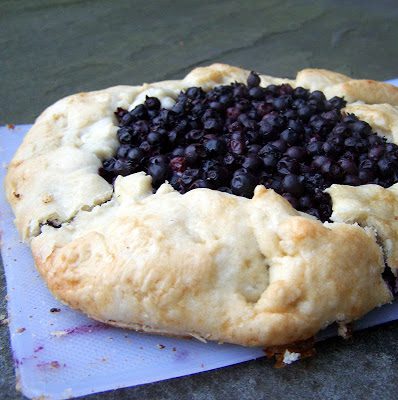 Until the next time my oven is on…