I seriously have been eating the Oats and Honey bars since I can remember.  A girl I grew up with, her mom, always had a box in the pantry and I don't know if it was because they were super delicious or I wanted to be like her, but I then forced my mom to buy them from then on out.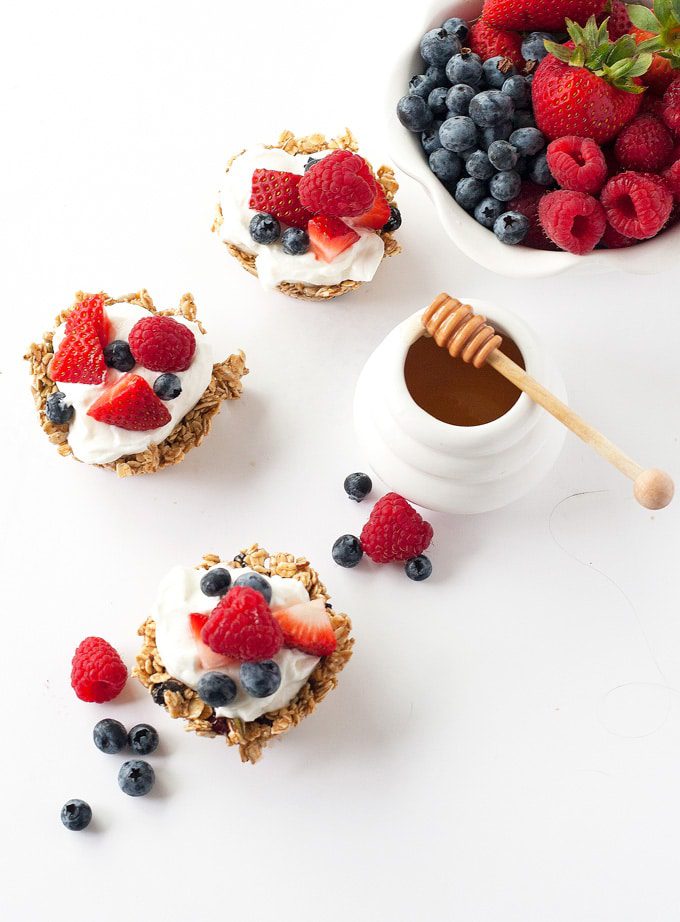 So when Nature Valley sent me their new Toasted Oats Muesli, I wanted to make something as fun and portable as the granola bars I grew up with.
Hence these blueberry muesli breakfast cups – which are made with Nature Valley Blueberry Muesli, honey and almond butter.  That's it!  The hardest part was trying not to lick the spoon, bowl, my hands… basically everything!  So deliciously addicting!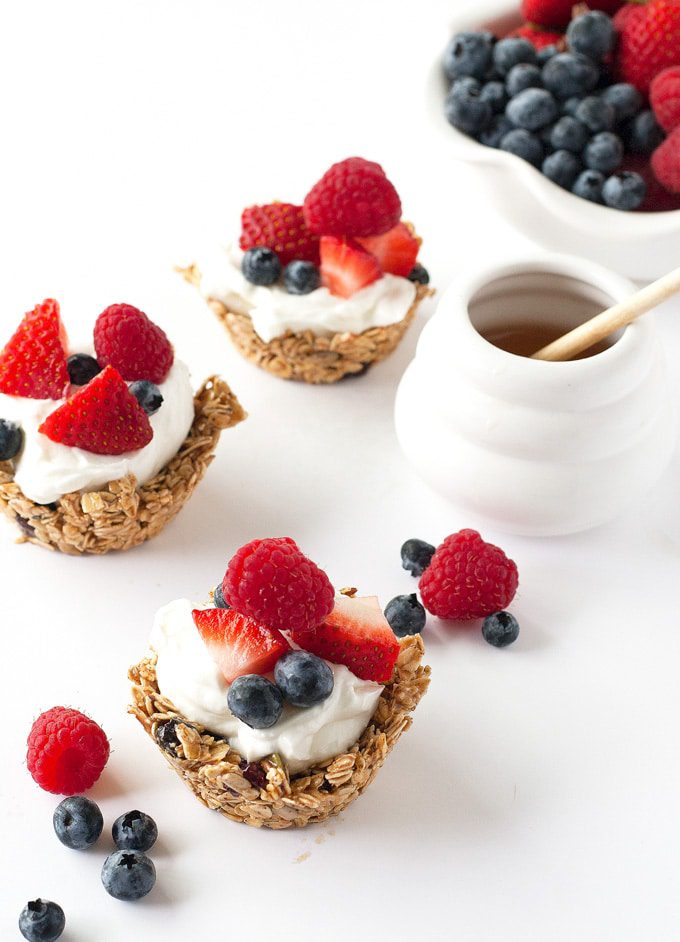 Simply mix all the ingredients together, mold them in a cupcake pan and let sit overnight.  Then in the morning stuff them with yogurt, more almond butter, bananas, or fresh fruit – or a combination of any of those!  I did greek yogurt, fresh fruit, and a small drizzle of honey.  Seriously – divine!
The best part is they stay in the fridge covered all week long!  So you now how a quick, easy and delicious breakfast ready to go.  And if your weeks have been anything like mine, you need this!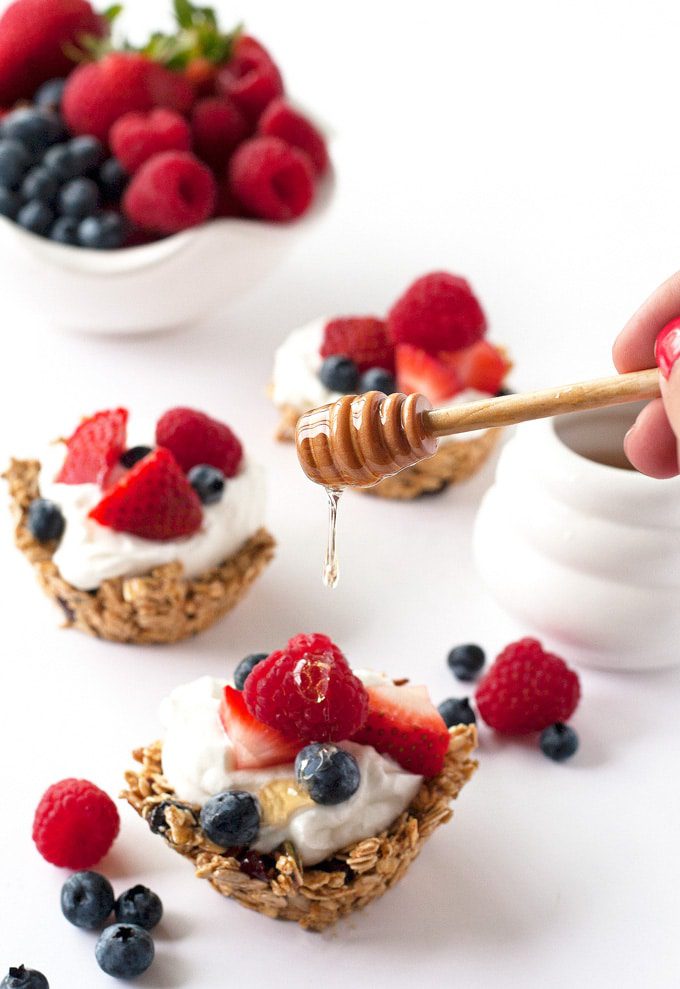 These blueberry muesli breakfast cups are crunchy, with dried blueberries, pumpkin seeds, almonds and dried cranberries.  It's all your favorite breakfast things in one bite!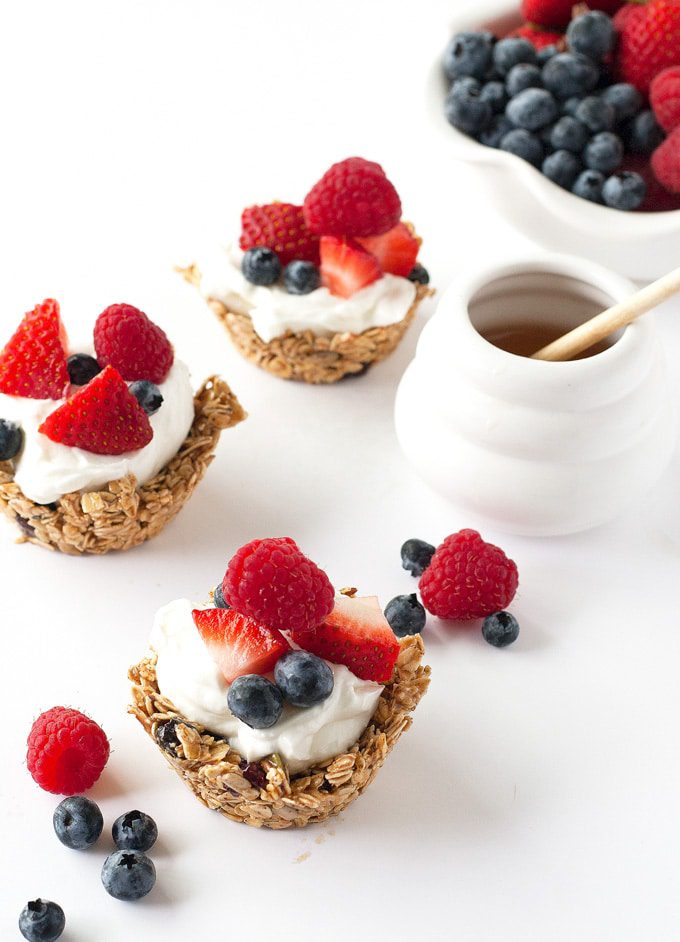 ingredients
1 bag Nature Valley Toasted Oats Muesli (11 ounces)
¼ cup almond butter (or any nut butter
½ cup honey
toppings such as fresh fruit, yogurt, bananas, honey, etc…
Instructions
Prepare a muffin tin by lightly spraying it with cooking spray.
In a small microwave safe bowl, combine almond butter and honey and microwave in 15 second intervals, stirring after each time, until mixture is smooth and runny. It took me about 45 seconds total.
In medium bowl, add one bag of Nature Valley Toasted Oats Muesli (I used the blueberry variety). Add in the almond butter-honey mixture and stir together until all the muesli is covered.
Divide the mixture between the 12 muffin cups. With the back of a spoon or measuring cup, press the muesli mixture to form a cut. I sprayed the back of my measuring up with cooking spray so that it wouldn't stick.
Once formed, cover with aluminum foil and refrigerate overnight.
To serve, remove from muffin tin and fill with desired ingredients.
Notes
Muesli cups are best used immediately after removing from refrigerator, These can be stored for up to seven days, covered in the refrigerator.