This weekend we had Mason's first birthday bash. It was such an amazing day filled with love, family and friends. I spent two days prepping all the food and desserts which pretty much has left me completely exhausted. Mason came away with a huge amount of clothes(thanks to the parenting gods for that one or let's just thank our awesome party guests) and some pretty awesome toys. After all the party exhaustion we needed a quick meal because mama didn't feel like cooking. I threw these yummy meatball skewers together a few days ago in preparation for not wanting to cook after the party madness. I kept all the ingredients separate and then threw them together at the last minute. They were perfect and yummy when we were starving. I actually didn't eat one bite of the food I prepared for the party and it was all gone after everyone left. Hopefully that means it was good.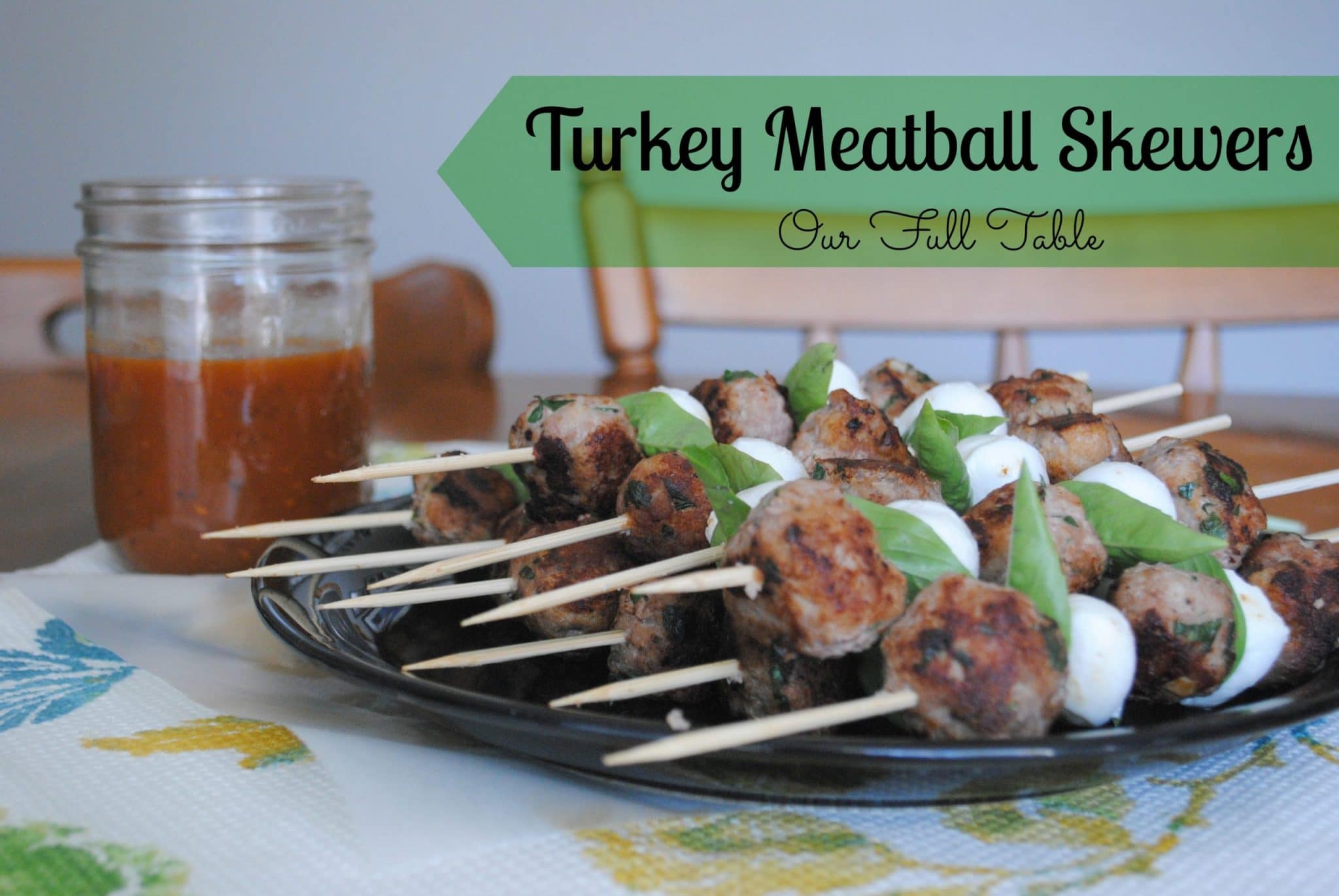 Here's what you're gonna need: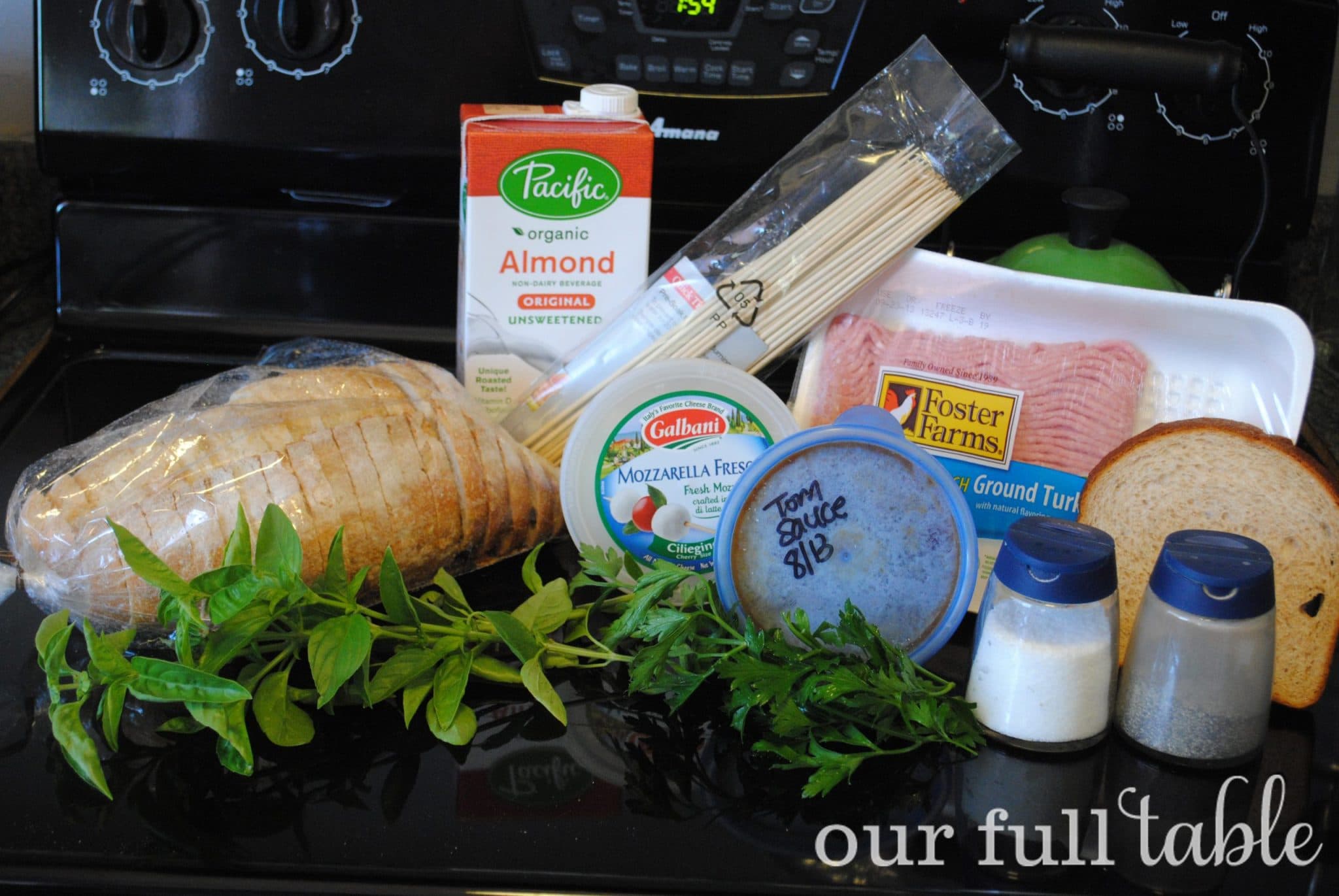 These meatballs are so yummy and moist you're gonna love them! Start by pulling your piece of bread into small chunks. Soak in a few ounces of almond milk or regular milk and set aside. I used between 2-3 ounces of milk but if your bread is bigger or smaller just adjust the quantity accordingly. You could use bread crumbs instead of soaked bread but since the turkey doesn't have a lot of fat the almond milk and bread really give the moisture needed to keep these meatballs nice and juicy.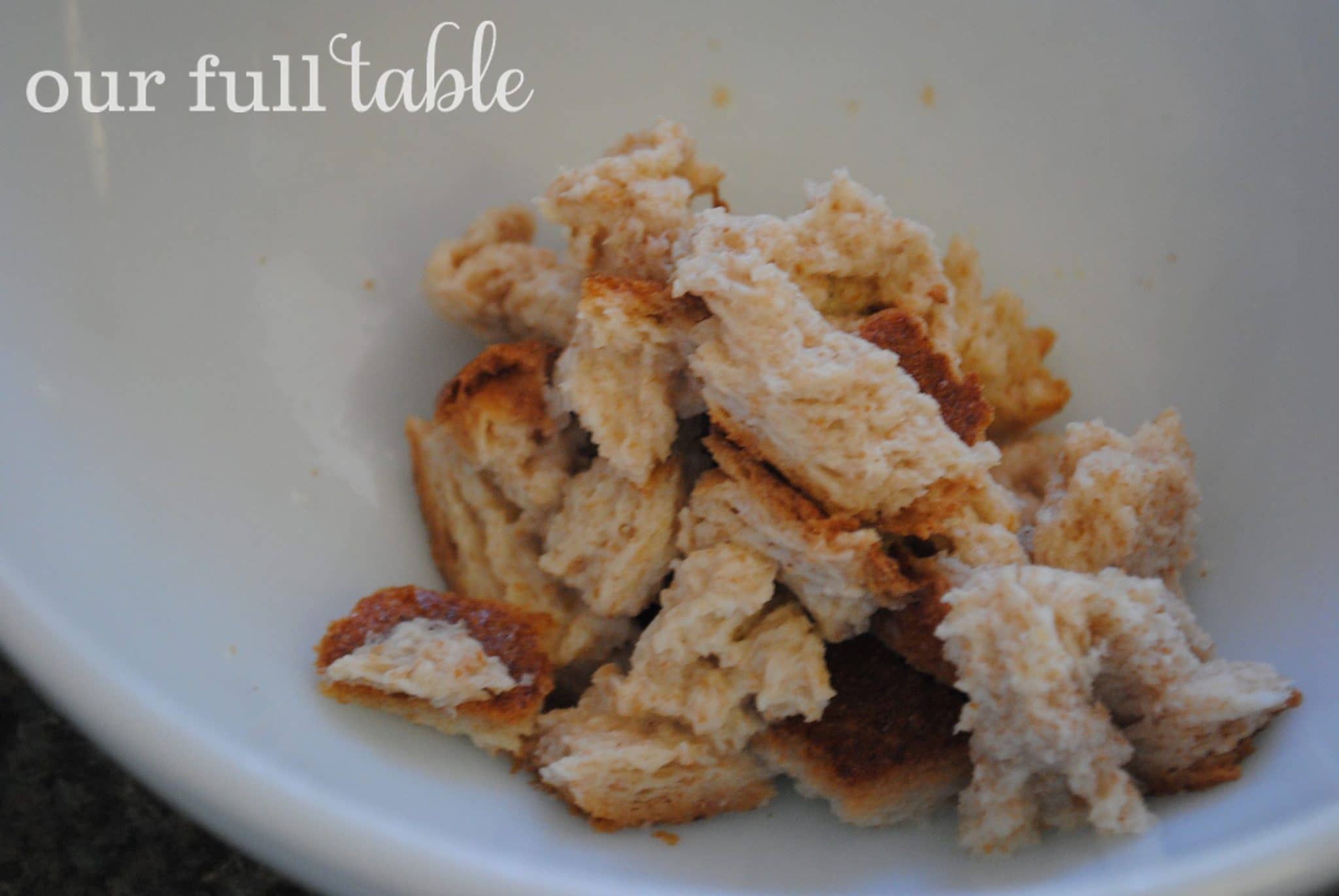 Alright now it's time to season your turkey. I used kosher salt, black pepper, garlic and fresh parsley.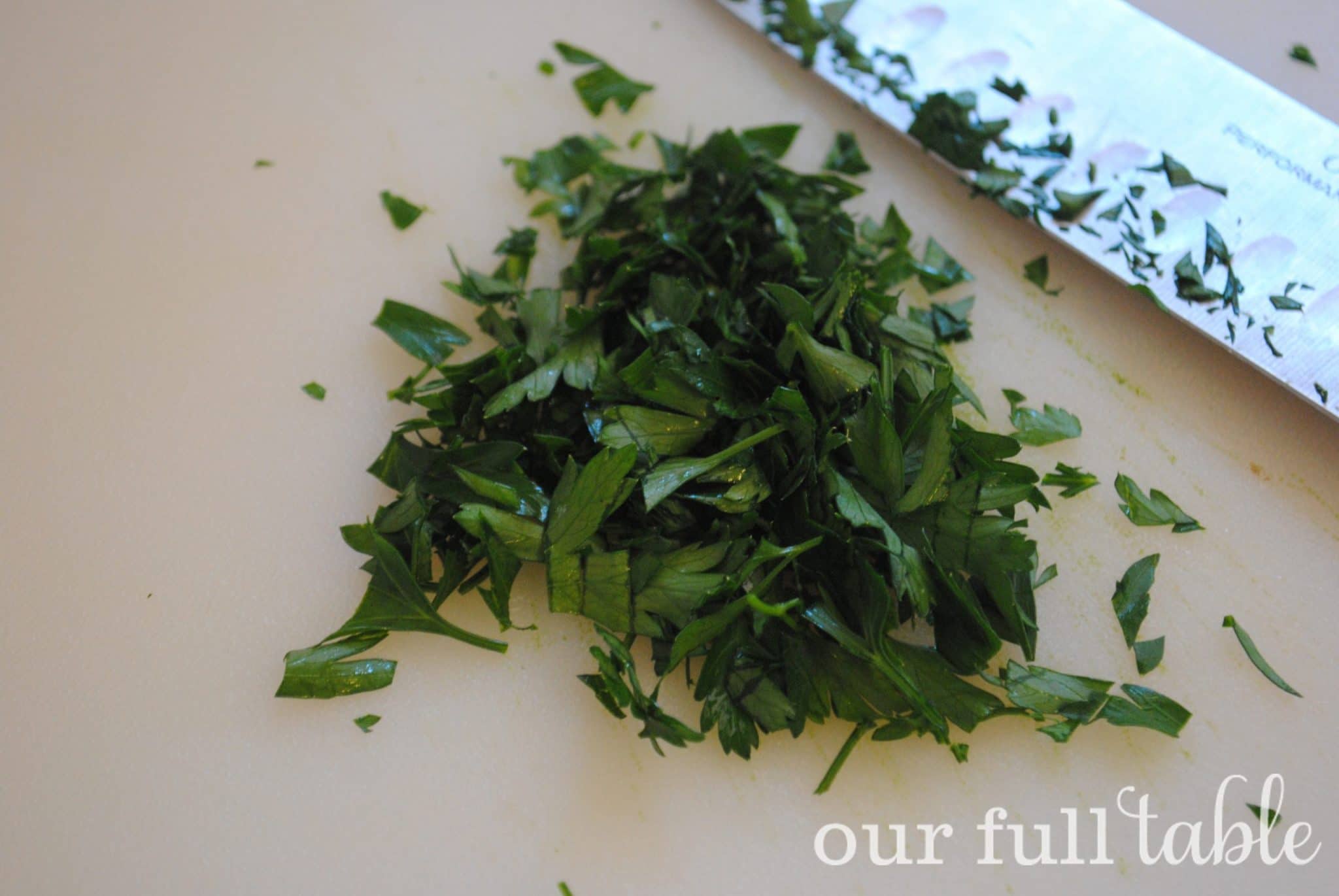 Add your soaked bread and gently mix till just combined.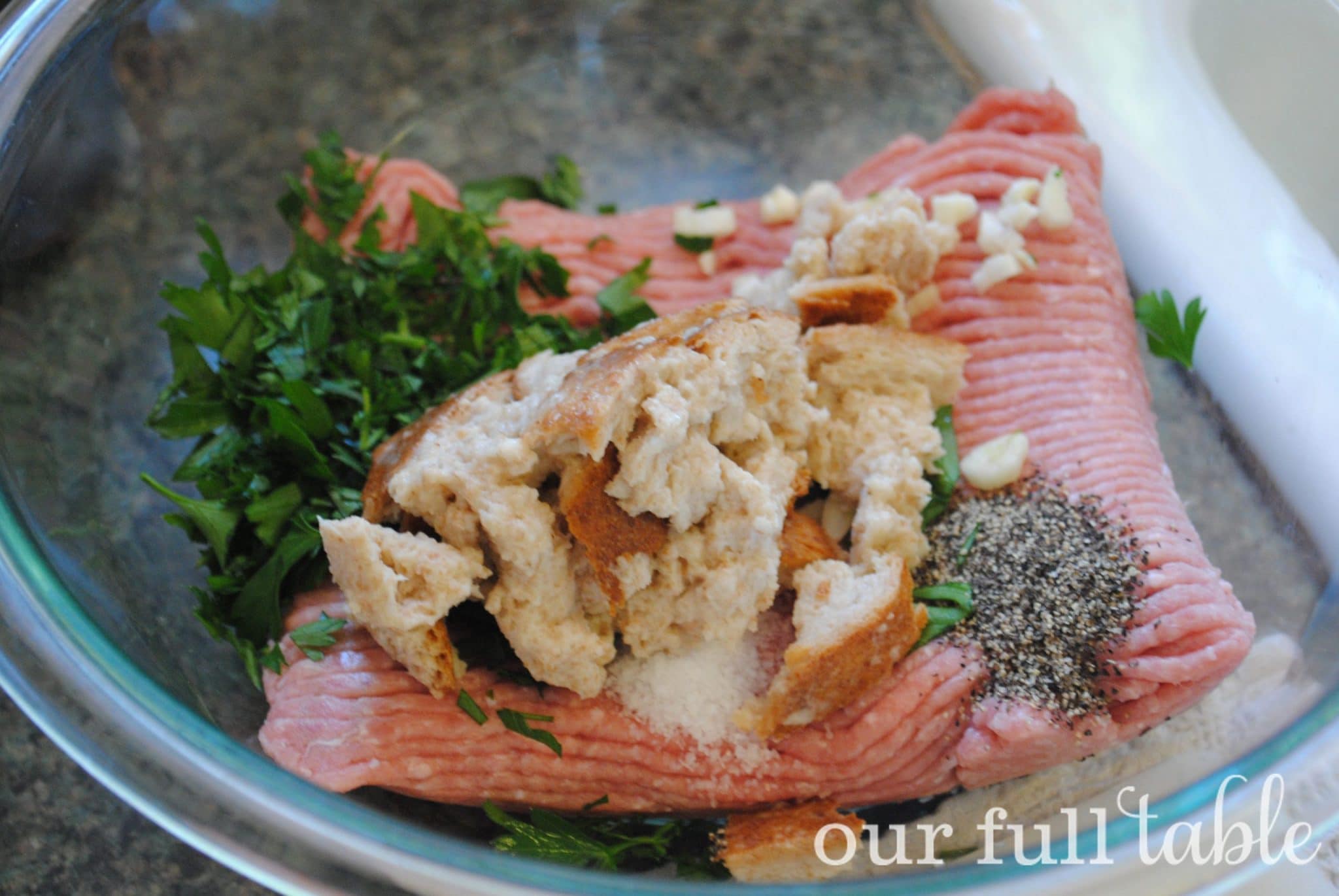 I wanted mini meatballs so I just used about 1 tbsp of meat per ball.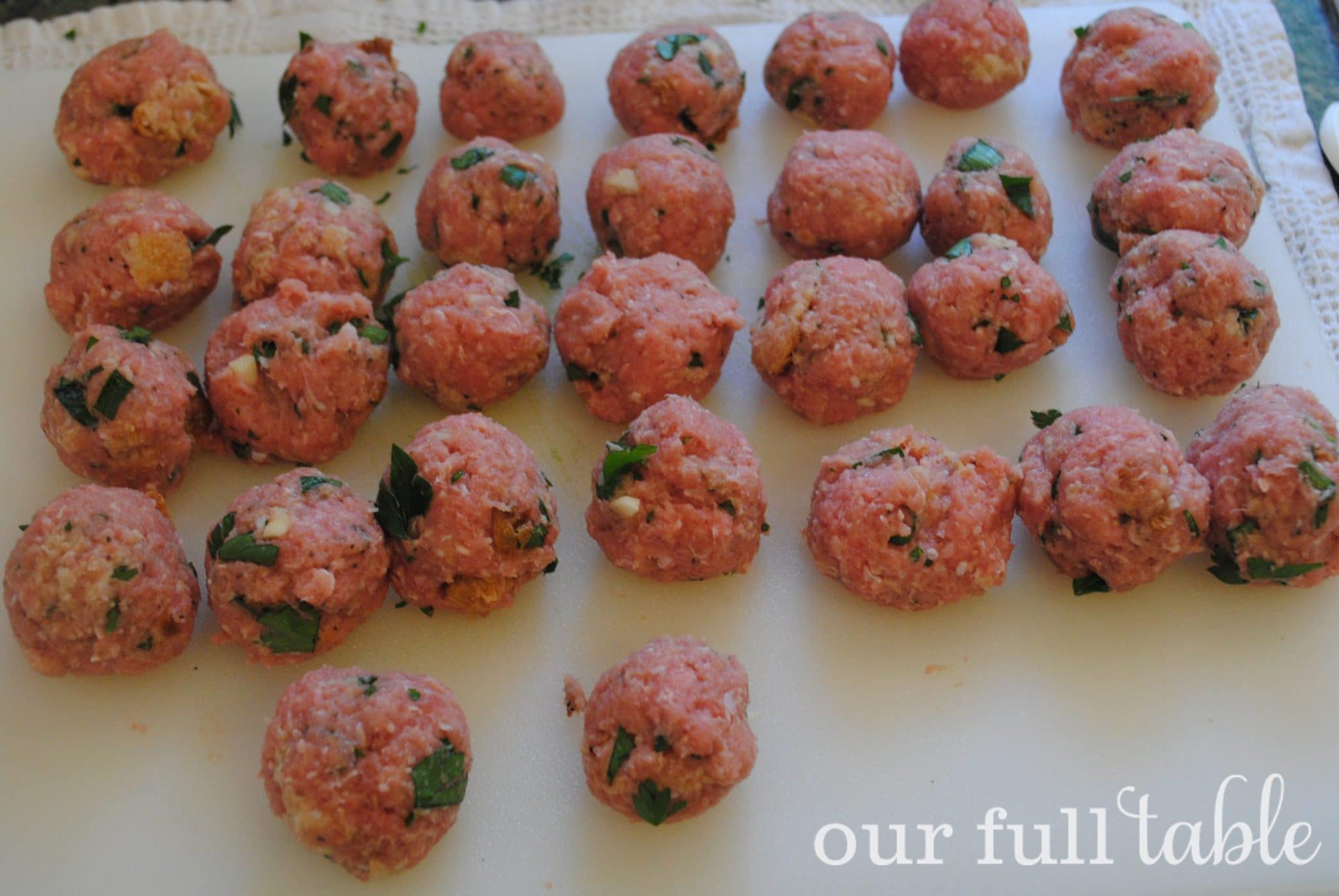 Now it's time to cook up these yummy littles. Saute in a little olive oil over medium high heat, turning frequently so they don't flatten out. Do this step in batches its important not to over crowd the pan. Let them cool on a paper towel till you're all done and ready to eat. You could also at this point just store them in the fridge or freeze them till you're ready to eat them. This is what I did till I was ready to enjoy.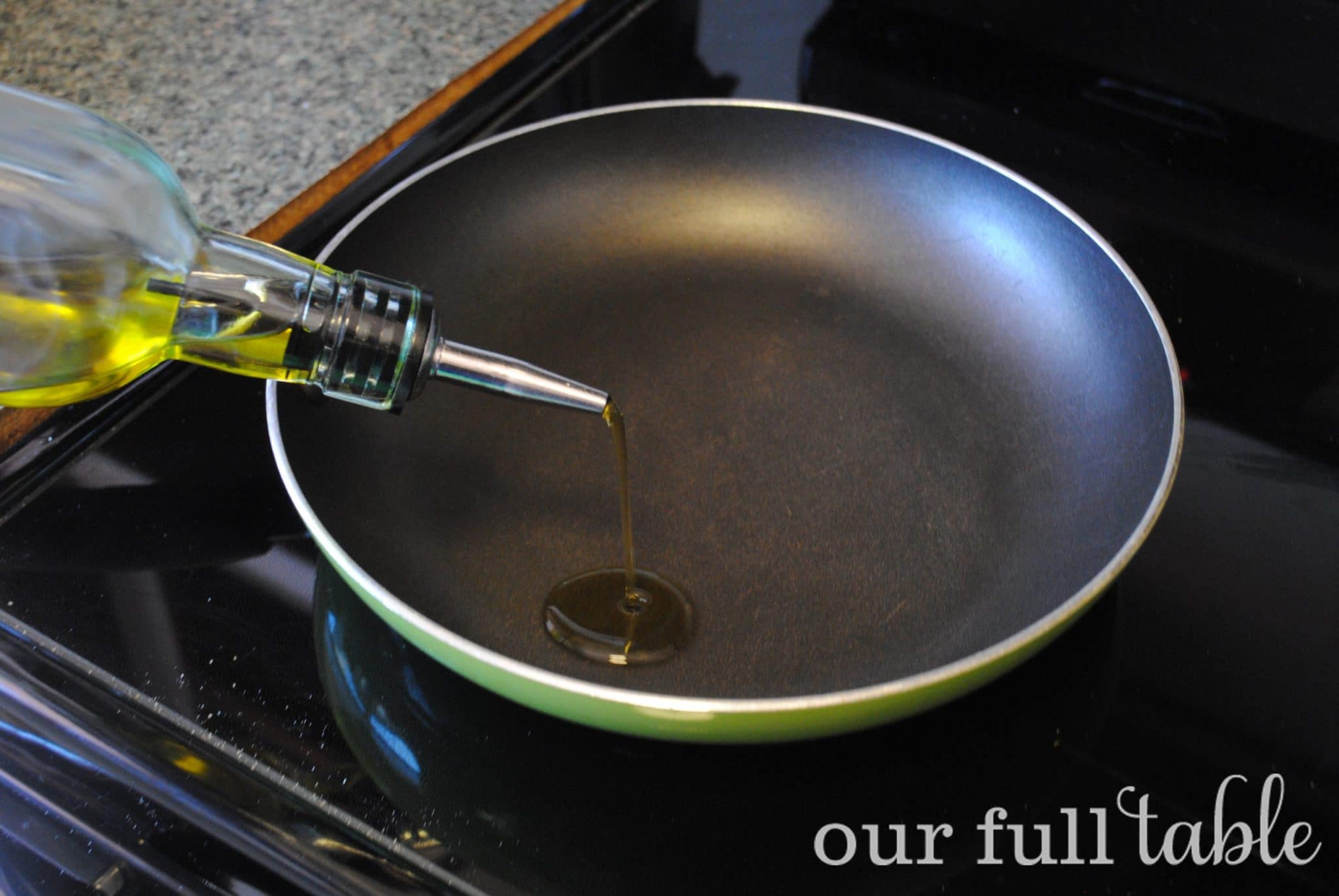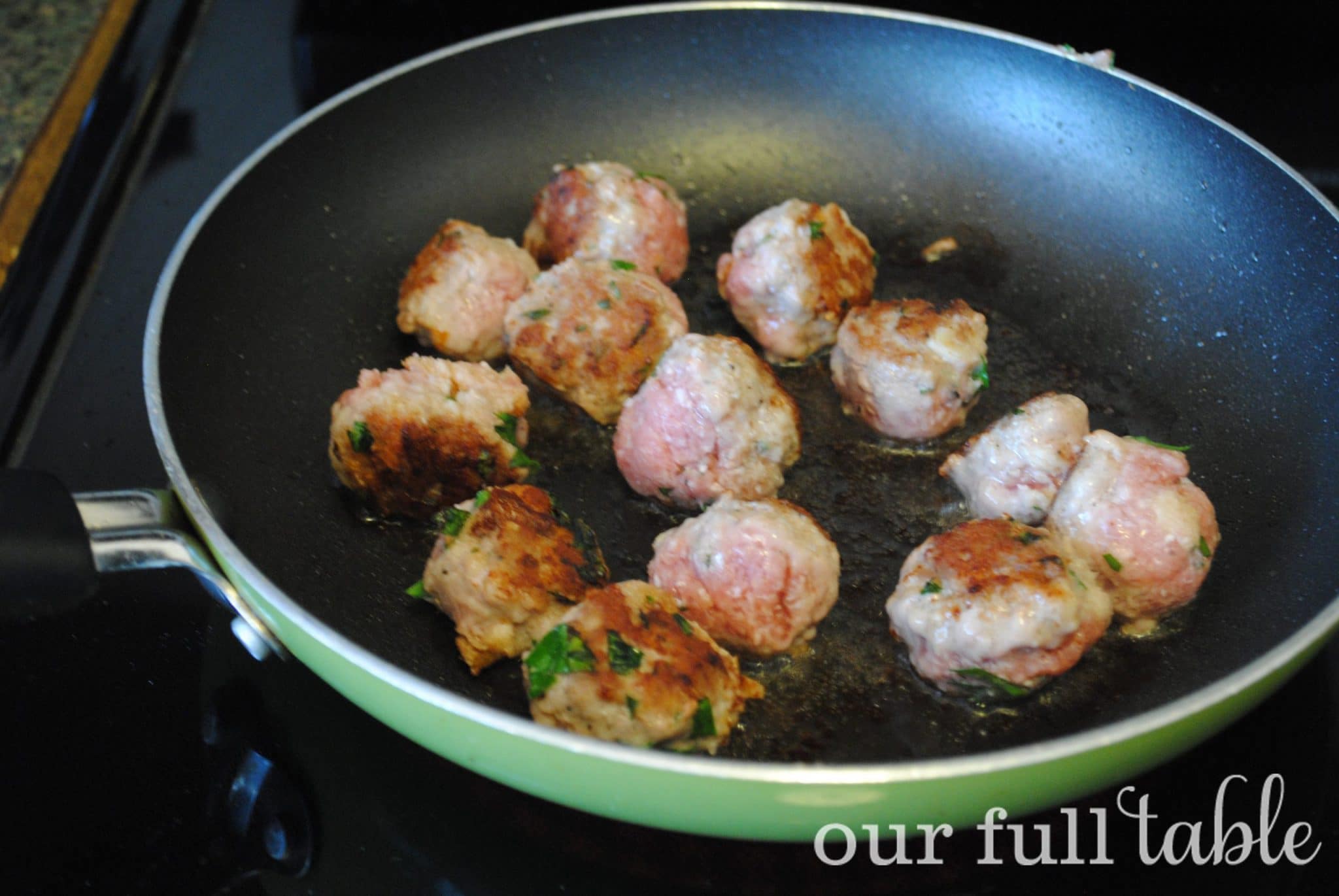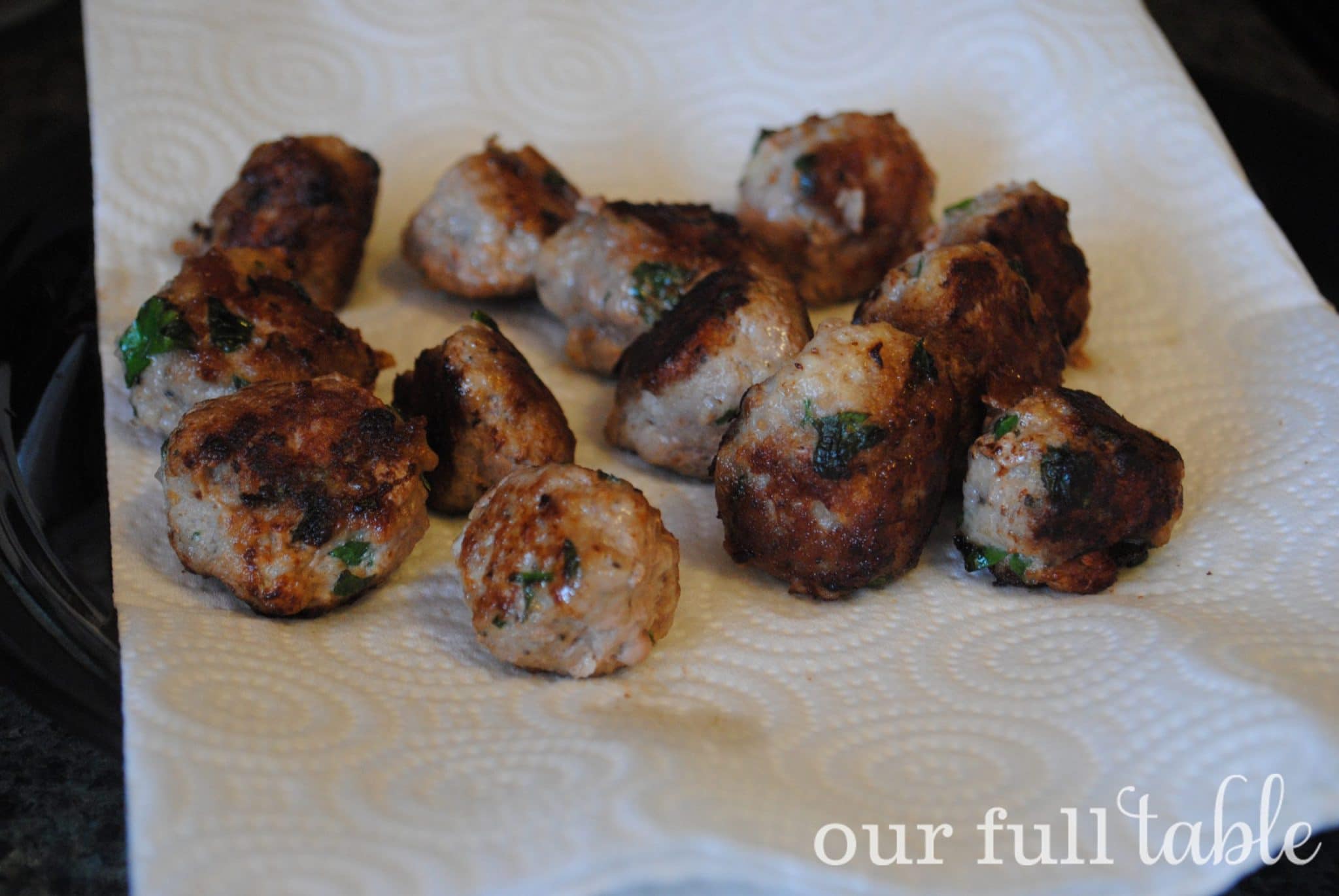 While your balls are cooking prepare your mozzarella and fresh basil. I like to set my mozzarella balls on a paper towel to absorb some of the liquid they were soaking in. I love these perfectly shaped mozzarella's but you could use a big ball and just cut into chunks.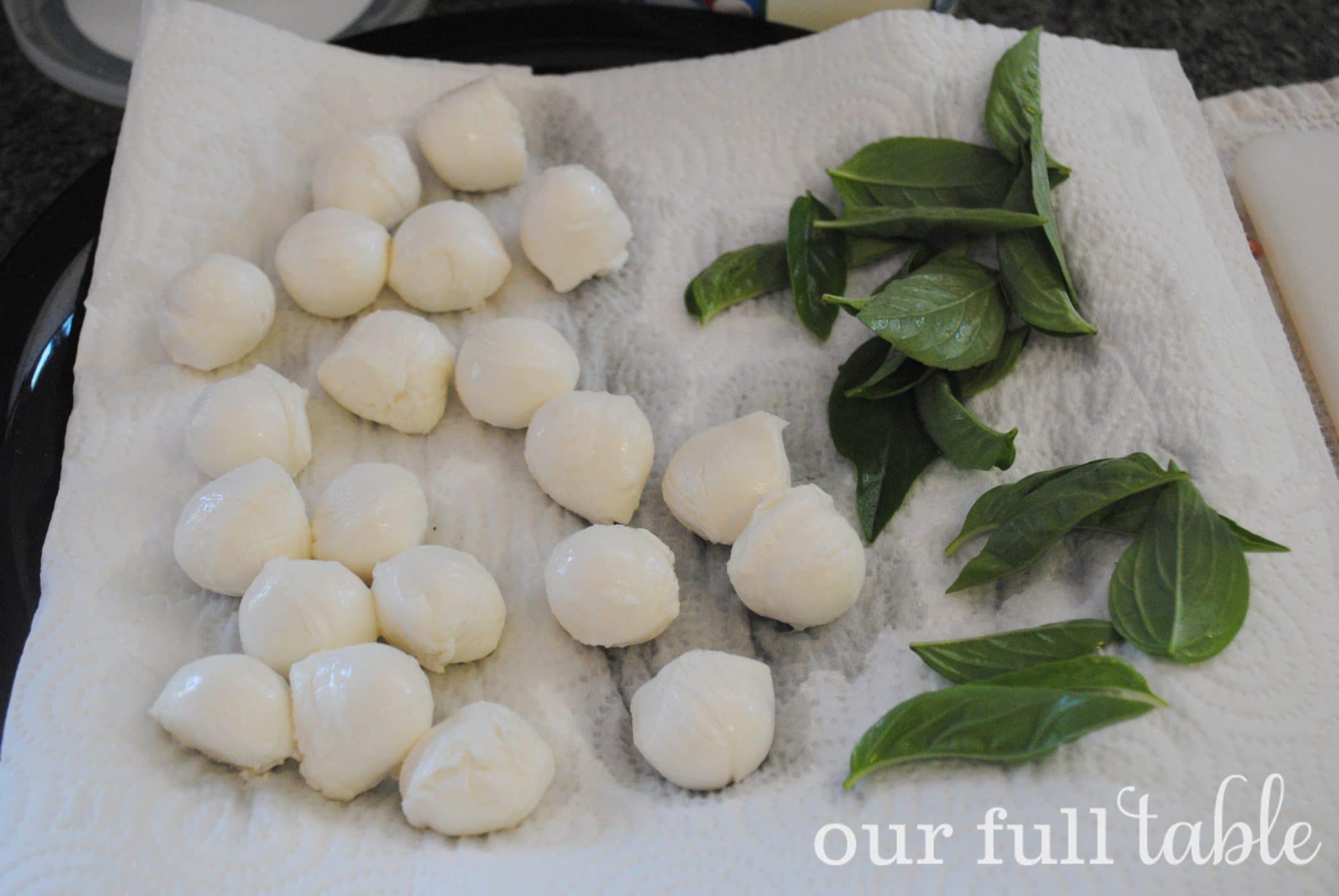 I served my skewers up with crusty garlic toast. Smother your bread in butter than toast till crispy. Once it's done rub a yummy piece of garlic all over the toast. I like to do my garlic toast this way because it makes the garlic flavor really intense which is just how I like it. If there were a garlic perfume I would probably buy it.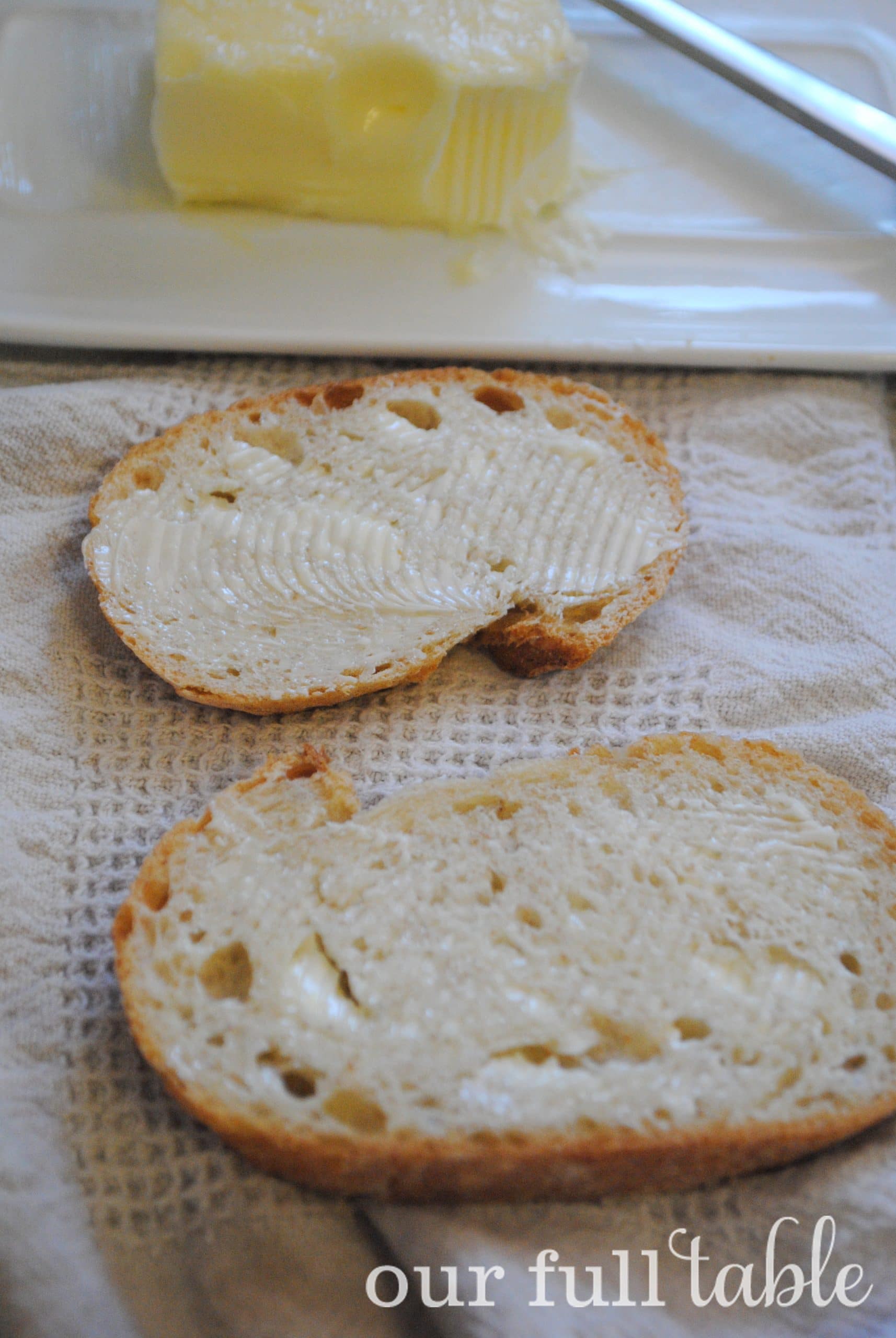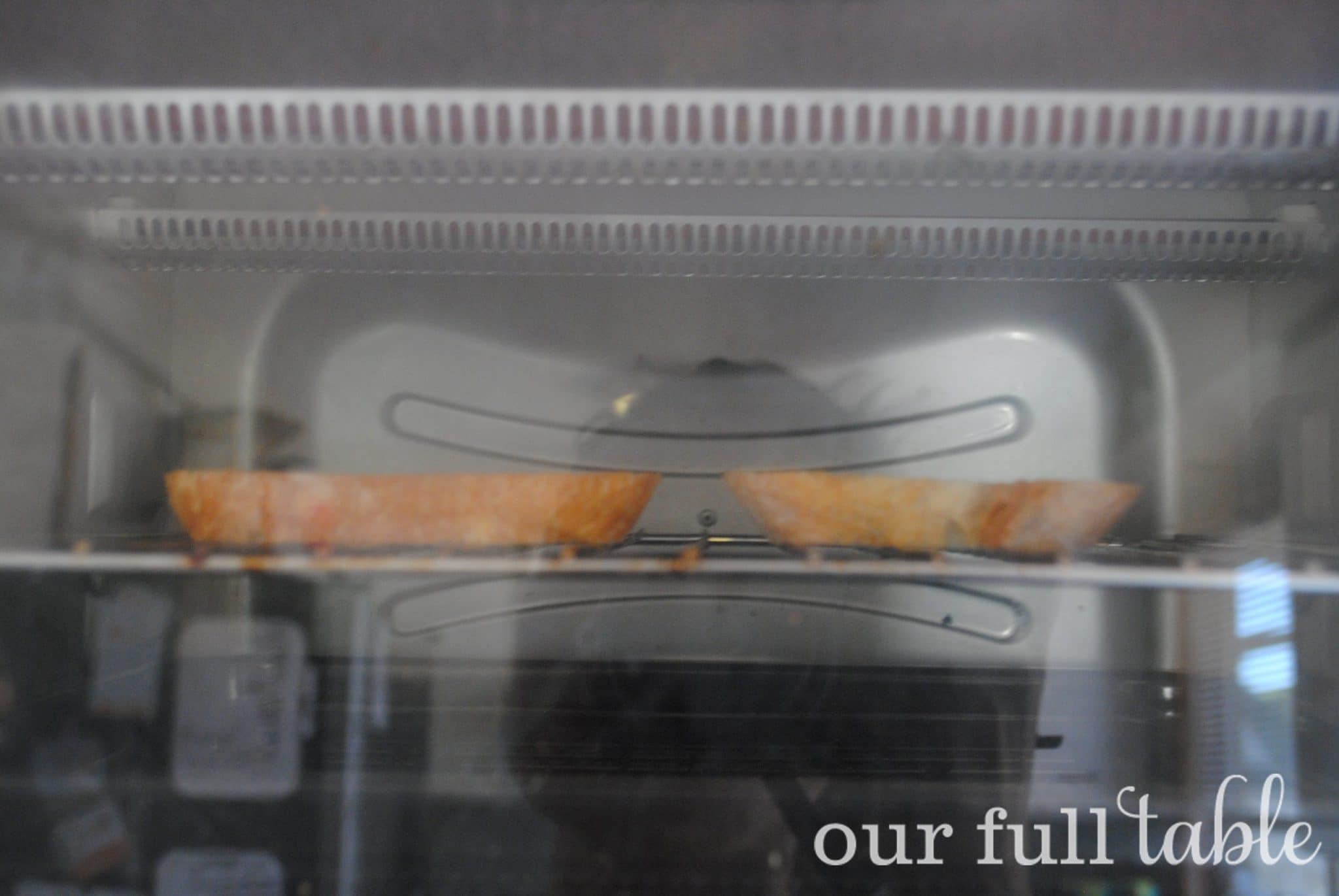 Once all your components come together assemble your skewers. Meatball first, mozzarella ball second. basil third. Repeat. Plus one more delicious meatball.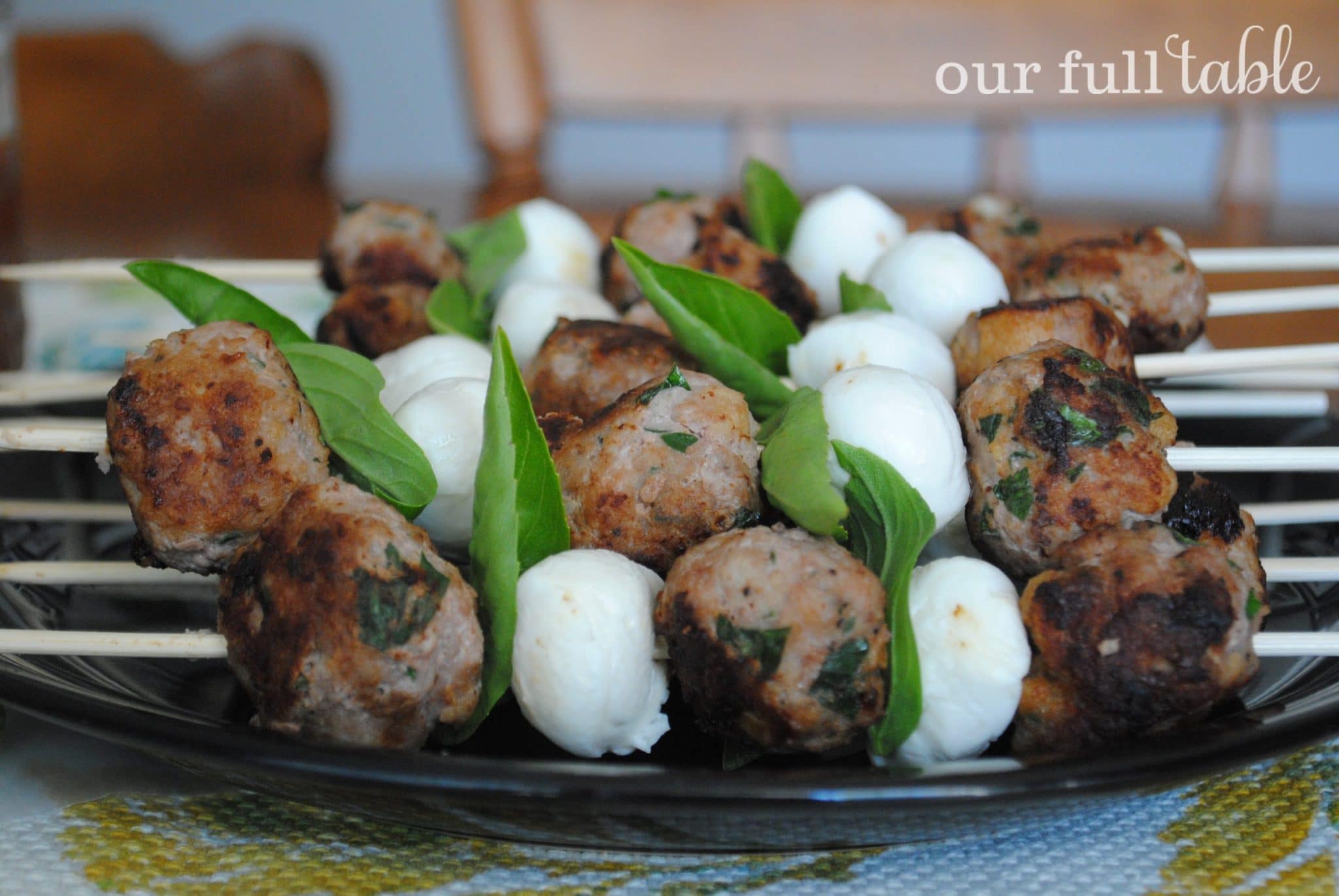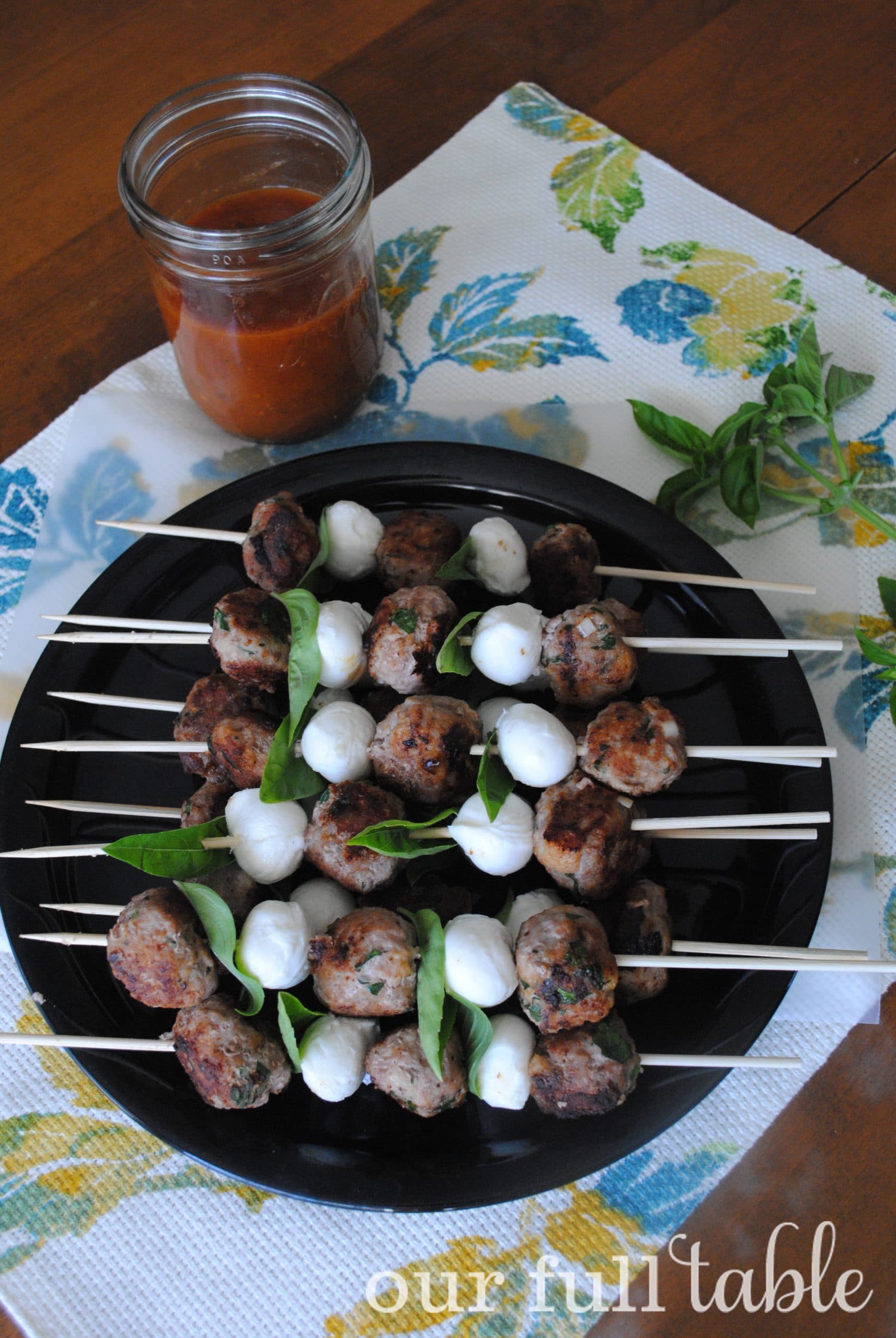 I served mine alongside some yummy homemade tomato sauce. Which I drizzled over and dipped each bite in.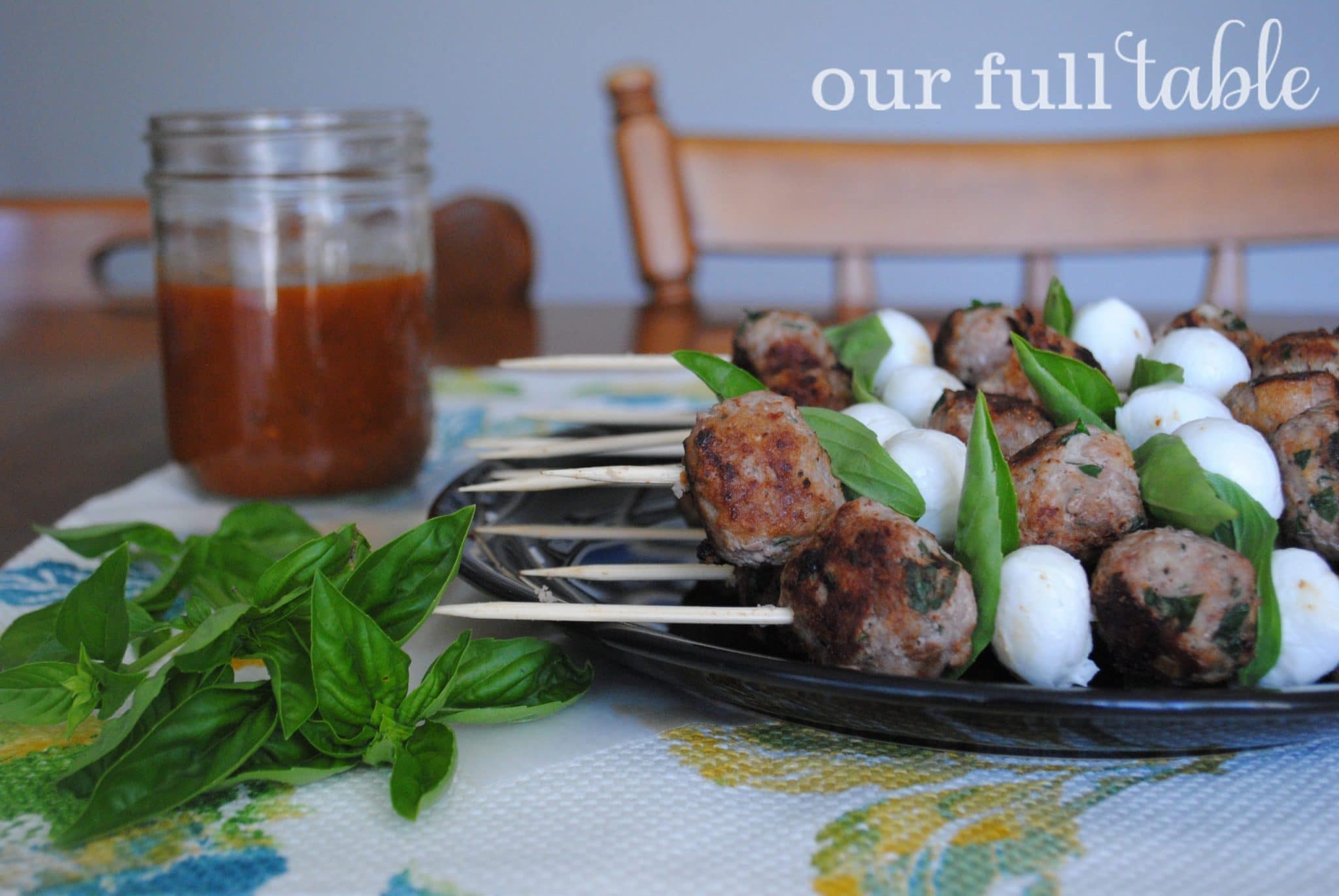 These are delicious served warm or cold. I like my meatballs on the cool side and my tomato sauce warm. Mmmmm….Enjoy!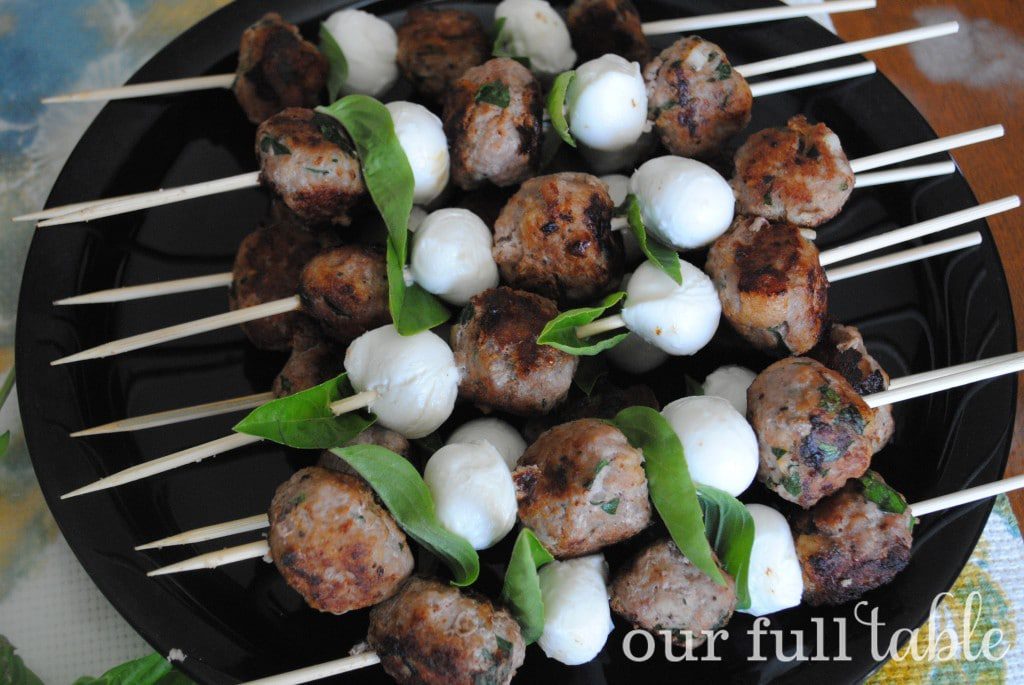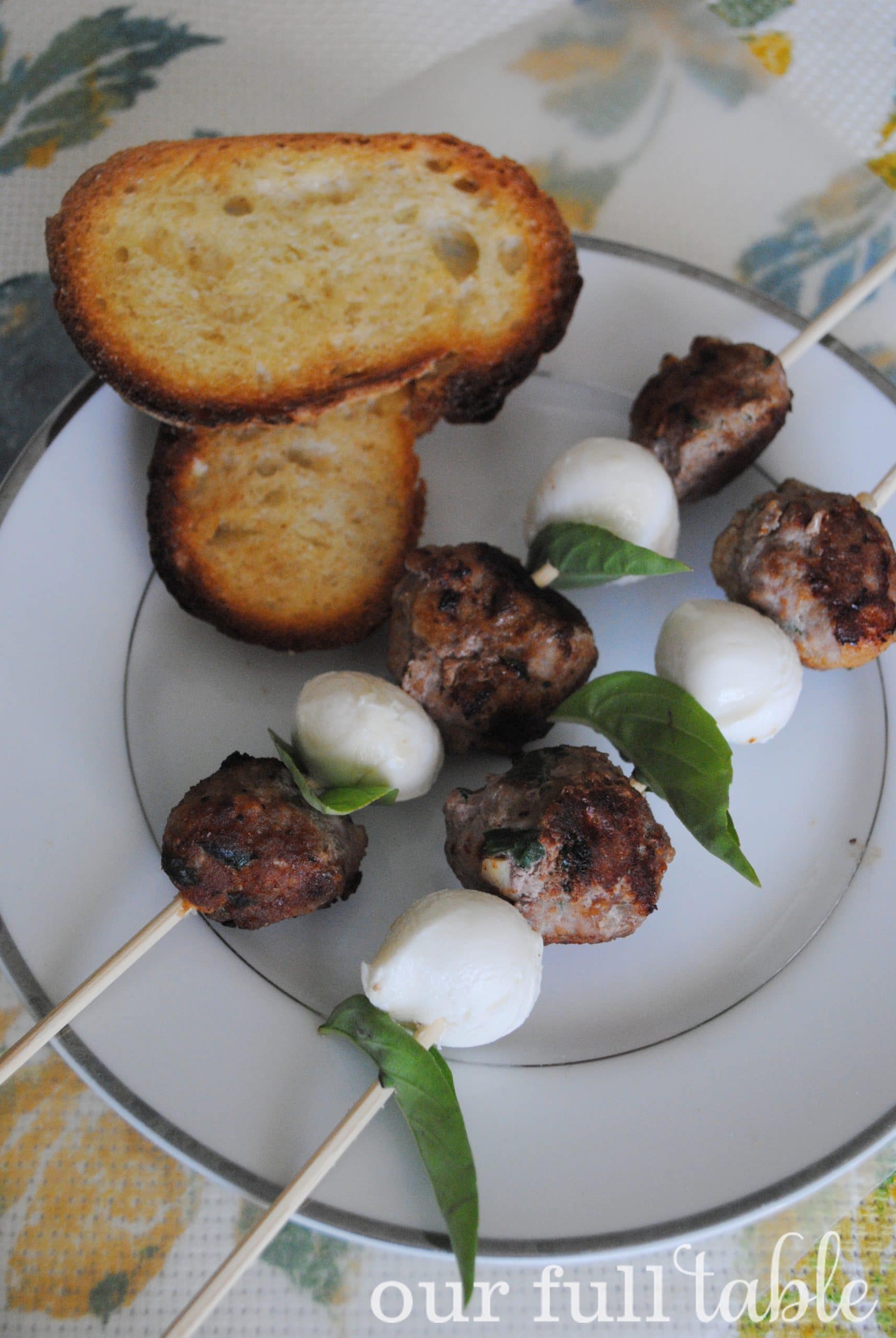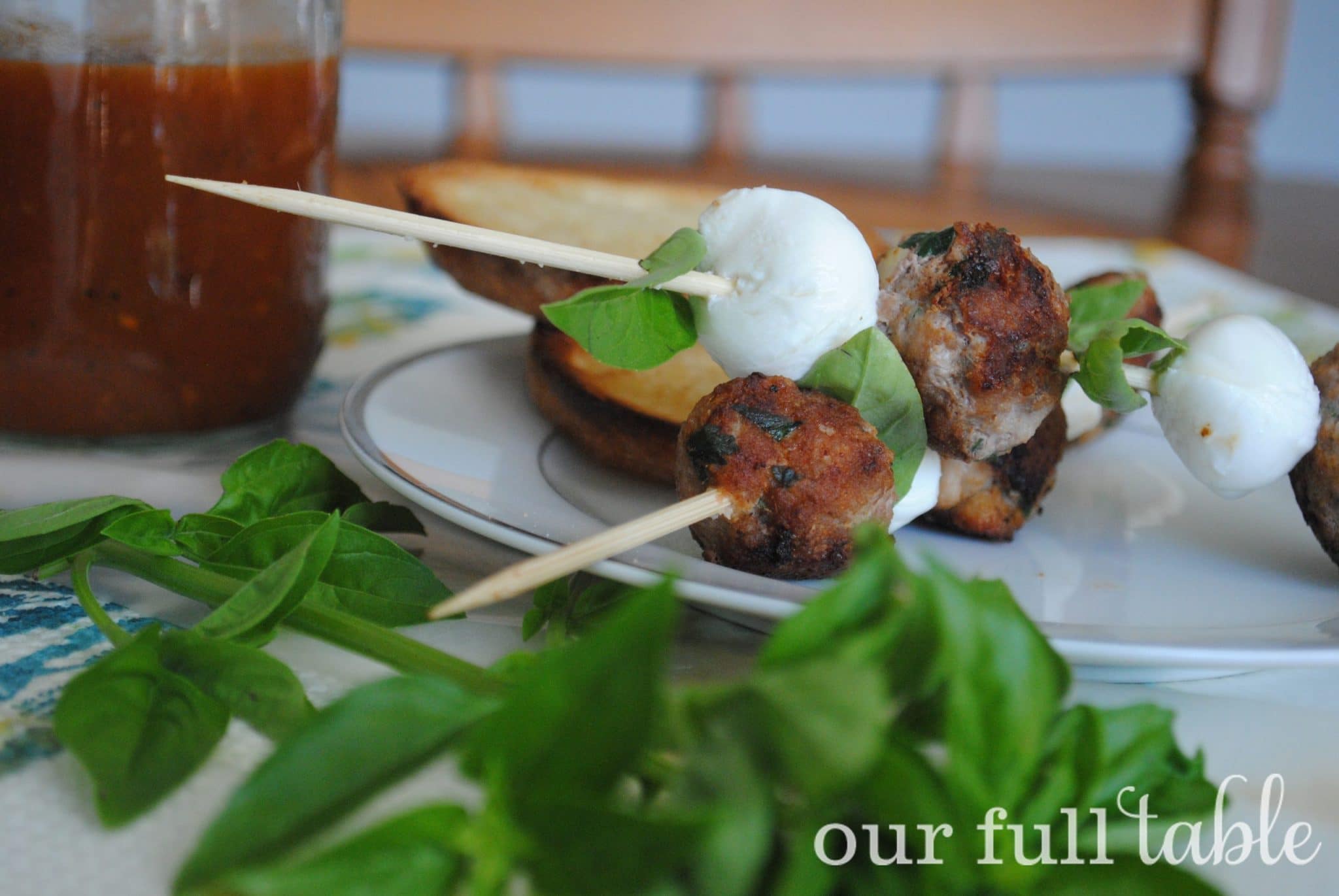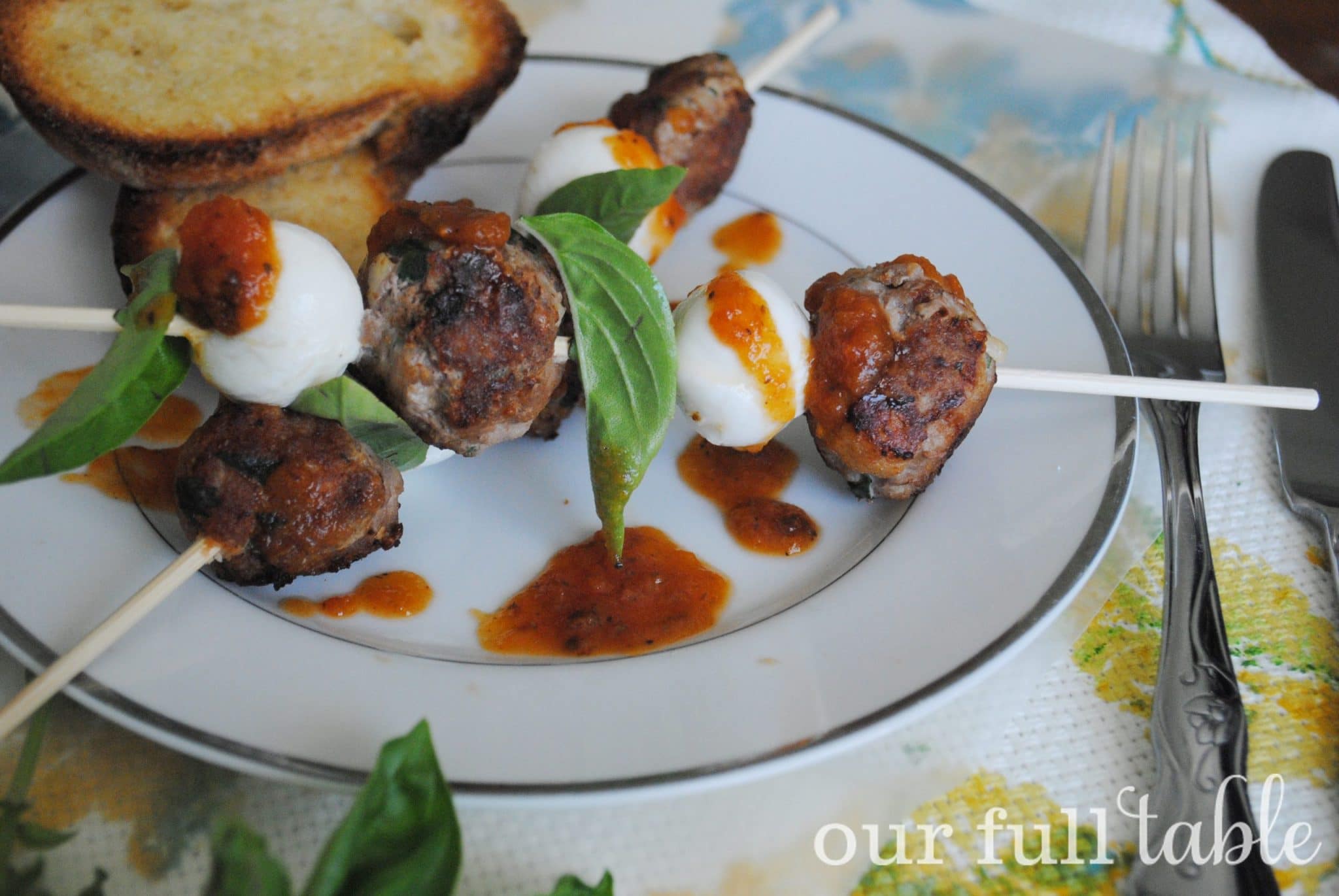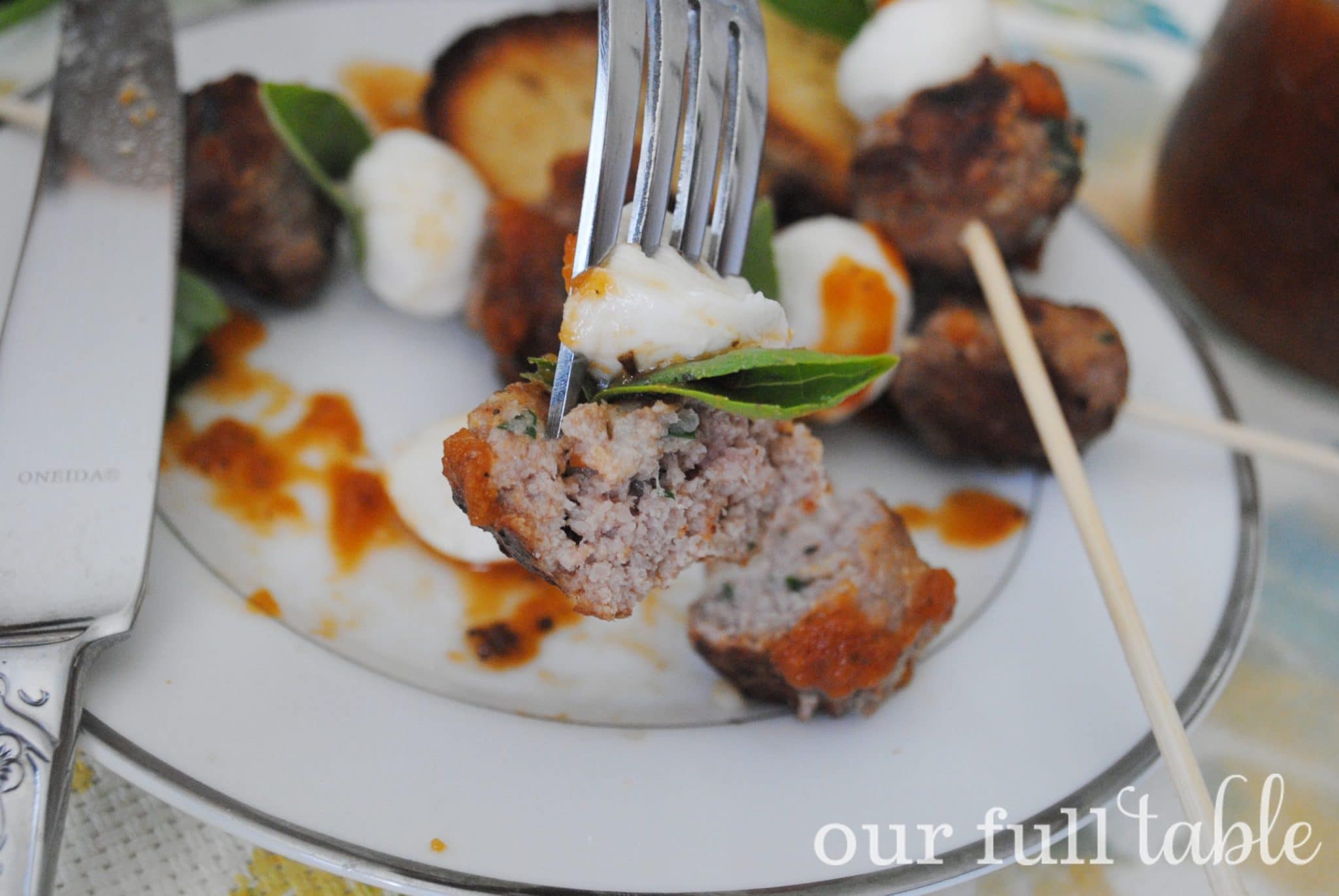 Turkey Meatball Skewers
Yields 10
A easy and yummy turkey meatball, mozzarella and fresh basil skewer. Paired with homemade tomato sauce.
Ingredients
1 slice whole wheat bread
2-3 oz. almond or regular milk
1 lb ground turkey
1 1/2 tsp. kosher salt
1 tsp. black pepper
2 garlic cloves, minced
1/4 cup fresh parsley, finely chopped
20-24 mozzarella balls
20-24 basil leaves
10-12 wood skewers
12 oz tomato sauce
Instructions
Start by soaking your bread with the almond milk in a small bowl. You want your bread saturated but not dripping. You could substitute bread crumbs instead but the meatball will not be as moist. Set this aside and season your turkey with salt, pepper, garlic and parsley. Add your soaked bread. Combine gently till it just comes together. Form 1 tbsp size meatballs till all the meat is gone.
Fry them up in a little bit of olive oil in a large skillet over medium-high heat. This step should be done in batches to ensure the meatballs are cooked properly.Turn them often to prevent one side from becoming flat. Once each batch is done let them cool on a paper towel to absorb any excess oil.
While you're cooking up your meatballs prepare your cheese and basil. I like to set my mozzarella balls on a paper towel to absorb any excess soaking liquid. Once the meatballs are cool enough to handle assemble your skewers. Meatball, Mozzarella, Basil, Meatball, Mozzarella, Basil, Meatball! Doesn't that sound yummy? ENJOY!