Frittata.
I've eaten it a few times and I love it. It's one word that's enough to get my salivary glands into overdrive. Yet, I seldom make it because the recipes I see almost always involve first frying the Frittata in an iron-cast skillet and then placing it in the oven to finish off baking. Which means, you need to go from stove to oven. Which also means you need kitchen ware that have oven-proof handles/knobs. And I don't. 🙁
Le Creuset, are you listen'? Help me out here, will ya?
Yes, I havemade a version which did not require baking, and it was good. But it lacked the golden brown top that is so characteristic of an oven-baked Frittata. And then, and THEN, I saw a recipe in my new cookbook – Homestyle Vegetarian (by Murdoch Books), that makes the Frittata in muffin tins! *squeal* Which means, no need to cook on the stove! And you all know how much I love using my muffin tins, so yay!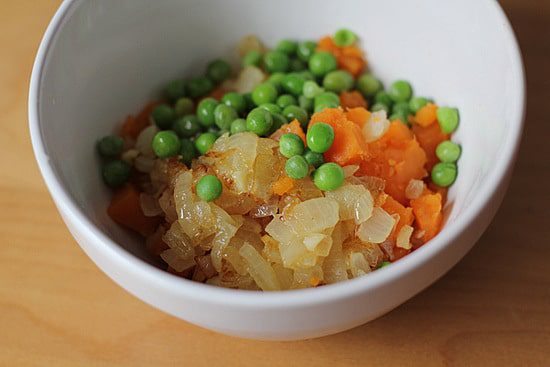 Sauteed white onion in butter, steamed sweet potato cubes, frozen peas.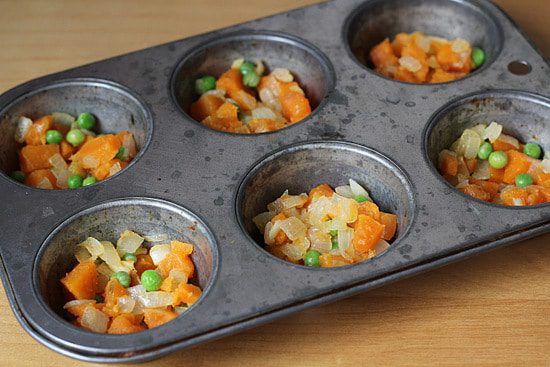 Divide them equally into muffin tins that have been lined at the bottom with baking paper. I know, my muffin tins look like they have been used and abused, and you're right! They are hand-me-downs from my aunt.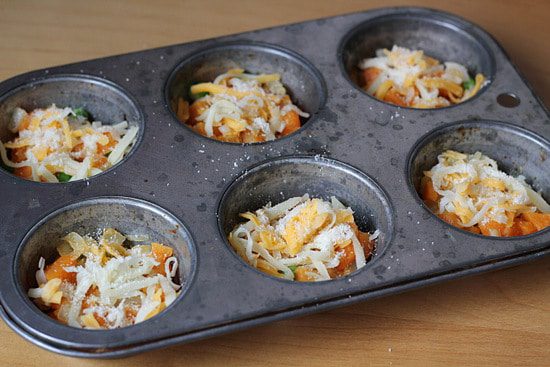 Add cheese shreds (I used red cheddar and mozzarella) and some grated parmesan. The original recipe called for feta. You can use that too.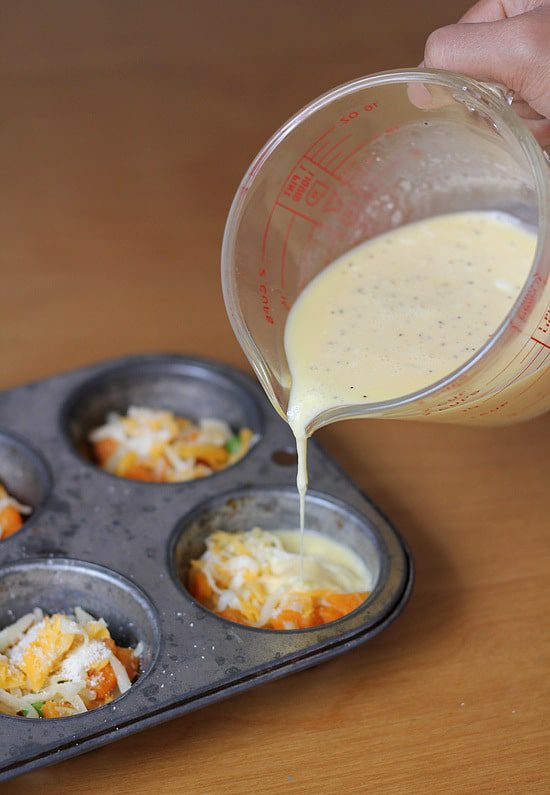 Pour egg/cream mixture (that have been seasoned with salt and pepper). The recipe called for light cream but I used crème fraîche instead. I always do. You should try it too.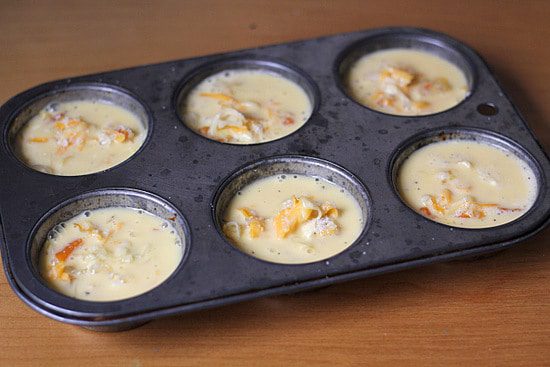 Ready for baking. Bake for 25-30mins till tops are golden brown.
Recipe
(inspired by Homestyle Vegetarian by Murdoch Books)
Makes 12
– 1 kg orange flesh sweet potato
– 1 tbsp oil (I omitted)
– 30g butter
– 4 leeks, white part only, finely sliced (I used white onions instead)
– 1 handful frozen garden peas, rinsed and drained
– 2 garlic cloves, crushed
– 150g shredded cheese (I used red cheddar and mozzarella)
– 2 tbsp grated parmesan cheese
– 8 eggs, lightly beaten
– 125ml whipping cream or crème fraîche
– Salt and pepper to taste
1. Preheat the oven till 170 degree celcius. Grease and brush muffins tins with some melted butter. Cut small rounds of baking paper and place at the base of each hole.
2. Cut the sweet potatoes into small cubes and steam/boil/microwave until tender. I steamed them. Drain and set aside.
3. Heat butter in pan and fry the onions till softened and translucent. Add the garlic and cook for a minute or two. Turn off the heat.
4. In a bowl, mix sweet potato, onions and peas. Try not to break up the sweet potato too much. Scoop and divide in muffin holes.
5. Add shredded cheeses followed by parmesan cheese.
6. In a measuring cup, whisk eggs and cream (or crème fraîche) until there are no more lumps. Add salt and pepper and mix further.
7. Pour mixture into muffin tins, making sure it comes up to almost the rims. Press vegetables down gently with a spoon or fork. I forgot to do this, so maybe that is why my Frittate looked a bit "holey". Haha!
8. Bake in oven for 25 to 30mins or until golden brown and set. Let cool for 5mins and then using a small knife, gently coax out each Frittata onto a cooling rack. Peel off baking paper and serve. They can be eaten hot, cold or at room temperature.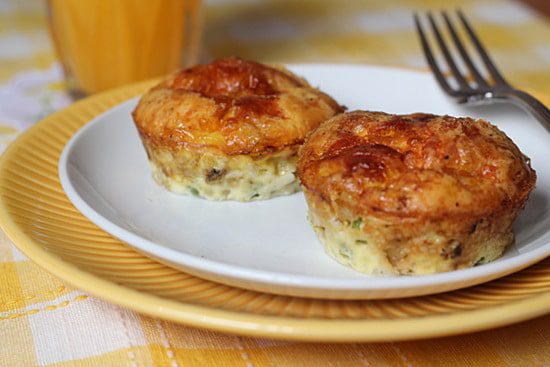 Ready for eating!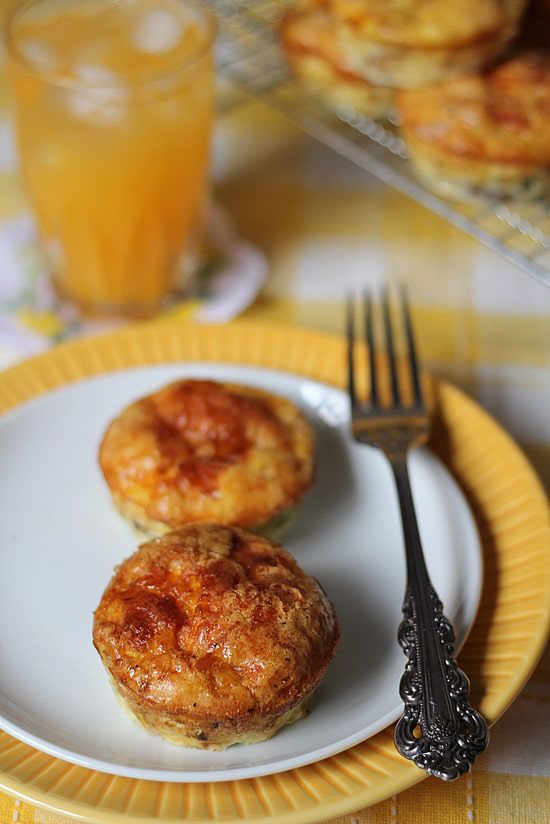 My daughter saw me taking photos and said my styling was very "breakfast". Maybe because everything is bright and sunny and golden. Or maybe it's just the OJ. 🙂 Would you wake up for these?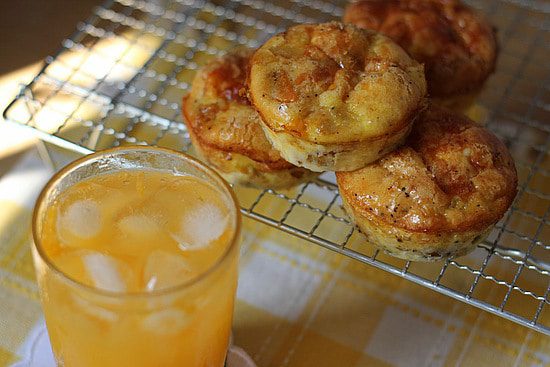 I promise you they are worth it.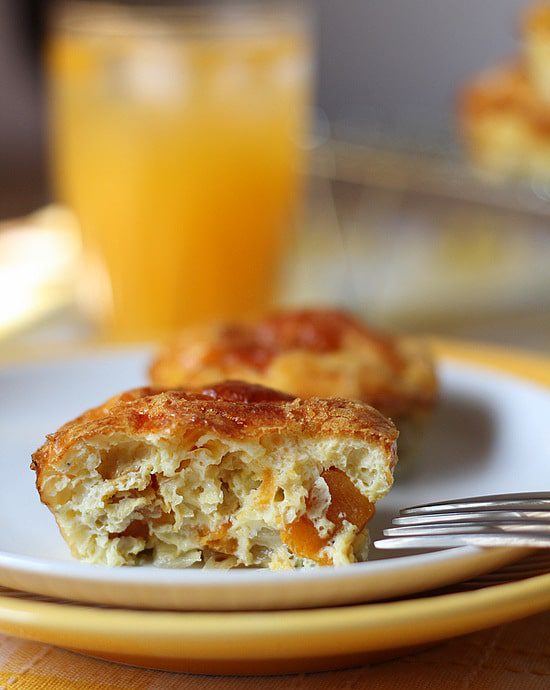 "Holey" Yum! I know I should have provided a better photo with peas and more visible bits of the sweet potato, but I couldn't wait to eat. Can't blame me now, can you?