A few posts ago, I told you about the essential of canned sardines in Thai kitchens. It's one of the most spontaneous ingredients in our cooking. There are rainbows of things you can make from canned fish. This is another one. You might find it strange, but believe me, it's delicious.
You won't find Canned Fish with Glass Noodle in the restaurants. It's a humble Northeast of Thailand style of cooking. The dish like this is cooked at home. It's easy to make and you can have it on the table in 5 minutes. This is served like a curry or stew, to be had with rice. We usually have it with sticky rice, but it works with jasmine rice as well.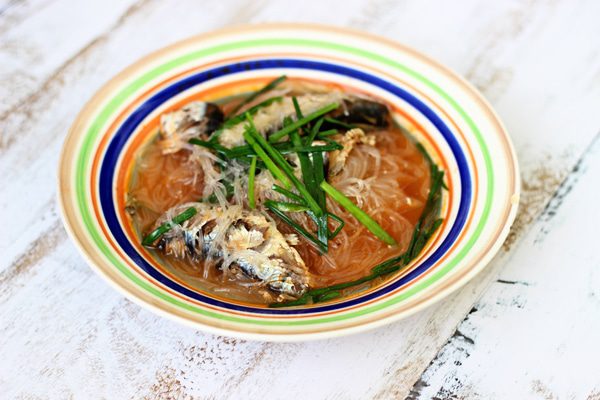 Canned Fish with Glass Noodle
Ingredients:
1 can of canned sardines in tomato sauce
50 gm dried glass noodle.
2 cups water
A handle spring onion- sliced into 2 inches long
Fish sauce to taste
Direction
Heat water in the pot over high heat. When the water is boiling, add canned fish and its liquid.
Add glass noodle, and cook until the noodle is soft. Don't stir too much.
Season with fish sauce.
Add spring onion and turn of the heat immediately.
Serve hot with some rice.
Love,