What a week.
Scores of rockets have been fired at Israel before, but I'll be honest — it wasn't until they started falling closer to home, in Tel Aviv and Gush Etzion, that it became real for me. This week, it started feeling more like a war that I was living and less like a war that I was watching on the news.
On Sunday, I heard a huge boom and thought a rocket had fallen in our yishuv. …And then I realized it was only thunder. Sheh kocho u'gvurato maleh olam. The same thing happened on Monday, this time a boom so loud and strong that the caravan actually shook. Was it just my mind playing tricks on me? I don't know. It was only the thunder again.
Tuesday, though, brought an actual siren signaling that a rocket was imminently on its way. It was about 2:15 p.m. and I was making an omelet for lunch when I heard a wailing sound outside. I paused, spatula in hand. Was…that the siren?
I opened the window slightly and listened. Yes. It was.
I knew that even if the rocket fell in our area, I had a full 90 seconds to get to a safe place — and the truth is, that's not bad. In Sderot they have just 15.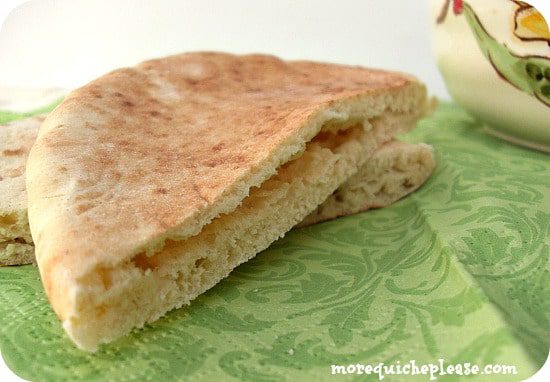 I hurriedly shut the window, turned off the stove, and grabbed my cell. And then I ran to our bedroom, where I crouched on the floor between the wall and my bed.
My husband and I had determined that this was the safest spot for me. The shelters on the yishuv aren't being used because we're considered to be outside the rockets' range, but we still hear the siren because we're part of a larger region (which includes areas inside the range). Even if there was an explosion, it would be unlikely that a piece of furniture would fall on me if I was in that spot. So I stayed put.
I dialed my husband, who was in Jerusalem, to make sure he was okay. He was trying my phone at the same time, and neither call went through. My mouth started moving, saying tehillim as if on autopilot. A minute or two later, a text message from my husband came through, and shortly afterward, there was a text from the yishuv saying that our area was secure — the rocket had fallen in the Gush. More tehillim…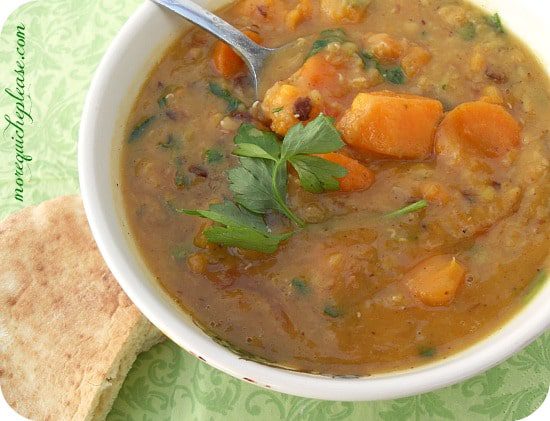 My head filled with thoughts of everyone we know in the Gush. My cousin, her husband, and their two boys. One of my rebbeim from seminary, the one who read our ketubah at our chupah. Good friends.
Soon enough, I found out that the rocket fell in an open area (ironically, between two Arab villages). But it was scary until then.
I've started to truly understand the terror that our brothers and sisters in the south have been living with on a constant basis. I can't say that I know what it's like for them. But I can say that I know what it's like more than I did last week.
I wish I could bring them all a big pot of this soup. I almost don't want to call it comfort in a bowl because that's just so cliche. But I can't help it. It's comfort in a bowl!
The red lentils, sweet potatoes, and carrots practically dance with the cumin and balsamic vinegar. There's a soft spiciness and a subtle sweetness, and when you toss in a few handfuls of fresh parsley, it's just perfect. I know I'll be making it often this winter.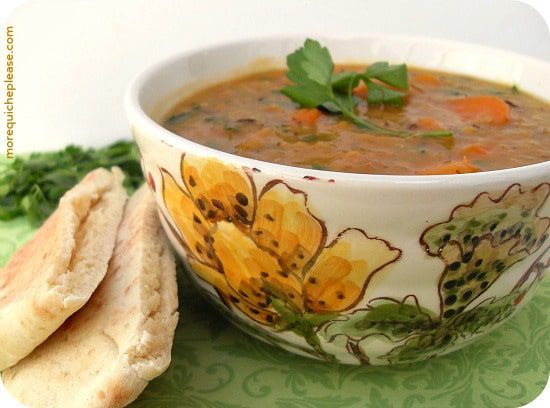 We're all hoping this ceasefire proves to be more than just rhetoric. I guess I'll believe that when I see it.
But even with all of this insanity, even with the fear and the rattled nerves…there is absolutely no place in the world I would rather call my home.
One year ago: Fresh pumpkin gingersnaps
Print This!
Red lentil & sweet potato soup
Significantly adapted from this version
Yield: 8 servings
Ingredients
1 Tbsp olive oil
1 red onion, diced
1 large garlic clove, minced
1 tsp cumin
1 tsp dried thyme
5 small carrots, peeled and sliced
1½ cups red lentils
4 tomatoes, skinned, seeded, and chopped
3 medium sweet potatoes, peeled and diced
6 cups water
1 Tbsp balsamic vinegar
Directions
1. Heat oil in a large soup pot. Saute onion and garlic over low heat until softened and just starting to brown. Add cumin, thyme, and carrots and let cook for another 5 minutes.
2. Add lentils, tomatoes, sweet potatoes, water, and balsamic vinegar. Turn the heat up all the way until it reaches a boil, then reduce heat to low and let it simmer (covered) for 40 minutes. Peek inside once or twice to check the water level, adding as needed. Serve hot.
Note: This soup previously called for 2 Tbsp soup mix. I tried making it without it, and I didn't miss it at all. Delete!