Ah, chocolate cake. The fudginess, the chocolate, the simplicity. Such a brilliant food through and through.
Several weeks ago I had been on the hunt for a bundt cake pan to add to my slowly growing pan collection. A few minutes inside a Goodwill and I found a nice one for about $4. If you're ever looking for one, don't buy the $22 one from Target or elsewhere, try Goodwill first. Somehow, people are tossing their bundt pans all of the time. They clearly must not like bundt cake enough.
My bundt cake pan find sat in my side of the house pantry for a couple weeks until I stumbled upon the "Death by Chocolate Bundt Cake" recipe from Live Craft Eat. I'll admit, I was slightly skeptical though. Sour cream? In cake? Chocolate cake? That had to somehow mess up the mojo and sanctity of chocolate cake be it from the box or from scratch. The initial silver linings to trying this recipe were a) it was chocolate cake and b) I too always put Ghirardelli chocolate chips in my cake batter. So I gave it a try.
It was so nice, I made it twice.
Twice because it was just that amazingly rich and moist.  Twice also because the first time I made it I busted open the chocolate chip bag all into the batter by accident and it was (on an overtly rare occasion) too much chocolate for my cake pan to handle (i.e. the chocolate chips sank to the bottom and burnt slightly to the pan). The second time though I was able to measure out my usual cup of chocolate chips. Both times however, the cake was amazing and has forever changed the way I make cakes.  What's most striking is that it only takes a few ingredients to make and is so incredibly soft. It was like cutting through butter. Worth noting the original recipe calls for pudding mix but as I didn't have any on hand I had to go without; it was still just as fudgy and moist. I also made a regular cake without the sour cream and there is the most distinct difference.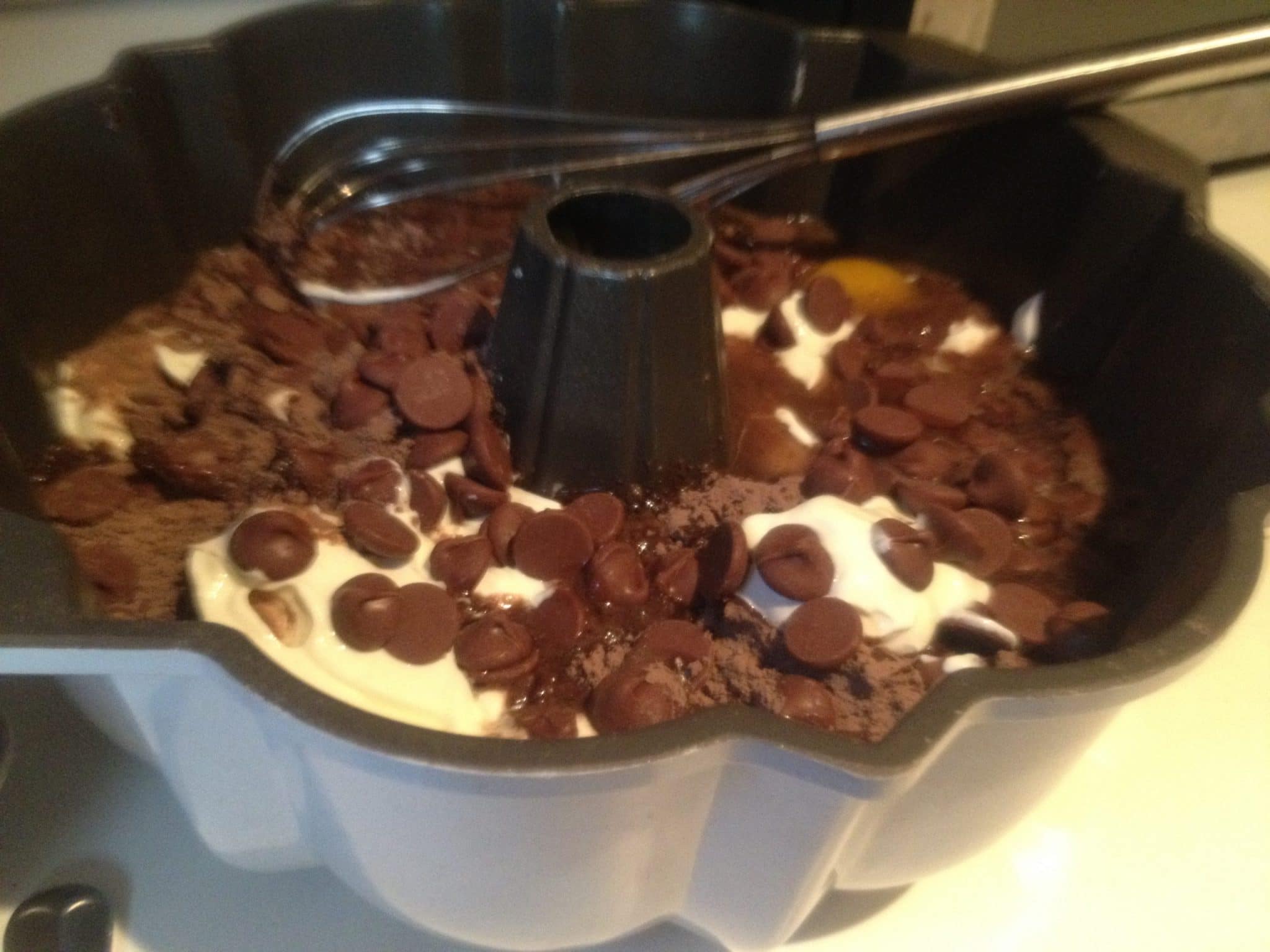 4 eggs
1 container of sour cream (any brand will work)
1/2 cup oil
1/2 cup water
1 chocolate cake mix (I used Pilsbury Devil's Food)
1 cup semi-sweet chocolate chips ( I used Ghirardelli's Milk Chocolate Chip)
Bake at 350 for 45 minutes and let cool.