Friends in India have been requesting me to add more vegetarian recipes, I agreed! I've been ignoring the colorful fresh vegetables that have been sitting in refrigerator forever. I agreed even more realizing that I needed more veggies to balance out my overindulged meaty recipes. I recalled my forgotten New Year resolution of cooking more vegetables and healthy recipe for my family.
I am in love with Paneer; did I tell you that? Paneer is fresh Indian cottage cheese. It is tasted and felt more like tofu though. It is soft, spongy and so delicious.
We love the colorful sweet and sour Paneer with bell peppers. The peppers are so sweet and crunchy perfectly contrasted to the soft texture of Paneer. It is magically quick, simple, and perfect for the quick lunch.
Sweet and Sour Paneer
Ingredients: (2 servings)
100 gm Paneer- cut into small cubes
1/3 cup sliced yellow bell peppers
1/3 cup sliced red bell peppers
3 cloves garlic- roughly bruised
1/2 onion- sliced
1 tbsp soy sauce
1 tsp sugar
1 1/2 tbsp tomato sauce
1 tbsp oil
Method:
Heat the pan over the medium heat and add oil.
Add paneer and fry until golden brown.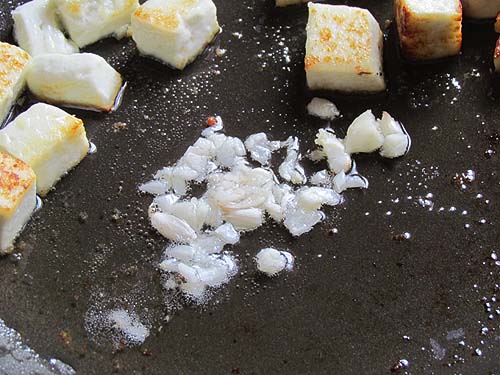 Make some space in the pan, add garlic and stir until golden brown.
Add onion, red bell peppers and yellow bell peppers. Stir fry for 1 minute or so.
Add soy sauce, sugar and tomato sauce. Stir further for 2 minutes. Add about 2 tbsp of water of vegetable stock if needed.
Check the seasoning.
Serve hot with some rice.
"Wow this is so good" my husband told me. Paneer was still crunchy but very tender inside. It is drenching in the flavors and melting in our mouths. The peppers were fresh and pungent. It went so well with simple hot rice.