So the boys are out as usual. Yaseen is actually having exams right now. Can you imagine? I don't remember school being so strict like this when I was a kid. Here I'm alone at home most of the time during the week. If I don't go out for lunch or shopping with friends, I will just cook something simple so I can catch up with household work and stuff.
So I'm making Sriracha Noodle today. Sriracha is just one of those condiments that are so essential in Thai household. I usually use it on top of omelet or just use it as a dipping sauce. This recipe is super bursting with flavor. If you like something pungent and spicy, you need to try this.
Sriracha Noodle with Chicken
Ingredients:
100 gm egg noodle (dried)
50 gm chicken- sliced
2 cloves garlic- brusied
2 tbsp Sriracha Sauce
1 capsicum- sliced
¼ cup chicken stock
1 tbsp sugar
1tbsp vinegar
1 tbsp chili sauce
Fish sauce to taste
A handful fresh basil
1 tbsp oil
Direction:
Bring a pot of water to boil and cook noodle for 2-3 minutes, drain, and rinse in cold water. Keep aside.
In a large pan, heat oil and sauté garlic until aromatic, add chicken, and stir for 2 minutes.
Add capsicum and stir for 1 minute.
Season with sriracha sauce, sugar, vinegar, chili sauce and fish sauce. Add chicken stock and cook further until the sauce is bubbling.
Add noodle and toss well.
Add basil, turn off the heat, and serve hot.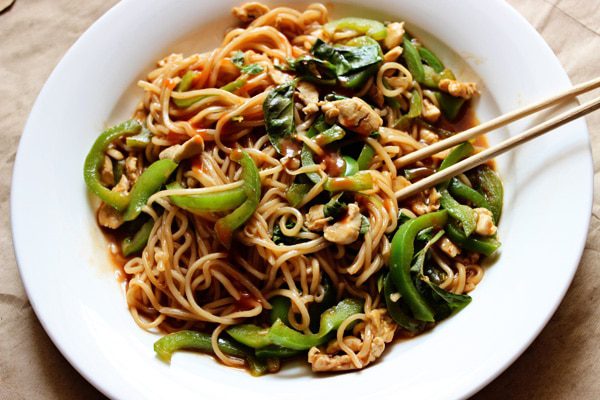 Do you like spicy food? What is your favorite spicy food?
Love,