When I was a kid, the idea of vegetarian food was ridiculous. I didn't think it was possible, especially in Thai cuisine where meat is such a important element in most dishes, and the most important condiment like fish sauce is prominent in every savory dishes. I thought that Thai vegetarian food was unrealistic. Today, I can say that I cook vegetarian dishes more often. I've realized that there are a lot of substitutes that allows me to not depend on meat in my food as much. Vegetarian is healthy and light, and it's good to try something different all the time.
Today I'm making Thai Green Curry with Tofu, Bamboo Shoot and Mushroom. Tofu is versatile, and it can be added in the curry generously. I love bamboo shoot. It gives that earthy punch into the curry. This curry is light and fresh. It goes so well with hot rice.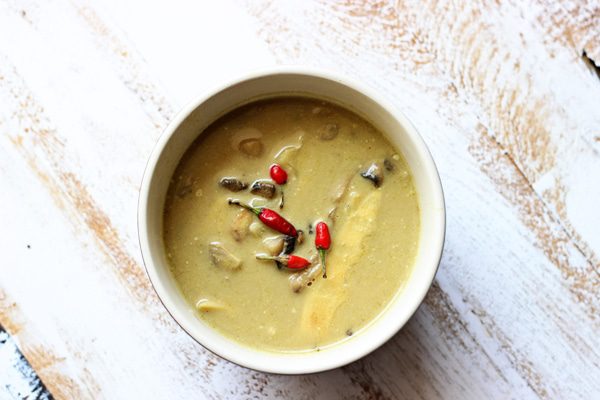 Thai Green Curry with Tofu, Bamboo Shoot and Mushroom
Ingredients:
2 cups tofu-cut into small cubes
1 cup- sliced bamboo shoot
2 cup- mushrooms- sliced
2 tbsp Thai green curry paste
1 cup vegetable stock
1 cup coconut cream- divided
2 tsp sugar
1 tsp fish sauce
Basil and fresh chili for garnishing
Direction:
Heat half a cup of coconut cream in a medium sauce pan until the cream is boiling, then add Thai green curry paste and stir fry until aromatic. This should take about 2 minutes or so. You will notice a small amount of oil rise to the top.
Add vegetable stock and bring to boil.
Add mushroom, bamboo shoot and tofu, and then cook further for 5-7 minutes or until the mushroom is cooked well.
Add fish sauce and sugar for seasoning.
Add the rest of coconut cream and cook further until the curry is about to boil. Remove from the heat and garnish with basil and chilies.
Serve hot with some hot rice.